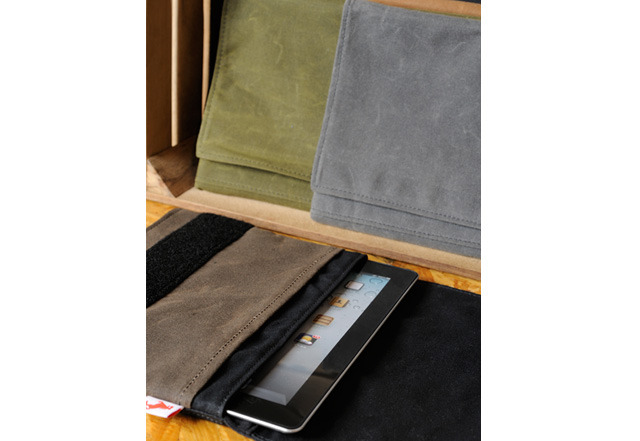 WHILE PURSUING an industrial design degree at the University of Cincinnati, Carrie Collins had an epiphany: She was making waste. "You're being trained to design trash," says Collins, acknowledging that industrial designers are often employed to create short-lived consumer products destined for the landfill. The realization caused a career crisis for Collins, and she decided to take time off from school to reconsider her future.
Three months later she returned to enroll in a new sustainable design course being offered by her favorite professor. The class changed everything for Collins. She finished her degree, and for her senior thesis created a business model for Fabric Horse—a business that would connect design with her passions for sustainability and sewing.
Upon graduating, two classmates convinced Collins to move with them to Philadelphia to start a business. Although the business never launched, the move introduced Collins to R.E. Load Bags, which makes custom messenger bags in their Northern Liberties studio from reused and recycled materials whenever possible. Collins became R.E. Load's first employee—a job that provided a steady paycheck and the flexibility to continue working on Fabric Horse. But most importantly, the job gave her an inside look at the demands of operating a small business.
"The reality is running a small business looks dreamy from the outside, but is actually quite hard," says Collins. "Roland and Ellie (the "R" and "E" of R.E.Load) quickly became close friends of mine and were sources of inspiration from the day we met. They showed me that what I dreamt of for myself was possible and were completely open to helping me on my path. I was fortunate to witness and learn from their successes and failures."
After moving Fabric Horse to multiple locations (including a shared showroom with R.E. Load), Collins opened a South Philadelphia store in 2011 where she sells thoughtfully-designed handmade backpacks, utility belts, accessories and bike-related gear crafted from recycled materials.
Like R.E. Load, Collins values good design, environmental stewardship and employee empowerment. "Everyone designs their life," she says. "We make choices everyday in the products we buy, and it all comes down to connecting with something." Collins believes that the design and function of a product should come first, followed by sustainability. She's quick to add that a product that is well-designed and built to last is ultimately more sustainable anyway.
Fabric Horse's focus on form, function and footprint has helped Collins continue to grow the company. She has done custom work for Machina, the first women's boxing brand, and local ice cream darling Little Baby's. Yet even through the growth, Collins remains committed to the revelation she had a decade ago in design school. "This is an outlet for me to exercise this passion for sustainability."
Fabric Horse, 1737 E. Passyunk Ave., fabrichorse.com