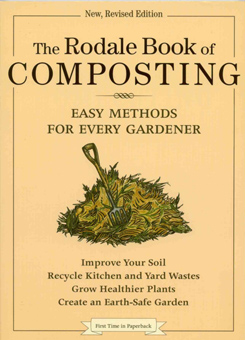 The Rodale Book of Composting: Easy Methods for Every Gardener
by Deborah L. Martin and Grace Gershuny, Rodale Books
278 pp., $16.95 (1992)
While it might be a little overwhelming for the beginner, the The Rodale Book of Composting is an ideal reference for any level of compost enthusiast. A cross between science textbook and extended magazine article, the book provides many diagrams, charts and graphics to illustrate topics. While the 1979 and 1992 versions are each valuable resources, the updated volume addresses some additional challenges of composting, like space constraints. The book covers everything from the history to methods, materials and equipment, with special attention to why composting is important and how to use the finished product in your yard and garden. There's also a section dedicated to large-scale composting. This book is an essential addition to the composter's library.
—Liz Pacheco