story bymarisa mcclellanOpen a food magazine in anticipation of the holiday season and you'll find a world of recipes for grand family dinners or dishes that travel well. Newspapers devote entire sections to items for your Christmas buffet, and more than a few food blogs will offer advice on how to transform your leftovers into satisfying lunches and inspired suppers.
I find it odd that among all this culinary advice, seldom will you find anyone talking about what to do for breakfast. Rarely in my lifetime has there been a Thanksgiving, Christmas or New Year's where I'm not either hosting guests or sleeping on a parent or cousin's pullout sofa. With house guests comes the need to provide a morning meal beyond a slice of toast or a bowl of cold cereal.
Here are three ways to make getting breakfast on the table a less stressful prospect. Scones are the easiest. They take 25 minutes from start to finish, and are delicious fresh from the oven. For something that's entirely do-ahead, try the granola. It can be stirred up days in advance (or even weeks, if you have enough freezer space), and presented with plain yogurt, milk and a pot of jam. Finally, the strata can be prepped the night before and baked in the morning by your household's earliest riser.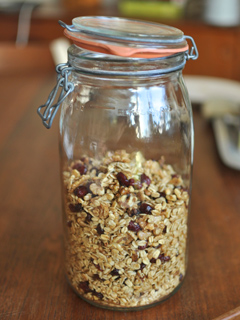 Cranberry Walnut Granola
3 cups old fashioned oats
2 cups chopped walnuts
1 orange, zested
1/4 cup sunflower oil (or other neutral oil)
1/2 cup honey
1/4 cup orange juice
1 cup dried cranberries
Preheat oven to 325 degrees.
Combine the oats, walnuts and orange zest in a large bowl. Use your hands to toss together.
Pour oil into a one-cup measure and swirl it around before adding it to the bowl. Using the same, unwashed cup, measure the honey. The residual oil will make pouring the honey out easier. Add the orange juice and toss everything together until evenly coated. Pour onto a rimmed baking pan.
Bake for 30 to 35 minutes, stirring two to three times during baking to ensure even browning.
When the granola is finished baking, remove the pan from the oven and scatter the dried cranberries over the cereal. Gently stir to incorporate.
When the granola is completely cool, scoop into an airtight container. For long-term storage, keep granola in the freezer.
Quick Lemon Scones
Note: Stir in up to 1/2 cup dried fruit, toasted nuts or chocolate chips for a more robust scone.
1 1/2 cups whole wheat pastry flour
1/4 cup granulated sugar
3 tsp baking powder
1/2 tsp salt
1/4 cup butter, cut into cubes
1/2 cup buttermilk or runny yogurt
1 large egg, beaten
Zest of one lemon
Preheat oven to 400 degrees.
In a medium bowl, add flour, sugar, baking powder and salt. Stir to combine.
Add butter to dry ingredients and combine using a pastry blender or the tines of a fork. When butter is well-integrated, add buttermilk or yogurt, beaten egg and lemon zest.
Stir just until you've formed a shaggy dough. Scrape scone dough out onto an ungreased baking sheet and shape into a round. Cut scones into eight wedges, but do not attempt to move or divide.
Bake for 15 to 20 minutes, until scones are golden. Eat warm, with butter and jam.
Savory Breakfast Strata
Serves 4-6, can be doubled for a crowd
Note: The vegetables don't have to be prepared specifically for this dish. Dinner leftovers like roasted Brussels sprouts or steamed broccoli are good substitutes.
4 eggs, beaten
1/2 cup milk
1/2 cup grated cheese
2 cups sautéed vegetables (onions, peppers, mushrooms and spinach work well)
3 cups stale bread cubes (leftover baguette, dinner rolls or sandwich bread)
1/4 tsp freshly ground pepper
In a large bowl, combine beaten eggs, milk, grated cheese, vegetables, bread cubes and pepper. Stir to combine.
Pour into a buttered, two-quart baking dish. Cover with foil and refrigerate until ready to cook. An hour before you're ready to eat, place dish, still covered, in a 350-degree oven.
Bake for 30 minutes. Remove foil and bake for another 15 to 20 minutes, until top is brown and the center is set.
Serve immediately.