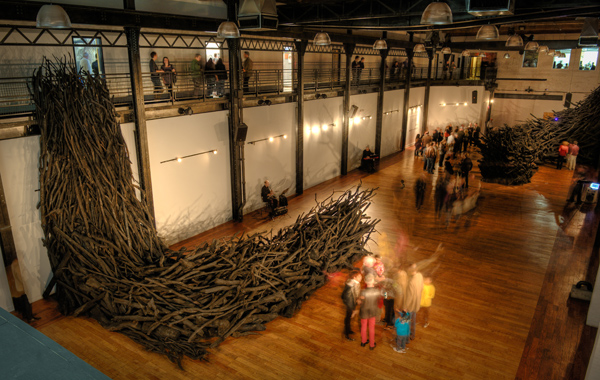 story by g.w. miller iii | photo by ken schulerAlison stigora's art descends like a waterfall into the exhibition space, which is odd because it is comprised of huge burnt tree trunks, seared old fence posts and scorched branches. Her latest and most ambitious piece, "Crossing Jordan," is a massive installation at the Skybox event space in the 2424 Studios building in Fishtown. The iridescent black wood appears to emerge from a second-story window, pouring into the 6,000 square-foot, former industrial space. A slightly smaller version mirrors the L-shaped installation on the opposite side of the room, making visitors feel as though they are surrounded by the mischievous work of pyromaniac beavers.
"Each piece of wood has a conversation with the others," says Stigora, 29. "And they all have a relationship with the room."
The majority of wood for the exhibit was taken from six truckloads of fallen limbs and invasive trees collected over four months at Stroud Preserve, a 571-acre wildlife habitat in Chester County that is maintained by the Natural Lands Trust. During those months, she worked with staff at the site to salvage fallen branches and remove invasive trees.
"It was really a win-win situation," she says, noting that part of the Natural Lands Trust's mission is to return the land to its natural setting.
Stigora describes her work as a collaboration with the Trust, specifically with Fred Gender, the manager at the Stroud Preserve. Gender helped collect the wood, burn the pieces individually in a bonfire and pull the logs out of the fire with a tractor before they disintegrated.
"I learned so much about plant identification and field biology and weevils from him while we sat by the fire," she says.
The preserve has inspired Stigora since she was a child. She grew up in West Chester, just five miles away from the preserve, and began making drawings there as a teenager. The landscape is now integrated into her work, literally.
"I can't say I'm aware of another artist, certainly in our region, who has done something like Alison," says Molly Morrison, president of the Natural Lands Trust. "It not [only] celebrates the landscape and nature, but it transforms it into something different. It's not just a reflection of it. She's using those materials that she found in nature to create something entirely new."
Established in the 1960s by a group of local bird watchers, the Natural Lands Trust now owns and maintains more than 21,000 acres of land in 12 counties over two states, with the heaviest concentration of properties situated in southeastern Pennsylvania. They plant trees on former farms, reintroduce native plant life and create new wetlands to improve biodiversity. The Trust operates 40 preserves, 17 of which are open to the public (the others have limited visitation).
While Stigora's work is unique, Morrison says the preserves have long served as inspiration for artists.
"The whole idea of connecting our places with art has pretty much been a theme of the Natural Lands Trust from its very earliest days," she notes.
In her office, Morrison has a painting by Charles Coiner, the legendary Madison Avenue ad man who incorporated the works of Salvador Dali and Georgia O'Keefe into campaigns. Coiner lived in Bucks County, where he painted subtle, muted landscapes, several of which have been exhibited at the Whitney Museum and the Philadelphia Museum of Art.
"He had a farm that he loved," says Morrison. "He made the choice to make a donation of that property to Natural Lands Trust so that it would be open and cared for and protected forever."
After he passed away in 1989, his Coltsfoot Farm became a part of the Paunacussing Preserve.
"Artists choose to work and live in places that inspire them, in landscapes that inspire them," says Morrison.
Eliza Auth lives in Wynnewood and frequently visits the various preserves to work on her oil paintings.
"These amazing places would have been developed if someone had not said, 'This has to be protected,'" says Auth. Her work is showing at the Rosenfeld Gallery in Old City through November 27, and a percentage of the proceeds are being donated to the Natural Lands Trust.
Auth and Stigora have both created that is powerful, albeit in different ways. Eileen Tognini, who curated the Skybox exhibit, says viewers aren't passive observers, but forced to examine nature through the art.
"We don't often stand in front of a tree and think about it," she says. "This piece makes you open your eyes and see the outside environment."
"Crossing Jordan" opened in mid-October and can be visited until November 19. Gallery hours are Tuesday through Saturday from Noon–6 p.m., and by appointment. For more information visit 2424studios.com.