As a black woman, Taneesha Maxwell may be an outlier in the waste hauling business that has historically been dominated by men. But as owner of T Maxwell Junk Removal and Cleanouts (@tmaxmovesjunk on Instagram), she is bringing a new face to the cleanout game, serving residents and property managers throughout Philadelphia and Delaware County, removing everything from furniture and appliances to trash and construction debris. Grid sat down with Maxwell to hear her thoughts on this evolving industry and to better understand a day in the life of a junk remover.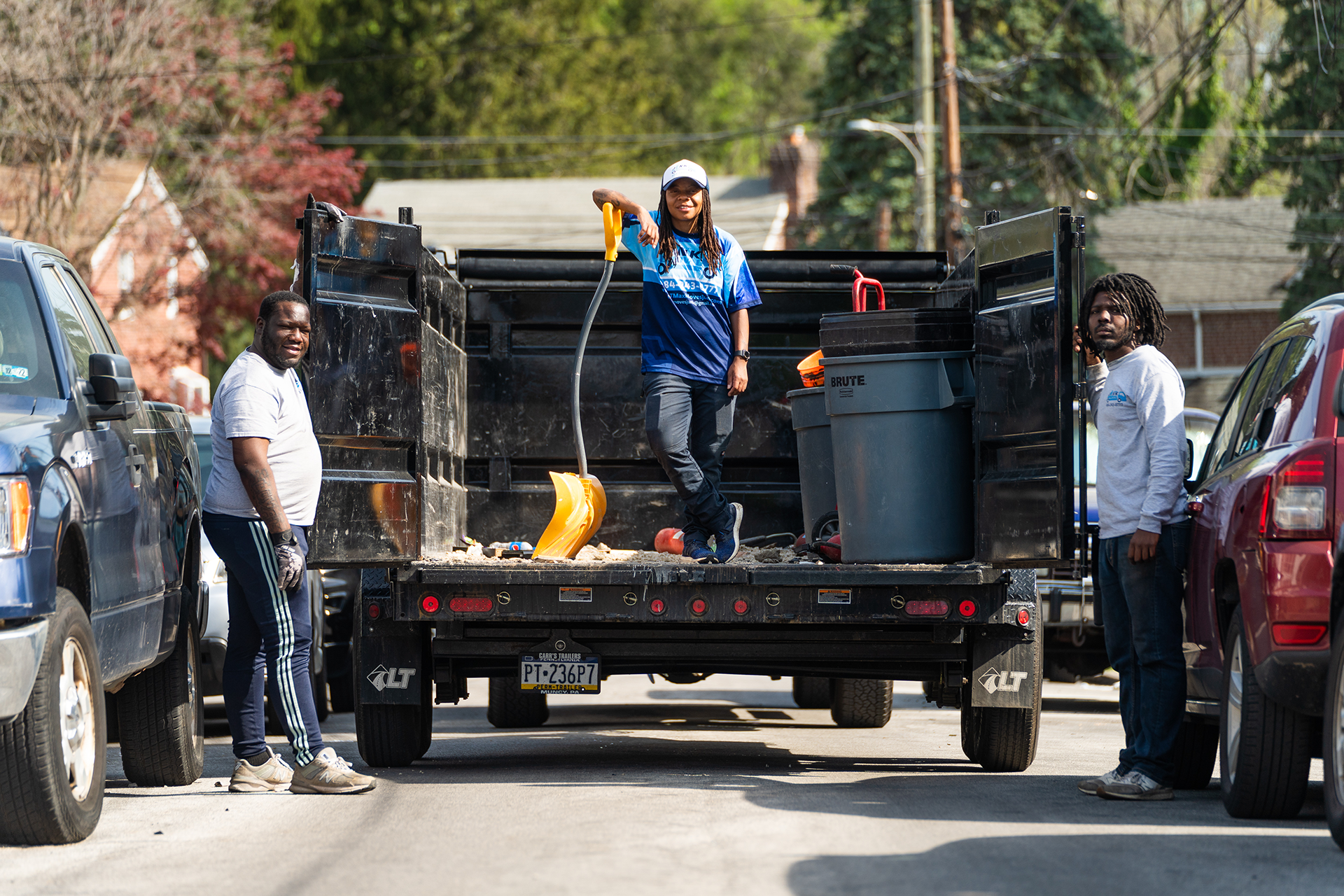 What made you get into hauling and junk removal? Hauling kind of found me. I left my job to pursue a career in real estate as an entrepreneur, and I started to see more opportunities. So I had somebody that I knew ask if I would do a cleanout for them. And I'm thinking to myself, "Well, how hard can it be?" So at that moment, I actually purchased my truck, and I've been in business ever since.
Do you try to recycle and/or salvage any materials? Yes, we do, because it saves a lot on our dump fees when we don't have to send a lot of things to the landfill. There are times when we may be able to resell things by putting them on our Instagram. We also know people who may be able to repurpose things — we do that. We take things to thrift stores such as your local mom-and-pop thrift stores. We also take things to Habitat for Humanity, Goodwill or Salvation Army. Sometimes we'll come across metal, and we'll take it to the scrap yard. The benefit of that is not only are we recycling the metal, but we also do receive income from the metal as well.
What's the craziest thing you've found in a cleanout? We've found dead animals. We've found some cool pieces like a vintage voting booth. Not too long ago we found a coin-operated washer and dryer, and inside we found a bunch of change. We don't always hit the jackpot with money. But what we really ask ourselves a lot is: How did these items get into the basement? We were just today battling with this washer and dryer in a newly-renovated basement. So the washer could fit in the space before, but now, the way that they renovated it, the space is too narrow. So I was like, "How the heck did you get the washer into such a narrow space?"
What's one thing you wish people understood more about waste hauling in Philly? I wish more people understood what it actually takes to get the job done. For most people it's just trash, which I understand. But sometimes, we have to bring a whole lot of junk out of a basement up the steps through the house down from the porch to the truck. It takes a lot to get those items out of the house. And then we have to pay to dispose of it. Sometimes we deal with people who have done this before on their own, so they get it. But too often we see people realize that there's a real cost to this and they're like, "I can't believe it costs that much. My budget is $100." But they may want a whole entire basement cleaned out. So understanding what it takes to do the job is something that I wish more people understood.