Tim Eads pulls out his box cutter, slices a panel from a flattened cardboard box and then feeds it through a tabletop perforator. What goes in as waste comes out as packing material. What began as a way to source more-sustainable packing material for Tuft the World, the rug tufting company Eads owns with his partner, Tiernan Alexander, is now a new enterprise, Shred the World, geared toward the repurposing of cardboard boxes.
The cardboard perforator, which Eads discovered on TikTok during a bout of insomnia, was a middle-of-the night purchase. It was one of those "TikTok made me buy it things," Alexander says. The couple has nicknamed their cardboard perforator the "Machine that Eats Cardboard," and it has turned out to be a good fit for their business. Eads and Alexander were always on the lookout for more sustainable ways to do things, so they're happy to ship their own products in eco-friendly packaging and created Shred the World to share the service with others.
Originally from Texas, Alexander and Eads relocated to Philadelphia from Detroit in 2009. They were attracted to the DIY art scene in Philly. "Philadelphia has this scruffy spirit," Alexander says. In the beginning they did creative work, and Eads taught at the Tyler School of Art and Architecture.
Then Eads discovered a handheld rug-tufting machine online. Historically, tufting had been an industrial process. How-to instructions didn't exist. Eads knew the small machine would make the craft more accessible. He ordered machines, wrote an instruction manual, and in 2018 Tuft The World (TTW) was born.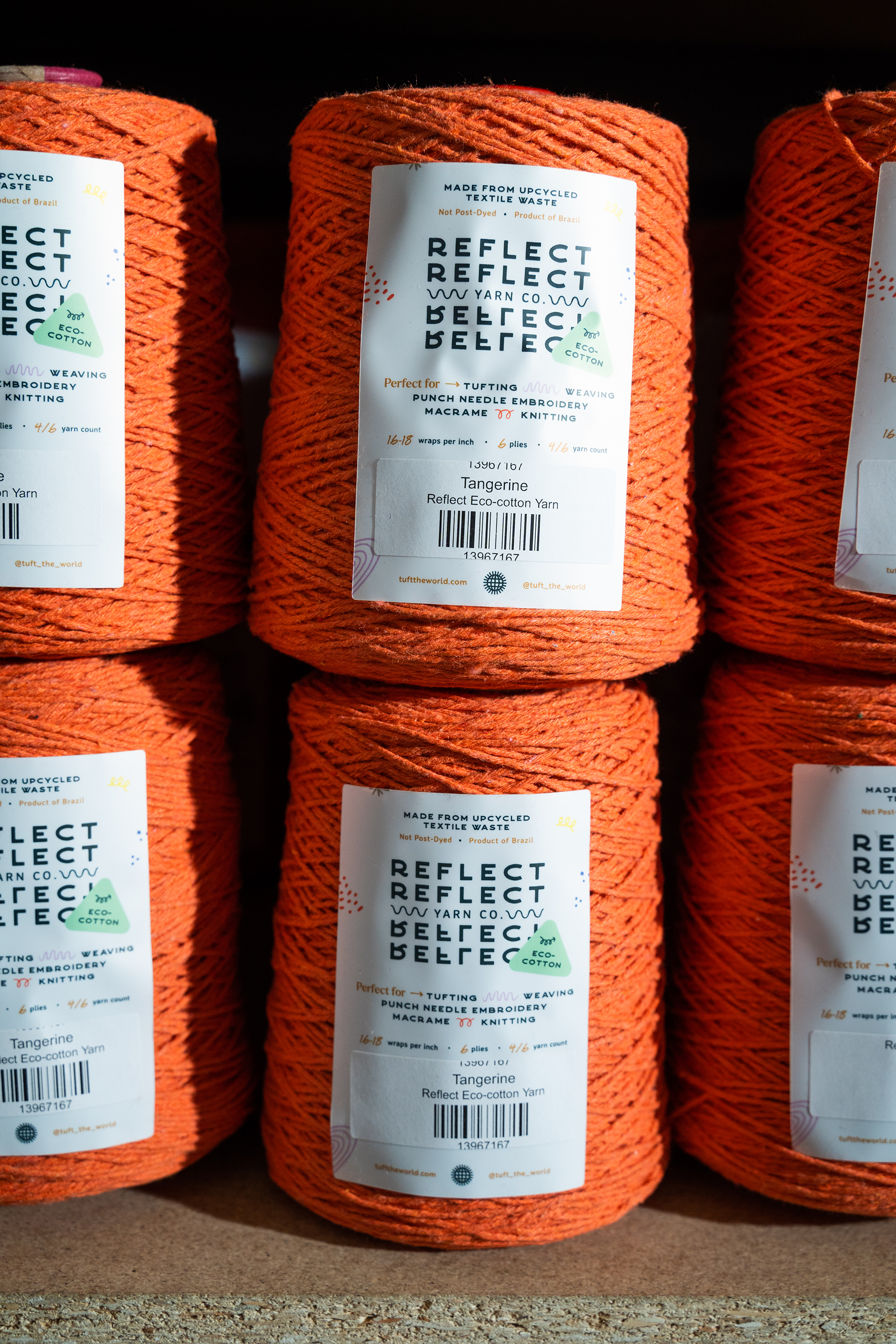 Over the years Eads has built an educational program. He posts tutorial videos and teaches classes and workshops. He describes tufted rug-making as a fast craft. "With tufting you can make a piece of art in a few hours," he says. When the pandemic confined people to their homes, tufting rugs filled a niche. "Now he's the tufting guy on YouTube," Alexander says.
As their business grew, Alexander became more involved in planning and logistics. By 2020 she took on the role of chief financial officer and head of human resources. "My role has essentially been helping develop what kind of business we want to be," Alexander says.
It's not just somebody's passion project; it's woven into the fabric of the way the company operates."

— Jennifer M

cT

ague,

Tuft the World human resources manager
Today a walk through the couple's West-Philly warehouse showcases an array of colorful rugs on walls, lamps and furniture. The sustainable materials on shelves range from the brightly colored eco-friendly yarns — some made from banana fiber — to the biodegradable packaging for the glue, to the backyard compostable coffee provided for staff. Thoughtful, sustainable design fills every nook. "It's a tiny utopia, and it's fuzzy," Alexander says.
The drive toward sustainability within the company has led to a push to make their processes systematic. With the help of Jennifer McTague, who joined the team in 2022 as the human resources director and member of the sustainability committee, they have incorporated United Nations Sustainable Development Goals into their business model, and they are working to become certified as a B Corporation.
"We're doing all of these good things, so let's formalize it," McTague says. "It's more than just the environment. It's all of it — like having a living wage. It's a way to show our customers that we're practicing what we preach. It's not just somebody's passion project; it's woven into the fabric of the way the company operates."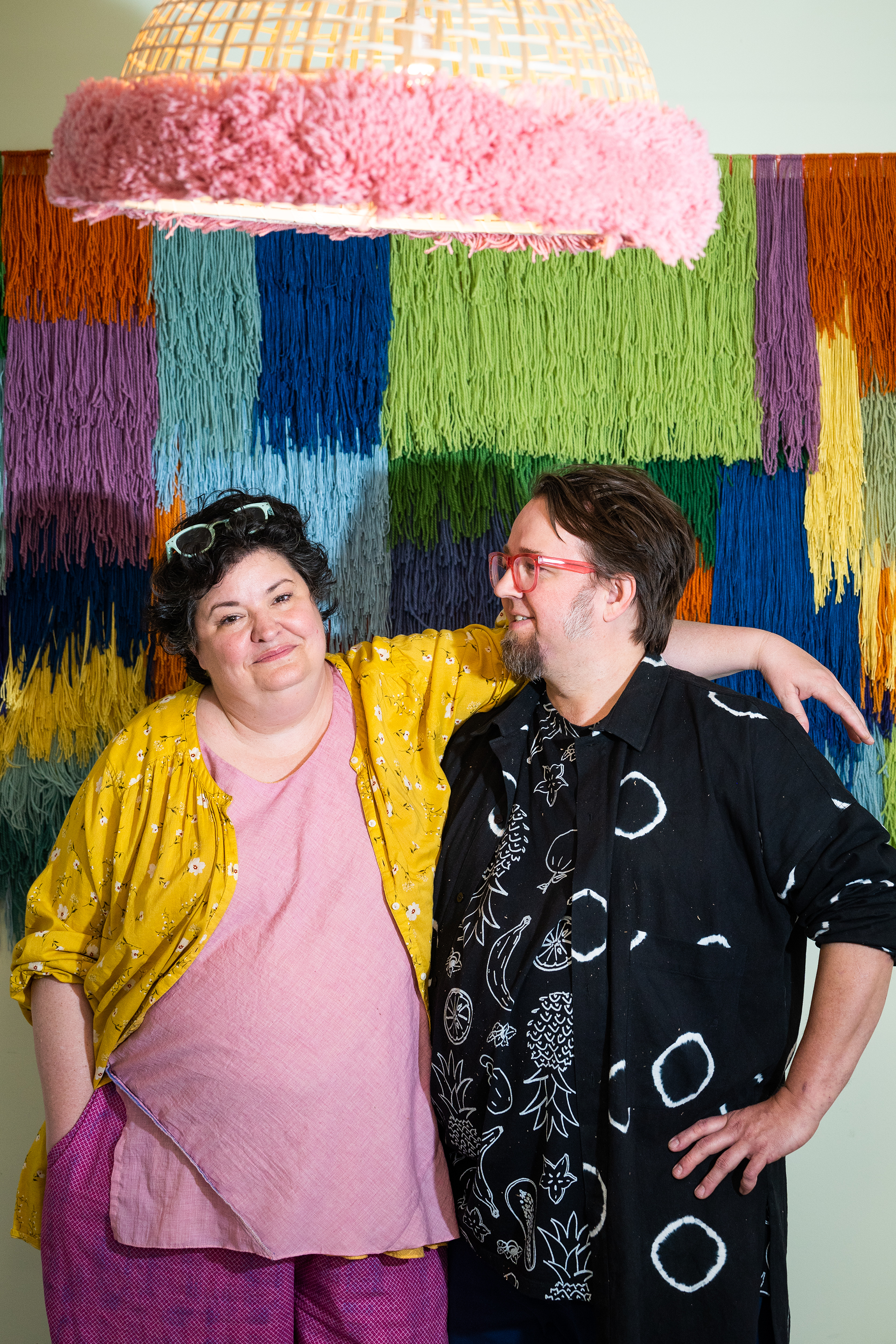 On the ground this plays out in many forms. Eads pays more for tufting machines to get them in biodegradable packaging. They also pay carbon offsets for shipping. Eads and Alexander pay themselves $25 an hour — the same as they pay employees. Their staff of 18 works a four-day week and receives benefits. "We're not getting as rich as we could be," says Alexander. "All we ever wanted was a job we could deal with. We don't need to get rich."
Another part of the equation, Eads and Alexander say, is connecting others. Last year they joined Philadelphia's Sustainable Business Network, where they network for ideas. And customers around the world can tag them on social media to get reposted and receive gift certificates.
Trish Andersen of Dalton, Georgia, is a fellow tufting artist. She has her own studio and connected with Eads prior to the pandemic. She describes the work as a kind of meditation. "What's better than this kind of soft thing during a really hard time? I credit them [TTW staff] with the growth of the community."
While many connections have flourished online, Andersen says the tufting community hadn't previously come together in person. To remedy that, Eads organized TuftCon, a tufting convention in Philadelphia in March. "Part of the circular economy is that sense of community," Alexander says.
"The Shred the World work began ramping up a couple of months ago," Eads says. "We're starting to work with local companies. For example, partners who want to trade — they pay a small amount to take the shredded cardboard."
The company website promotes shredded cardboard as "the ultimate eco-friendly packaging option" and a viable replacement for plastic packing bubbles, air bubbles and packing peanuts. "We figured that if we wanted to help save the planet in this small way, that other businesses would, too; they just need to know that we exist," Alexander says.