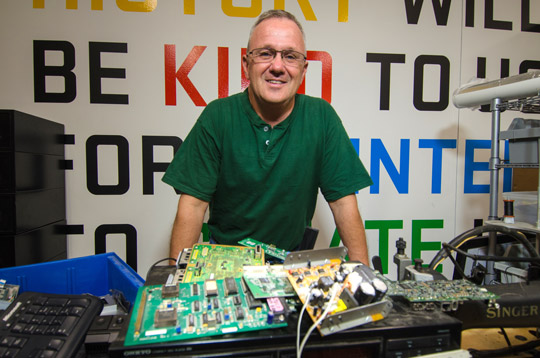 Mark McGee organizes electronics recycling events several times a year. | Photo by Megan Matuzak
Mark McGee, Kensington's undisputed electronics recycling champion
The average American throws away approximately 62 pounds of electronics a year, says Kensington resident Mark McGee, citing a WHYY podcast on electronics waste. "I don't think people realize there is a lot of toxic stuff out there when they throw a TV away," McGee says.
McGee helps promote electronics recycling in Kensington, an area he's lived in for over 50 years, through his volunteer work with Sustainable 19125 & 19134. The resident-driven organization was created by the local Neighborhood Advisory Committee (NAC) and the New Kensington Community Development Corporation (NKCDC) with the support of the Pennsylvania Horticultural Society (PHS) to promote sustainability, and aims to make the two zip codes the greenest in the city.
Through Sustainable 19125 & 19134 workshops, McGee talks about electronics recycling and organizes electronics recycling events several times a year. His work has prompted Sustainable 19125 & 19134 to dub him a "Champion of Electronic Recycling."
Holly Logan, Philly Fixers Guild co-founder, praises the work McGee does: "Bringing eCycling to our neighbors prevents them from disposing of electronics improperly and [lets] them know that there are these other opportunities to recycle them so that they go to the proper outlets where they will hopefully be less harmful," says Logan, who met McGee through Sustainable 19125 & 19134.
McGee has also been a Green Guide for Sustainable 19125 & 19134, and a volunteer with the NKCDC, since 2009. As a sustainability focused block captain, or Green Guide, McGee works to educate his neighbors about composting, recycling, rainwater collection and, of course, electronics recycling.
As a 12-year member of the NAC, McGee helps develop plans to address the needs of the neighborhood, including preventing house foreclosures and helping the elderly.
When he's not working on improvements to his neighborhood, he maintains an orchard next to his home. Over a decade ago, PHS donated seeds, and now the orchard yields figs, Bing cherries and grapes, which McGee happily gives away to neighbors, passersby and even "sleepy bus riders."
"Mark … never expects to be recognized, but should be for all the work and commitment he has to improving his community," says Diana Jih, community relations specialist at NKCDC.
McGee adds: "If everybody helps a little bit, it goes a long way. You have to give back to the community to make these things happen."