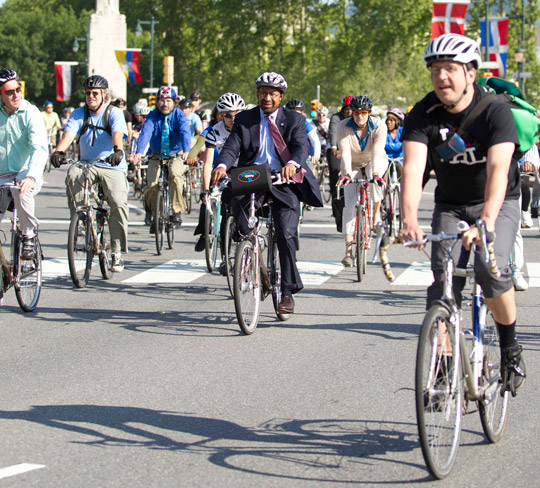 Mayor Michael Nutter participates in Bike to Work Day on May 17, 2012, an annual event hosted by the Bicycle Coalition of Greater Philadelphia. | Photo by Mitchell Leff
Since 2008, Philadelphia has taken strides
to make its streets safer for cyclists
If you wanted to have your voice heard and presence felt while bicycling in Philadelphia in 2007, then you'd most likely join the Critical Mass ride designed to disrupt automobile traffic and create a spectacle of advocacy. But in 2014, if you want to be seen and heard, Philadelphia has the Naked Bike Ride, where over 2,000 participants bare their bodies and celebrate the freedom to ride leisurely through the streets of our great city.
Needless to say, a lot has changed since Mayor Michael Nutter took office in 2008. Although he's credited with ushering in a younger and more progressive Philadelphia, (which definitely lends to the lack of inhibition needed to ride naked through the street), this sea change in thinking surrounding bicycling has actually been the hard work of public officials, city planners, nonprofit advocates, small business owners and private citizens who all see the bike as the most appropriate, cost-effective and convenient mode of transportation for urban living.
When asked what have been the greatest achievements in Philadelphia's cycling scene since 2008, Alex Doty, Executive Director of the Bicycle Coalition of Greater Philadelphia, has many examples. But his highlights are the creation of buffered bike lanes (as seen on Pine and Spruce Streets), and the creation of 750 miles of interconnected urban off-road trails known as The Circuit. As he thinks back to 2007, he notes, "The standards in bike facilities that we would have thought were impossible are now a reality in Philadelphia." While he concedes that Philadelphia does not have sleek bike lanes with bike traffic lights or bike parking, he adds, "Today, the number of people I see out on the street when I'm biking on the nastiest weather day are the same number as the people I would see biking on the sunniest day 10 years ago."
These numbers are not just anecdotal. According to the Mayor's Office of Transportation and Utilities, citing the U.S. Census, 13,000 Philadelphians bike to work daily. Philadelphia is also the only U.S. city to have two neighborhoods—South Philadelphia and Center City—to be in the nation's top 25 best biking neighborhoods.
Andrew Stober, Chief of Staff for the Mayor's Office of Transportation and Utilities, points to the Mayor's Greenworks Plan as a key initiative that led to these numbers. Among the many sustainability focused directives of Greenworks, specific biking highlights were building the east-to-west bike corridors on Spruce and Pine Streets, as well as lanes in North Philadelphia on Kensington Avenue and West Philadelphia on Walnut Street, designing the Complete Streets plan, building off-road bike trails that include The Circuit and the soon-to-open Manayunk Bridge Trail, and increasing the number of bike racks on city streets to at least 2,700 since 2008.
Signed as a mayoral executive order in 2009 and passed as a city ordinance by City Council in 2013, Complete Streets identifies road and sidewalk space as a "limited public good" that must be shared by myriad users including pedestrians, buses, newsstands and bikes. The plan calls for policy improvements such as balancing the needs of all users, to more technical improvements, such as timing the traffic lights to "minimize pedestrian delay and conflicts." But more importantly, for bike advocates, the ordinance calls for "[giving] full consideration to accommodation of the safety and convenience of all users of the transportation system."
When asked what he considered to be the most important initiative, Stober says, "Any one of these accomplishments are impressive on their own, but collectively, I think the biggest accomplishment is the change of thinking that we have been able to create through firmly establishing cycling as a choice mode of travel that is safe and convenient for all Philadelphians."
For a biker such as myself who has been viciously "doored," yelled at and almost sideswiped by city drivers since 2009, I appreciate Stober and the Nutter Administration's work, but I am still all too aware of the dangers that bikers face in the city. Ray Scheinfeld also knows this reality all to well. On the third Wednesday of May for the past 10 years, he has organized our region's "Ride of Silence" that memorializes bicyclists killed on the roads in the Greater Philadelphia, Delaware and New Jersey area. He says that on average, 4 people die per year in the region. Last year, two Philadelphians died on the roads. Scheinfeld adds, "While I hope not to have to do this, I have to advocate for the safety of riders in the region."
Another advocate is the self-proclaimed "bike lawyer" Stuart Leon. He started representing bicyclists in 1986 and has been exclusively representing them since 2005. Although he also commends the increased visibility of bike lanes and signage, he also says, "So many of the crash victims I work for have been hit by motorists, even though they are bicycling in bike lanes and paying attention to the motorists and traffic conditions surrounding them." He calls motorists' use of smart phones a "black plague" and says that the city must write more tickets for opening a door into a cyclist or for hitting a cyclist in a bike lane. He says that he rarely ever sees those tickets in court.
Planners and advocates also see the need to build on the safety issue in the next Mayoral administration. Stober cites his office's study, other cities' physically buffered two-way bike lanes, and the need to bring this infrastructure to Philadelphia. Doty also touts the Bicycle Coalitions' agenda, to be released in two months, heavily influenced by New York City's Vision Zero Plan, which sets the ambitious and crucial two-decade goal of eliminating all traffic deaths and serious injury on New York streets. According to Doty, other cities have taken the biking bar and moved it higher. But as he views it, Philadelphia needs to keep up, because, "biking is one of those activities that shows people that a city is interesting to live in and exists on a human scale."
This story is part of Grid's 2014 Philly Bike Expo insert.