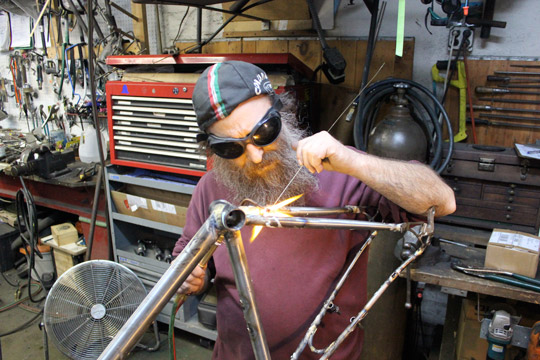 Stephen Bilenky works on a bike at his shop Bilenky Cycle Works. | Photo courtesy Bilenky Cycle Works
Custom bike building sees a resurgence in Philadelphia
While all bikes are good, some are extra special. At Firth & Wilson, the Spring Garden bike shop Simon Firth co-owns with David Wilson, the two will happily fix a flat, adjust a derailleur or upgrade a set of handlebars. Under the name Hanford Cycles, Firth also builds custom bikes, and is one member of a growing community of craftspeople doing so here in Philadelphia.
Custom bike-building, like fitting a suit, begins with a person and a specific set of measurements. While standard bikes are built to bear the weight of the heaviest potential person the manufacturer anticipates will ride them, Mark Weaver, of Weaver Cycles in Collingswood, New Jersey, says that he, and other bike builders, take into consideration a person's height and weight, as well as the length of their torso, arms and inseam to determine frame shape and size, and the gauge of the tubing for the frame, whether it be steel, aluminum or titanium. Some materials are lighter, some heavier, but just as a suit can be made of wool or linen, "it's all about the fit," according to Weaver.
A bicycle that is improperly fit can cause pain or tingling, especially after long rides, so these measurements are key, and adjustments can be made to suit the rider. "It's literally the first thing I ask after their first ride," Weaver says. Fit also encompasses the weight of the bike. A bicycle too light for the person riding it "feels noodle-y." Too heavy a bike yields the opposite: the ride rigid, the bike inflexible. Balance it correctly and there's a harmony between rider and machine.
Beyond the question of dimensions and materials is also one of functionality. What are the rider's needs? Will this be a bike for racing? Or city commuting? If it's for racing, will it be cyclocross? On roads? Or trails? Perhaps this will be a bicycle for a cross-country ride, or for transporting children. If it's for commuting, what kind of job does this person have? If it's a woman, will she need to bike in a skirt? On rainy days?
The answers to questions like these will determine how the bike builder begins and, within the shop, who that bike builder might be.
Weaver races mountain bikes and got his start building for friends in that community, eventually expanding to include road and cyclocross bikes. Drew Guldalian, of Engin Cycles, focuses on traditional road bikes, touring bikes and mountain bikes, which he sells from his Chestnut Hill shop, Wissahickon Cyclery. Firth and Wilson focus on bikes for city riders, including those for commuting and those that could replace a family car to move children and cargo. Stephen Bilenky and his team at Bilenky Cycle Works, the most established shop in Philadelphia, do a little bit of everything, but they've received international recognition for their tandem bikes, including the Viewpoint, a semi-recumbent tandem designed to be shared by riders of differing abilities, including those with special needs.
A custom bike is a reflection of an individual rider. Bilenky has been building custom bikes in Philadelphia since 1983, starting just as the West Coast mountain bike was in its formative years and was inspired by the classic European builders—in the '70s, he had seen these traditions embodied in the work of Chestnut Hill's Hill Cycle, Germantown's Lambert Cycles and Drexel Hill's Harry Havnoonian. The mountain bike "revolution" shook the established bike industry, resulting in a resurgence of bicycle manufacturing innovation and spawning new companies, materials and methods. Bilenky synthesized his early inspirations with the emerging technologies to create a wide-ranging portfolio of specialty commuting, racing, touring, tandem and cargo bikes. "We've been at this long before the current sustainable, locally made movement," says Bilenky. "It's gratifying to see the shift away from disposable bikes stamped out in Asian factories."
Now, according to Bilenky, bike-making is experiencing a resurgence. "In the hand-built world … the U.S. is now Mecca." Alongside local-sourcing of clothes and edibles, the interest in artisan manufacturing has bolstered bike builders. A bike is "an item for more sustainable transport," says Bilenky, but craftsmanship means that "now people look at it as something desirable in itself." The result has been a nationwide explosion of interest and innovation in bike-building.
Oregon and California have been home to much bike-building, but Bilenky's efforts and tenacity placed Philadelphia in the national spotlight. Not only has his shop turned out award-winning custom bikes for decades for national and international clients; they've also helped build the bike community in Philadelphia. An active supporter of West Philadelphia-based bike education nonprofit, Neighborhood Bike Works and the Philadelphia Bike Messengers Association, the shop also hosts the Junkyard Cyclocross every December. In 2010, Bilenky and his daughter, Bina, hosted the first annual Philadelphia Bike Expo to showcase the work of local and national small manufacturers of bikes and bike gear. The Expo has run every fall since.
Bilenky Cycle Works has built countless bikes, but Bilenky says, "I've also built frame builders," one of whom is Firth, who worked for Bilenky for more than a decade. Recognizing that the city was taking active strides to support a welcoming environment for cyclists, Firth and Wilson opened their shop to supply Philadelphians with tools to support a bike-based lifestyle. Now, the pair are working to create a cargo bike of their own design, but they face a dilemma that underscores a duality in the bike-building world. If they manufacture their design overseas, they'll be able to retail the finished product for about $1,500, but if they manufacture it in-house using local labor, they'll have to retail the bike for three times as much.
"It's unfortunate, because it would mean that most people wouldn't be able to afford it," Firth says.
Bilenky knows this dilemma well: "On one hand, you want your brand to be bigger, to do more bikes, but if the cost of living is x and production is y, well, somewhere they don't add up," In addition, each recognizes that there's something special about maintaining control of the process, a control that Guldalian would never want to relinquish.
"I think of myself more as micro-manufacturing, building specialized tools to make specialized products," he says. A meticulous machine guy whose contemporaries like to do things by hand, it might come as a surprise that Guldalian opened Wissahickon Cyclery in 1995 as a 23-year-old with no professional bicycle experience. He spent the next 10 years building relationships with his customers at the Chestnut Hill shop before beginning his bike-building business, Engin Cycles. Self-taught, Guldalian relied on those relationships when he started building. He asked 20 of his regular customers to front money for materials, which he used to build prototypes, asking that his patrons ride them and offer feedback, treating their initial investment as a credit to be put toward their own custom bike. "I had made 35 before I took a penny from anybody," he says. "At least the first 100 bikes that I sold, I intimately knew the people who were going to buy them."
Now, balancing his time between the shop and the store, Guldalian builds a complete bike every two weeks, even painting them himself, and he has a wait list of about seven months. "I want every one of those bikes to be the best bike I can make," he says.
Weaver, another self-taught bike-builder, embraces a bit of an artist's sentimentality: "I just really like seeing my bicycles out there. … Somebody posted a photo of three or four of them together and I thought, 'Wow, those are all mine, they all have my hand on them.' It felt really good."
Bike-building balances these worlds of craftsmanship and artistry with utility. "A bike is a personal tool, [and] an approachable thing," Bilenky says. "You might not be able to get a Ferrari, but most people could afford a pretty high-performance bike."
This story is part of Grid's 2014 Philly Bike Expo insert.