story by Molly O'Neill | portrait by Chris Crisman AT PEG AND AWL, stories bring products to life. Every découpaged candleholder, leather book necklace and sturdy wooden caddy proudly reveals the source of its reclaimed materials. A chalkboard tablet is reborn from oak bleachers of the century-old Liberty High School in Bethlehem, Pa., and finished with a leather pencil loop that first served as a World War II gun holster. A scrap of leather from the drawer of an 1835 summer kitchen finds new purpose as a journal cover, sheltering hand-sewn, archival-quality pages.
Peg and Awl proprietors Margaux—a photographer—and Walter Kent—a painter—perhaps so value history because their own story rings romantic. They met in 2007 at Walter's sister's birthday party, and moved in together two days later. Margaux immediately became pregnant. Then, five months after their son Søren's birth, the National Guard called Walter to Iraq. He was gone for one long, lonely year, and Margaux immersed herself in her art.
In the slowly-settling months after Walter's return, Margaux became pregnant again. Now, three years later, their 1860s Fishtown home bustles with the activity of two towheaded boys. Margaux hammers and stitches while Walter watches Søren and Silas race beneath exposed wood beams. When the babysitter arrives, Walter takes a turn in the woodworking shed tucked in the expansive backyard. Raised beds house dormant plants (and one defiant ripe red pepper) and a rope swing sways lazily as three hens cluck contentedly in their hand-built coop. The scene reflects a new sort of timelessness in which a modern couple practices artisan craftsmanship with antique materials.
Waxed Canvas Weekender, an extra large bag made from waxed canvas and finished with World War II military gun slings and a vintage zipper. $320Though Margaux and Walter see the use of the term "sustainability" as a bit of a fad, the practice comes naturally to them. "I don't think either of us really thought of that word before it became trendy, but that's what we're doing," says Walter. "It just makes sense to us to not pull up to a lumberyard and buy freshly cut wood that doesn't have the beauty of the old wood and the history of the old wood." "Besides," adds Margaux, "We get to search for things. We like the scavenger hunt, the treasure hunt."
Once found, salvaged materials can be challenging to work with, and the popularity of old-growth lumber has made quality materials harder to find. "It's actually pretty expensive," says Margaux, "and it takes a lot of work as far as pulling nails and cutting the wood. You really do have to have a passion for the material itself." Peg and Awl receives an increasing number of requests for pieces with indications of the wood's prior life—knotholes and other "imperfections"—and working around those features requires creativity. "We are very conscious about the waste that we produce," says Walter. "We have a scrap pile and that turns into another product, and that makes a smaller scrap pile that we might turn into jewelry."
Peg and Awl is also serious about eliminating toxicity in their products. Margaux and Walter shy away from lead-painted wood, and plane away any other remnants of paint or shellac. They use only natural products to treat their wood—milk paint from a company in Quakertown, and tung tree oil.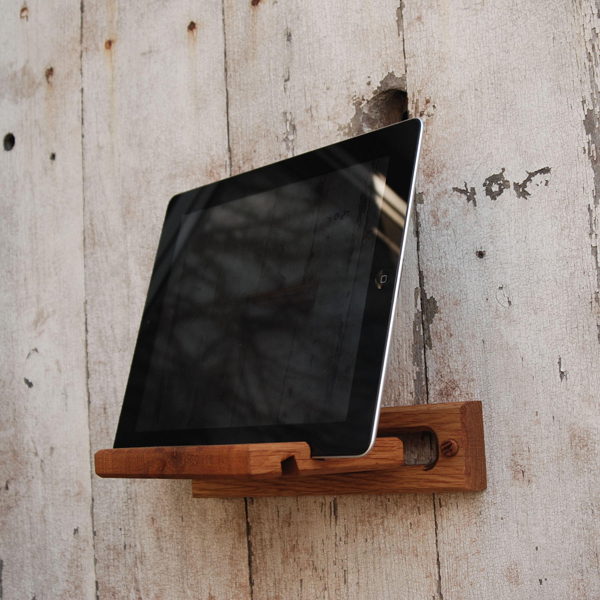 iPad Easel made from reclaimed oak (primarily from the 1800s) to be used as a wall mount or desk base. $50With their new Edible Backyards line, featuring chicken coops, raised beds, garden boxes and markers, Margaux and Walter hope to help others explore the homegrown lifestyle they've cultivated. Starting in March, a new collaboration with a local expert will allow Peg and Awl to provide seasonal gardening guides for use with their products.
Though Peg and Awl connects with clients as far away as Australia and Scandinavia, the company is reaching its roots even deeper into Philadelphia. This November, Margaux and Walter will plant their artisanal flag in Port Richmond, moving into a new workspace/showroom in a former casket factory at the Atlas Building. Of course, the historical significance of the new space isn't lost on Margaux.
"It just kind of blows my mind that so many people have existed on the same piece of earth for so many years," she says. But even as Peg and Awl slowly weaves its story worldwide, the "once upon a time" will always begin right here in Philadelphia.
Peg and Awl, pegandawlbuilt.com
An earlier version of this article was published at hyloboutiques.com.