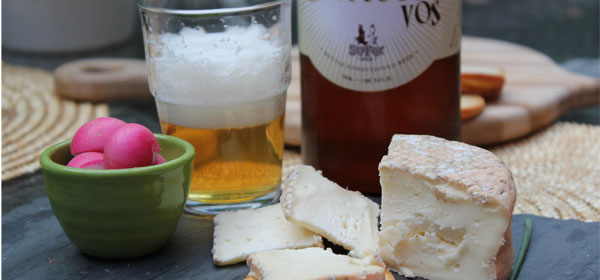 Story by Tenaya Darlington
If you're looking for a bold cheese to pair with beer, reach for Red Cat from Birchrun Hills Farm. This classic washed-rind stinker from Sue Miller isn't as bossy as a ripe Epoisses—a pungent French delicacy—but it has the same creamy texture and beefy character. Think of stewed meat and bitter greens. The slightly astringent finish makes this cheese an ideal pairing for the rustic hoppiness and grapefruity twang of a Yards Pale Ale. For something gentler and smoother, try Red Cat alongside a pint of Slyfox Saison VOS. Loaded with apricot and honey notes, this saison softens Red Cat's growl into a luxurious purr.
Don't be surprised if you taste grit, a common textural feature of cheeses that have been brined. At Birchrun Hills Farm, Miller uses a light salt wash to achieve the orange tint on Red Cat's exterior. Recently, she's experimented with washing the rind in local beer, a Flemish Black from up-and-coming Tired Hands Brewery. The idea for this collaboration came together at a farmers market just before Christmas 2010, when Miller met brewer Jean Broillet. "His beer pairs really well with our cheese," Miller says. "And Jean is really connected to the land. When he brews, he's thinking about a sense of place. We like that."
Red Cat is available at Headhouse Square Farmers Market (Sun., 10 a.m. – 2 p.m., Second Street between Pine and Lombard streets); Di Bruno Bros. (1730 Chestnut St. & 930 S. Ninth St.); and the Fair Food Farmstand in Reading Terminal Market (12th and Arch streets).
Birchrun Hills Farm, 2573 Horseshoe Trail, Chester Springs, birchrunhillsfarm.com
For more from Tenaya, visit madamefromage.blogspot.com