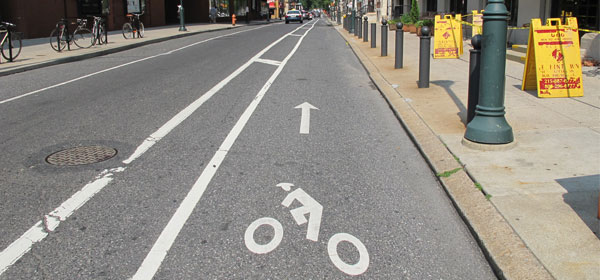 Story and photo by Felicia D'Ambrosio
"How can we all coexist on these very skinny streets?" asks Rina Cutler, Philadelphia's deputy mayor for transportation and utilities. "We don't have room to add more, so we have to make better use of the streets. For me, it's less about biking, [and more about] creating complete streets and giving people choices."
Part of a holistic program to create safer streets for pedestrians, bikes and cars, the permanent east-west bike lanes on Spruce and Pine added in 2009 will soon be joined by north-south pilot lanes on 10th and 13th streets. The Bicycle Coalition of Greater Philadelphia's Mode Shift Report (May, 2011) states that Philadelphia has, per capita, twice as many bicycle commuters as any other big city in the U.S., representing an increase of 151 percent from 2000-'09—findings that were confirmed by the 2010 U.S. Census data.
"The new pilot lanes were chosen because they connect outlying north and south neighborhoods with the Center City job market," says Cutler. Philadelphia's bicycle mode share (the percentage of commuters who bike to work at least three times a week) is 2.16 percent. In a city of about 1.5 million, "that's a lot of people," says Cutler. These urban lanes represent the first layer of bike infrastructure on local byways. The next step, connecting the region to the city, has a gamut of organizations (from the mayor's office to the Delaware Valley Regional Planning Commission) working on expanding the Regional Trail Network.
For Spencer Finch, director of sustainable development programs at the southeastern office of the Pennsylvania Environmental Council (PEC), the Regional Trail Network "is a little bit like the interstate… the big routes that connect communities and destinations that are far apart. Right now, if you live in Morrisville, Pa., in Bucks County, you can bike to New Brunswick [N.J.] or Allentown [on trails] for fun. Once we connect it to Philly, people will be able to do it on a daily basis—commuting to work or shopping errands, not just weekend warrior recreation."
A $23 million TIGER 1 grant from the U.S. Department of Transportation has jump-started 10 projects in Philadelphia and Camden, including a boardwalk, set on piles, connecting the Schuylkill River Trail at Locust with the South Street Bridge, as well as the 58th Street Greenway, a 1.5-mile urban greenway segment from Bartram's Garden to Cobbs Creek. Since many of the projects have been in development for years or even decades, many of the 10 are ready for construction.
"Our focus is on building safe facilities," says Finch. "We need sidewalks, safe crossings and intersections to get to the trail. I want to bicycle with my baby boy; these should be safe enough for the whole family."