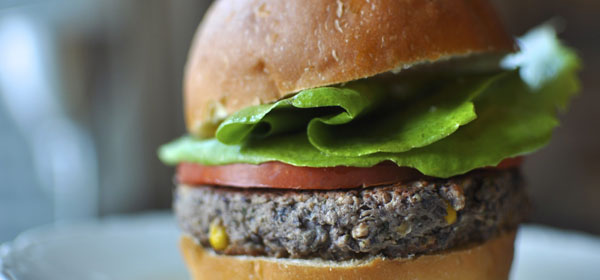 Story by Marisa McClellan
Though i'm not a vegetarian, summertime piques my partiality for grill-ready burgers created from beans (or lentils), grains and vegetables. The trick to a homemade veggie burger that won't fall to pieces on the barbecue is a simple three-step process: cook, chill and grill. This means that the night (or morning) before, you make the burger mix, brown the patties in a skillet and then chill to set. These can also be made in larger batches and frozen—handy for spontaneous types. Since bean burgers appreciate a bit of sauce for extra flavor and moisture, whip up two of my favorite toppers to really gild this legume lily.
Black Bean Burgers
makes four burgers
1 15-oz. can black beans
(or cook a scant 2 cups of dried)
1/2 cup chopped onion
2 tsps. olive oil, divided
1/2 cup cracker crumbs
1 egg
1-2 pickled jalapeno peppers or pepperoncini
5 garlic cloves, peeled
1/2 cup loosely packed fresh basil
or flat-leaf parsley
1/2 tsp. salt
1/4 tsp. freshly ground pepper
1/2 cup frozen corn
Place an ungreased skillet over medium heat. Rinse black beans well and pour them into the pan. Cook for 1-2 minutes, until beans are dry. Pour them into the bowl of a food processor.
Rinse skillet and return it to the stove. Heat 1 tsp. of olive oil over high heat; when it shimmers, add chopped onion to the pan. Reduce heat to medium and cook onion until brown and fragrant. Add the cooked onion to the beans in the food processor.
Add cracker crumbs, egg, peppers, garlic, herbs, salt and ground pepper to the processor. Pulse to mix. Once the mixture is fairly smooth, add corn to the food processor and pulse 5-6 times, to incorporate without pulverizing.
Rinse skillet and place over medium heat. Add remaining teaspoon of oil and heat to a shimmer. Form bean burger batter into four patties, placing them into the skillet after each is formed.
Cook without moving over medium heat until burgers are browned and have formed a crust, about 4 to 5 minutes. Flip and cook on remaining side.
When burgers are done, remove from pan and place on plate. Let cool and refrigerate until you're ready to grill. (They can also be eaten directly from the pan if you have no grilling plans. I like to crumble them over a bowl of baby greens.)
To freeze, stack with a slip of parchment paper between each burger. Wrap in plastic and place in a zip-top bag. For even heartier burgers, stir ½ cup cooked grain (like quinoa, wheatberries or barley) into bean mix prior to patty-forming.
Herb and Garlic Yogurt Sauce
1 cup plain Greek yogurt
1/4 cup minced fresh dill
1/4 cup minced flat leaf parsley
3 garlic cloves, minced
1/2 tsp. sea salt
1/4 tsp. freshly ground black pepper
zest of 1 lemon
Stir all ingredients together at least 30 minutes before serving. If you can't get Greek yogurt, strain regular plain yogurt through a very fine mesh sieve or coffee filter for an hour before mixing in the other ingredients.

Smoked Paprika Aioli
2 egg yolks
1 tsp. Dijon mustard
1 cup sunflower oil
1/3 cup extra-virgin olive oil
3 garlic cloves, peeled and roughly chopped
2 tsps. smoked paprika
1 tsp. sea salt
1/4 tsp. freshly ground black pepper
juice of 1/2 lemon or more, to taste
Add egg yolks and mustard to the bowl of a blender or food processor. While running the motor, slowly drizzle in sunflower oil, then olive oil. Add lemon juice, garlic, smoked paprika, salt and pepper, and pulse to incorporate. Taste and adjust seasonings.
Marisa McClellan is a food writer, canning teacher and dedicated farmers market shopper who lives in Center City. Find more of her food (all cooked in her 80-square-foot kitchen) at her blog, foodinjars.com.