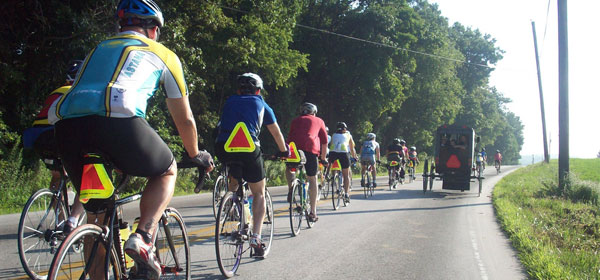 Story by Ariela Rose
Last summer marked the first ever Ride of Dreams, a 240-mile bike ride from West Philadelphia to the state capital in Harrisburg and back to raise funds for Neighborhood Bike Works (NBW), the Philly-based nonprofit that teaches urban youth the benefits and joy of cycling. This year, NBW will ride from Pennsylvania to Pennsylvania Avenue; the second annual ride will commence on July 22, kicking off at NBW's headquarters and rolling down to Washington, D.C., where riders will celebrate their successful journey on the steps of the U.S. Capitol Building on July 24.
The original idea for the Ride of Dreams came from local bike enthusiast Sergio Armani, who dreamed of raising funds for a worthy cause by embarking on a cycling tour. He approached NBW's board of directors, who jumped at the chance to support their organization and create an event that would allow young riders the chance to participate in a life-changing experience. Last year's four-day ride (right) raised more than $11,000 and took nine members of NBW's Youth Race Team, plus 14 adult riders. This year's tour has even bigger fundraising and awe-inspiring aspirations.
Riders will traverse Southern Pennsylvania's sprawling Amish farmland, pass through Susquehannock State Park and pedal through Maryland's rolling countryside. Once in DC, youth and adult riders will have the option of adding a historic tour of the nation's capital—and 40 to 50 miles—to their almost 200-mile trek. Riders will be provided with overnight accommodations, potluck dinners and a truck to haul their luggage. Plus, this year's adventure is to the destination only, meaning riders can hop in the truck for a lift back to Philly once their tour is through.
For more information, and to register or donate, visit rideofdreams.org.