Successful businesses always start by filling a need or relieving a "pain point" for a target market.
In Grid's launch year 2008, when sustainability and "going green" were working their way into the common lexicon and Michael Nutter was elected Philadelphia's mayor on a sustainability platform, the pain point was really located in the consumer's conscience.
Businesses like the Big Green Earth Store, first located in Old City and then on South Street, saw the need for reducing plastic by offering household products in refillable packaging.
Fair Food, fueled by the advocacy of Judy Wicks and the White Dog Cafe, was supplying a growing demand for farm-to-table food for both consumers and restaurants. The Energy Co-op was leveraging a recently-deregulated energy market and increasing renewable energy capacity, made possible by renewable energy credits, to provide sustainable energy to Philadelphia homes. SAVA Fashion was making the case for high-quality slow fashion made in Philadelphia. And Weavers Way and Mariposa Food Co-op continued to give life to the concept of local, sustainable grocery stores.
Fast forward to 2022 and that same pain point could not be more evident.
Between Philly's littered streets and a global plastic crisis, we have no choice but to reduce packaging. With greenhouse gas emissions leading us to irreversible harm by 2030 unless we take meaningful action, renewable energy can no longer be a luxury of the well-resourced and well-informed. And with fast food and fast fashion wreaking havoc on our waste streams and manufacturing production, not to mention supply chains, we need global alternatives guided by local knowledge.
Happily, for Philadelphia, in 2022 sustainable consumers have more options than ever before.
What we're trying to get across is buy less, but buy better."

— Emily Rodia,

Good Buy Supply co-owner
New shop on the block
The Big Green Earth Store closed over a decade ago, but the market for a neighborhood store where you can get home goods without the packaging has only expanded.
A for-profit business with a mission to make it easier to "reduce, reuse, recycle" may sound implausible. After all, corporations have built wealth by extracting and exploiting resources recklessly. But a new generation of entrepreneurs are hoping to prove it is possible to "do well and do good."
Emily Rodia, co-owner of the low-waste and package-free retail store Good Buy Supply, opened the store in 2020 to meet that consumer demand for products like cleaning and personal care supplies without plastic packaging. But she also sees the need for reducing consumption in general.
"What we're trying to get across is buy less, but buy better," she explains.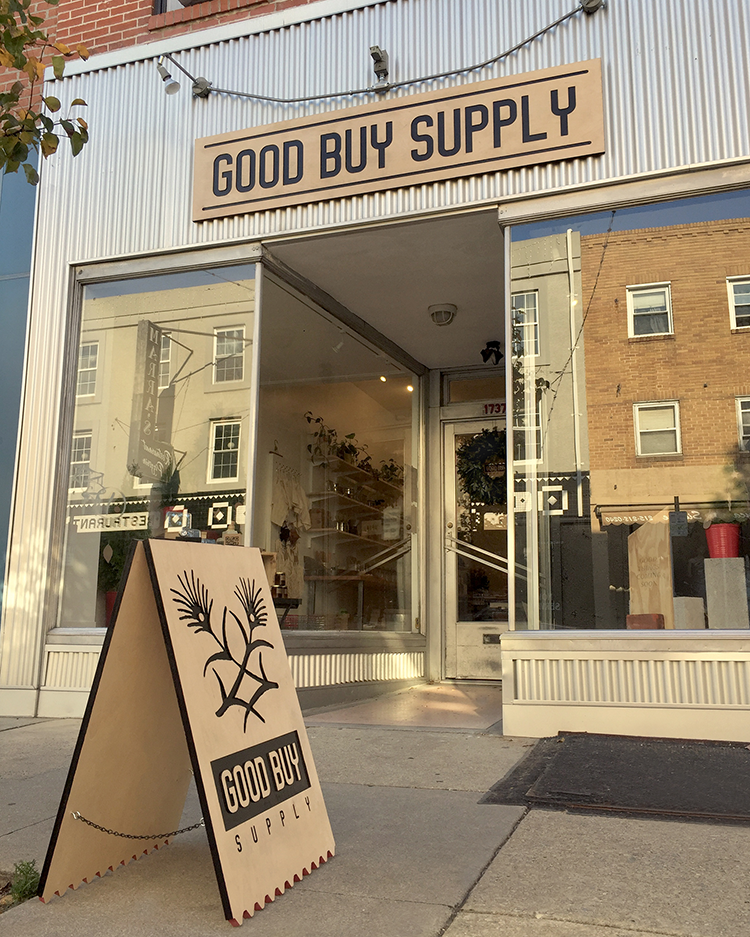 Rodia views her shop as "the new kind of general store," designed to serve neighborhood needs.
"We want to gain customers without pushing consumerism and we certainly don't want people to over-consume our products," she says.
Subscription services, easy "use and return'' systems, "buy one, get one" retailing, ecologically-minded sourcing, regional suppliers and bulk food access are all practices consumers have adopted for convenience.
The packaging reduction tech startup The Rounds is expanding home delivery service to compete with the mega-corporate model. As their advertising cheekily bids adieu to the practices of Amazon with the tagline "Bye, Bye Bezos," they are attempting to soothe the often conflicting consumer pain points of convenience and sustainability. Their bulk buying business model not only allows for reduced packaging home delivery, but their platform allows a consumer to, like the old infomercial tagline, "set it and forget it" through weekly orders.
Shortly after becoming a mom, Bo Zhao felt overwhelmed by the choices, cost and clutter of baby supplies. Her creative coping solution was to launch Baby Gear Group (Grid #148, September 2021) in 2020, an online marketplace to promote sharing over buying.
Zhao recalls, "We all have a natural feeling for what is wasteful and we try not to be that … I knew a key component of my business had to be making the sustainable choice, the easy choice."
Zhao believes younger generations want to take action with their consumption habits. For her customers specifically, she thinks, "the picture is becoming clearer for millennials having children. What are we going to do to protect their future?"
Zhao faced the competition of existing consignment shops, thrift stores and an informal network of hand-me-downs for baby clothes and equipment. She knew from consumer surveys that at least 80% of parents had used some method to shop for secondhand items. But sifting through thrift stores or driving to yard sales can take time.
Zhao figured that creating an online marketplace with subscription options on high-quality "pre-loved" items would save time and money, while forming a supportive community—things that would appeal to young parents. So far it's working, but Zhao is still trying to attract enough subscribers to turn a profit.
Slowing down a frenetic economy
Maintaining core values while building a bottom line is a constant struggle. Consumers care about price and convenience, about where and how goods are produced, and about how the people who make, transport and sell these goods are treated. That's a lot to consider.
But the recent efforts of savvy innovators have given rise to several new enterprises that make living sustainably in Philly more possible, practical, and when weighed against hidden costs, worth the price.
Retrievr CEO Kabira Stokes knows firsthand what it takes to find the balance in business.
With a background in public policy and workforce development, she joined Retrievr, an on-demand household waste collection service for used electronics and clothing, based on her belief that "the best way to divert the huge flow of electronics and textile waste away from landfills was to collect it at the source—where people live."
Three years ago, Retrievr began providing residential pickups in Philadelphia. Initially, the business had to figure out how to make collection affordable and efficient, since the weekly model used by trash haulers didn't make sense. Retrievr landed on scheduled pickups with a sliding fee scale based on the type of items to be recycled.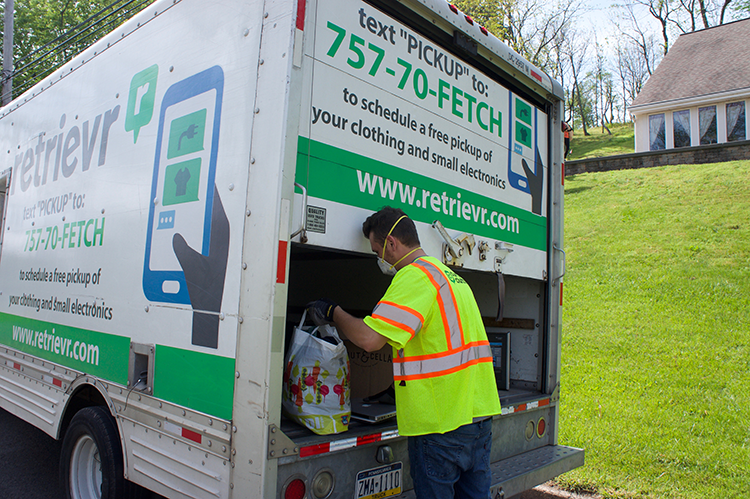 For Stokes, the next challenge was "getting the word out we're here."
But the even bigger challenge was the lack of recycling infrastructure for textiles. While the electronics industry has generated certified downstream recyclers, for fabric recycling, "it's still the Wild West," says Stokes.
"We're at the very beginning of a revolution in the way we take back and reprocess textiles," she says.
This is a far cry from 2008 when brands like SAVA were fighting against fast fashion. The development of an ecosystem of textile recycling and quality, sustainable clothing brands, covered by Samantha Wittchen in Grid's January 2022 issue, have given rise to an interdependent sector of businesses including Grant Blvd, Lobo Mau, Fabscrap and The Big Favorite.
Karyn Gerred, who opened The Resource Exchange in 2009, has been promoting "pre-loved" materials for years.
"Our intent was to fill a gap in Philadelphia's green infrastructure by taking in materials that thrift stores and used materials outlets didn't accept," Gerred explains. Her nonprofit accepts and sells all sorts of salvage from design trades, theater and crafts that were previously trashed. "We have everything from two-by-fours to glitter."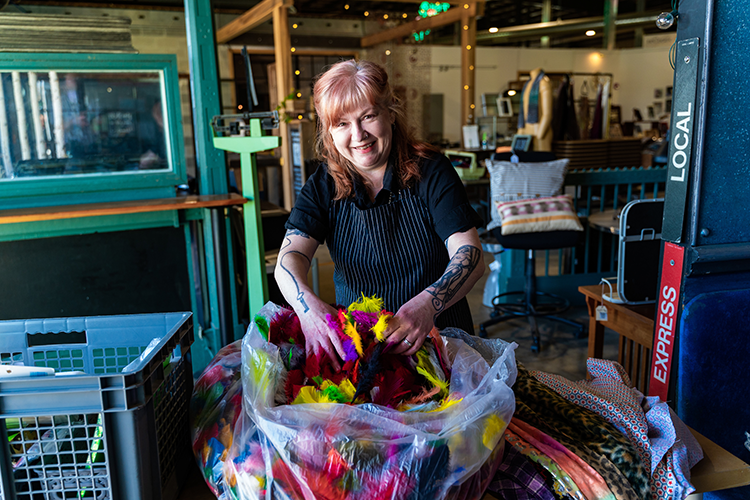 When she lived in the Bay Area, Gerred sourced many of her art materials from Scrap, a creative reuse center in San Francisco. She opened The Resource Exchange after relocating to Philly.
It may seem like a good problem to have, but managing expansion is a challenge.
"We want to stay true to only taking in things we can recirculate into the local economy," Gerred says. "And as an organization, balance concerns for paying staff a living wage, providing equitable community access and selling our materials at low cost."
Providing more choice seems to have had a positive impact on other sectors in Philadelphia. David and Michele Bloovman started Circle Compost in 2016. The Bloovmans felt there was room in Philly for another composting company in addition to Bennett Compost, founded in 2009, comparing it to a Burger King vs. McDonald's marketing strategy.
"With only one choice, consumers see it as a 'yes or no' choice to compost," David explains. "But when there are multiple offerings, it's no longer a question of 'to compost or not to compost,' the decision becomes 'who do I want to compost with?'"
What has resulted is a friendly competition, not a battle over price or services. And as David says, both companies have the same long-term goal: "to get more Philadelphians composting, keep more waste out of the landfills and ultimately contribute to cleaner city neighborhoods."
[People] have to go on the journey themselves. I can only plant the seed to make a sustainable life more possible."

— T

im Bennett,

founder of Bennett Compost
Economies of scale
As businesses grow and generate more revenue, the conventional wisdom is that prices are supposed to drop for the consumer. Setting prices as a business scales is a thorny issue, and for values-driven businesses, especially those in food and consumer-packaged goods, price sensitivity is especially hard to overcome.
Even though the demand and desire for local food and local services continued to rise in the 2010s, Fair Food was forced to shutter its landmark location in the Reading Terminal and cease all operations in 2018. As much as restaurants and the consumers wanted locally-grown food on their plate, what they were willing to pay did not always meet the market need.
Dylan Baird, cofounder and CEO of Philly Foodworks, an online CSA and local foods distributor, sums up why this can be a hurdle for sustainable businesses to attract more widespread support.
"We're all trained to shop on price, so getting past that is really hard," he says.
Often Philly Foodworks customers, like Baird himself, have to believe there's more at stake to spend the extra change.
What prompted Baird to cofound Philly Foodworks was a deep mistrust of the
current industrial food system and a concern that at some future time it will collapse.
He adds that while many local food businesses have tried to spur demand for local markets in Philly, some ethical consumers can fall victim to the greenwashing large grocers and brands implement. This makes it hard for a small food business to compete and to go beyond the niche of "locavores" to reach a broader customer base.
It's not just price but volume that these small business owners fret over.
Weavers Way took a much more aggressive approach to scaling while still maintaining the community consciousness and collectivism it was founded on.
Between 2007 and today, Weavers Way established two farms, opened a Chestnut Hill location in 2010, expanded the original Mount Airy store in 2016 and opened an Ambler location in 2017. They also lent their expertise and insight—part of the ethos of co-ops—to assist Mariposa Food Co-op in their expansion to a new store in West Philadelphia as well as provide guidance on the development of the South Philly Food Co-op and the Kensington Community Food Co-op (KCFC).
KCFC opened in 2019, nearly 10 years after planning and fundraising began. Since the neighborhood was officially recognized as a food desert, convincing neighbors of the need for a grocery store wasn't necessary. But educating them about what a co-op is and how it operates is an ongoing process.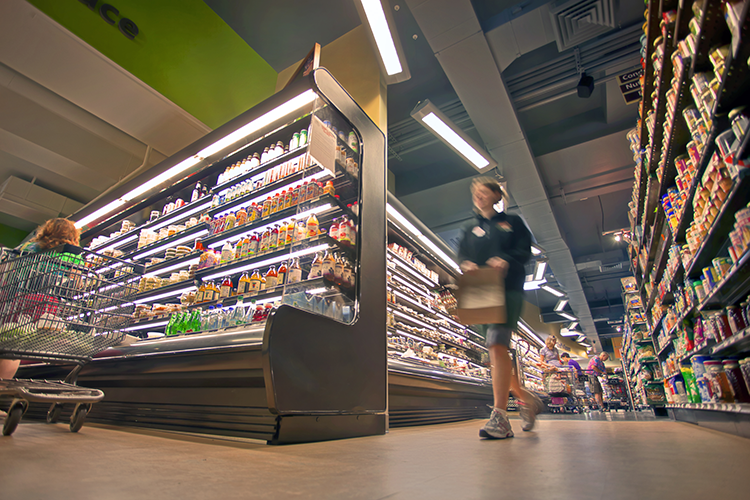 Interim general manager Lauren Lyons first became involved with the co-op model at the former Creekside Co-op in Elkins Park. For Lyons, co-ops embody many things of great importance to her: "the convenience of healthy foods available in one location, the sense of family among staff, and the fact that the co-op is owned by the community."
KCFC strives to offer all of this while addressing a complex challenge, as Lyon says, "to reframe the way people think about food and what it should cost … Why bananas at KCFC cost 99 cents, not 39 cents."
"We're buying from sustainably-minded companies and making sure growers are paid a living wage," explains Lyons.
As Weavers Way did for food, the Energy Co-op served as the nucleus of Philadelphia's renewable energy market. This connection makes sense given that the Energy Co-op was started in 1979 by Weavers Way members seeking cooperative buying power for oil for heating. By the 1990s the Energy Co-op went city-wide and added electricity to its portfolio. And as renewable energy has increased both federally and regionally, the Energy Co-op's collective buying power helped power tens of thousands of homes in the region with renewable electricity and renewable natural gas.
As this market was established and grew, so did the industries in Philadelphia. Now companies like Inspire Energy provide Philadelphia homes with buying options to support renewable wind and solar energy. And companies like Solar States, Exact Solar and Paradise Energy Solutions install solar panels on Philadelphia homes at accelerated rates. It's also a help that the Philadelphia Energy Authority has also partnered with Solar States to create the group solar purchasing and rental incentive program Solarize Philly.
Looking beyond 2022
Small businesses and their customers can only do so much on their own.
These entrepreneurs have plenty of ideas for how the city could help small businesses flourish while supporting a waste-reducing circular economy.
Moving reuse higher up on the priority list for all kinds of materials would improve waste reduction. Offering tax credits for obtaining B Corp certification, providing a single web portal for businesses to navigate and complete the city's bureaucratic requirements would save time and money.
Through marketing and tourism, the city can position Philadelphia as a green destination that celebrates local businesses.
Peicha Chang, owner of Vault & Vine—a locally-sourced floral shop, café and event space with sustainability at its core—was delighted that Philadelphia did not get the Amazon headquarters deal. "I'd love to see a 'Buy Fresh, Buy Local'-style campaign with a louder voice than Amazon," she says, to woo locals and visitors to support Philly's storefront businesses.
Other things in Philadelphia's favor include its population density and the relative ease of transportation, making for a more efficient urban collection and distribution system. The robust community of farmers, artisans and producers in and around the city is invaluable. It's not nearly as expensive to launch a business in Philly as in New York City. And because the economy is not dominated by one or two industries, there is more opportunity for "closed loop" collaboration among companies sharing resources by turning waste to productive use.
Despite these advantages, poverty, unemployment, inequality and our aging infrastructure are intractable forces that hinder efforts to move to a more sustainable economy. As long as many households struggle to meet the basic needs for food, clothing and safe shelter, the goods and services of green businesses are beyond their means.
At craft brewhouse Triple Bottom Brewing, cofounder and CEO Tess Hart talks about this push and pull, too. The existential challenge between "pushing the mission and pushing the product."
"We want to tell our story without being preachy, because fundamentally beer should be fun," says Hart of her certified B Corp, which is powered by wind energy and composts the grain it uses to make beer.
Retrievr CEO Kabira Stokes and Fabscrap regional manager Lindsey Troop envision an opportunity to focus on the pressing need for textile recycling.
Stokes believes that, by utilizing former industrial buildings and unemployed or underemployed residents, "Philadelphia could become a major East Coast player in recycling and upcycling," creating living wage green jobs in a high-demand industry. Our city can choose to invest in ways that reimagine and rebuild better as a way to restore the aging built environment and address poverty through sustainable job development.
Consumers concerned for the present and the future are right to make demands on companies they support: living wages, renewable energy use, low carbon footprint, sustainable sourcing, waste reduction, to name a few. But are we willing to pay for these more costly business practices?
Tim Bennett founded Bennett Compost in 2009 after he read about composting and thought it was worthwhile. He started collecting kitchen food waste from interested friends and a company evolved. Bennett Compost now serves about 5,700 households across the city. Still, Bennett says he's done hundreds of hours at farmers markets trying to answer the question "Why should I pay for this?"—and he has never convinced one person who asks.
"They have to go on the journey themselves," Bennett explains. "They have to arrive at the value on their own. I can only plant the seed to make a sustainable life more possible."