"When you have children, it's important that they listen to you, but it's equally important that you listen to them."
These words of wisdom from former-Councilmember Blondell Reynolds Brown are what inspired her to listen a bit more closely one afternoon in 2008, when her middle school-aged daughter came home and told her what she learned about in school that day: environmental justice.
The term piqued Reynolds Brown's interest and when she did more research, she realized just how much it aligned with the goals of the newly-elected mayor, Michael Nutter, who had won on a platform of making Philadelphia the greenest city in America. She may not have envisioned it then, but environmental justice would come to define much of her legacy on City Council.
"This was an opportunity for me to take the seed my daughter planted and put some policy legs on [it]," Reynolds Brown explains.
Reynolds Brown, who joined City Council in 2000, was primed to make her impact on Mayor Nutter's sustainability agenda.
In 2012, the newly-elected council president Darrell L. Clarke made her the chair of the Committee on the Environment, which was created in 2004.
From this position, Reynolds Brown had great influence over Mayor Nutter's burgeoning Greenworks plan, which was to serve as the blueprint to achieve his lofty sustainability goals. Reynolds Brown credits Greenworks with giving her fellow legislators the language, fluency and policy ideas that they could act upon to make the plan a reality.
"I remember while doing a lot of our hearings that most people in the audience did not look like me—the activists, the policy wonks … ," she recounts. "I was not represented on that side of the table. And the sad news is that those who've been impacted from a fairness, equity standpoint always look like me. And so that to me was it. It required me to become fluent in the world of the environment and sustainability and look for opportunities where we could grow the activists."
Long before the excitement of Mayor Nutter's sustainability agenda, Reynolds Brown was a second year at-large councilmember taking the time to keep close to her constituents.
As an at-large member, her work one morning took her to the Philadelphia High School for Girls, right across the street from the Olney Transportation Center. Reynolds Brown spoke to an audience of hundreds of girls, but one 15-year-old in particular was inspired by the powerful alumna at the podium—Katherine Gilmore Richardson, who became a councilmember herself in 2020.
"I loved her story," Gilmore Richardson, now 38, remembers of that day sitting in the audience in front of Reynolds Brown. "She talked about being the oldest of seven [children] and having to have gumption."
Gilmore Richardson worked up her own gumption that night.
She wrote a letter on her typewriter and went to drop it off at Reynolds Brown's house the following day. Luckily enough, Reynolds Brown was working in her front yard garden and accepted the letter personally. This began a correspondence that lasted through Gilmore Richardson's college years.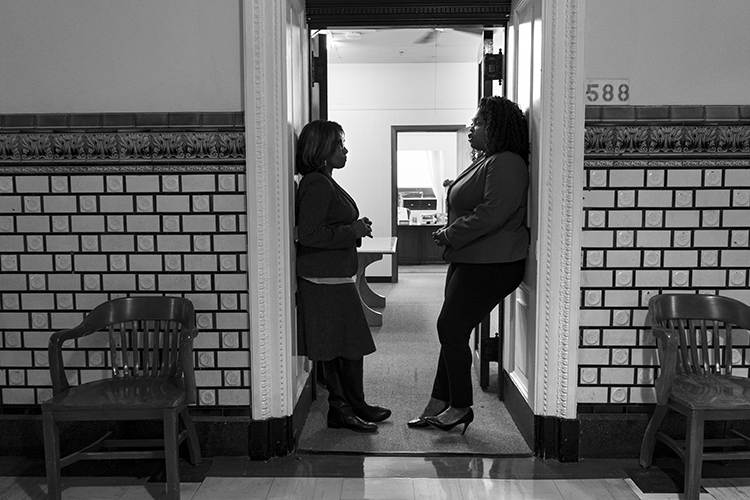 It was during this time that Reynolds Brown's sustainability work as a councilmember took off.
One of the major initiatives Reynolds Brown recalls working on with her fellow councilmembers, including Jim Kenney and Mark Squilla, was a plastic bag ban that was defeated three times while Reynolds Brown was on council.
She views those defeats differently now that the ban has been passed.
"It takes adults seven times to hear something before we get it right. To bring other people along to understand the value of something," she says.
She recalls that the first introduction of a plastic bag ban was met with opposition from plastic industry lobbyists, who were knocking at councilmembers' doors saying that it was a very bad idea.
But her fellow allies on council were willing to do the work pushing the ban's benefits.
"At the end of the day, as a legislator, you have to have allies and you have to be willing to do the work of authentically engaging and informing colleagues so that we could get to the magic number nine votes," she says.
While the ban didn't pass during her time on council, she wasn't discouraged.
"It just means you can't get it [passed] now, so you have to try it again later in a different environment."
That new environment came in 2020 when Councilmember Squilla's most recently introduced plastic bag ban passed 15-2. Reflecting on what it took to get to that win, Squilla affirmed the long game.
"The journey to pass [plastic bag] legislation in Philadelphia was long, bumpy and often circuitous," Squilla recounts.
But Reynolds Brown's tenure on City Council was not defined by defeat.
When asked for her proudest moment while chairing the Committee on the Environment, she points to the successful 2016 ballot initiative that established the Office of Sustainability in the city's charter as a permanent part of the government.
"If it's not in writing, it doesn't exist," Reynolds Brown says.
This law change set up the Kenney administration to not just inherit the Greenworks plan, but inherit an office to carry it out.
Although Mayor Kenney made the Rebuild program (to fix up parks and recreation centers) and free pre-K through PHLpre-K (both funded by the soda tax) the major platforms of his campaign, he also took an exceptional move as a politician regarding sustainability.
Rather than scrap the Greenworks plan in lieu of his own initiative, he for the most part kept the program as is, albeit adding more of a community focus than the larger scale approach of Mayor Nutter.
Reynolds Brown gives credit for keeping Greenworks intact to council president Clarke, who decided to continue the Committee on the Environment. The council president has the power to disband council committees.
"The transition from Nutter to Kenney was punctuated by president Clarke underscoring and believing that the committee was still worthy," she says.
You always have to look out for those behind you."

— blondell reynolds brown,

former Philadelphia Councilmember
In 2019, with Kenney's first term coming to an end and the Greenworks plan continuing to make strides in renewable energy efficiency, waste and tree canopy, Reynolds Brown decided to retire. At this time Gilmore Richardson, who had returned from college years earlier and had worked her way up to Reynolds Brown's chief of staff from an intern, began considering a career as a Philadelphia politician herself.
Although Reynolds Brown definitely thought of Gilmore Richardson as her successor, it was the people ringing Gilmore Richardson's phone off the hook telling her to run that got her to do it.
First, she went to her husband to make sure it was the right move for their family. When he told her it was "now or never," she went to the councilmember for her advice.
"You always have to look out for those behind you," Reynolds Brown explains. "That's my training as an African-American woman. And here was an opportunity to be a part of what I consider legacy pushing. Encouraging a young woman who held every position in my office except public relations. It was a huge opportunity."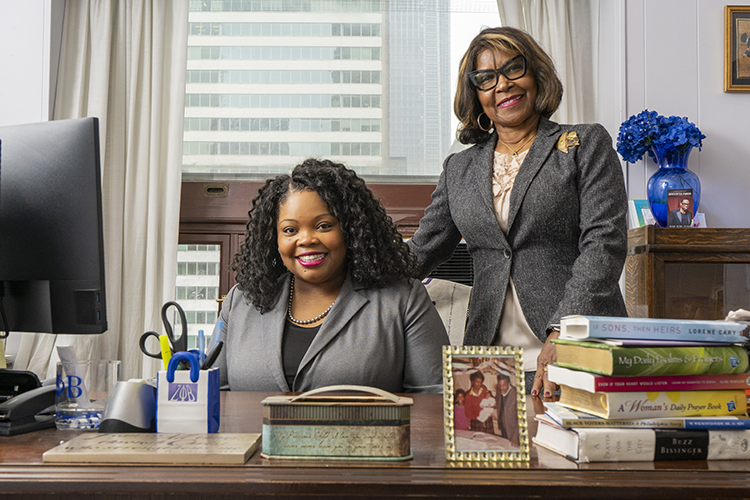 In 2020, Gilmore Richardson was sworn into office along with a re-elected Mayor Kenney and a historic slate of new councilmembers, including Kendra Brooks, who was the first councilmember in seven decades to win an election outside of a major party. Of course, the excitement of this reelection was short-lived as only a few months later, the COVID-19 pandemic triggered an unprecedented shutdown.
Even though Gilmore Richardson traded in the gilded City Council Chambers for virtual meetings, she still managed to continue the legacy laid before her as the new chair of the Committee on the Environment, which she took over from Reynolds Brown.
A major part of this legacy continuum was the creation of the newly-formed Environmental Justice Advisory Commission.
Building on the awareness that her daughter instilled in her about the need for environmental justice in 2008, Reynolds Brown crafted a bill that passed in 2019 by City Council to formally create the Environmental Justice Advisory Commission. As chair on the Committee for the Environment, Gilmore Richardson took a lead role with the administration and colleagues to make this an official part of city government in 2022, ushering the formal launch of the commission.
The daunting task of giving this commission the resources and power that it needs to be effective is not lost on Gilmore Richardson.
"Issues like the tree cutting in Cobbs Creek are why we need a whole government approach to environmental justice," she explains. "Mandating collaboration would have prevented our shock and dismay that somewhere in city government someone approved a plan that has led to a decrease in our tree canopy and would have addressed the lack of knowledge and understanding around this process."
Earlier this year, Gilmore Richardson asked Mayor Kenney to establish an Interagency Working Group on Environmental Justice. Last month, he announced his commitment to do so.
Departments will now need to work collaboratively, getting input from the new Environmental Justice Advisory Commission and new Environment Justice staff that Gilmore Richardson has helped to secure funding for, embedding a governance structure into the city that is dedicated to ensuring we are all working together to achieve an environmentally just future.
This funding included $206,000 in the city budget for the Office of Sustainability to hire a Chief Resilience Officer, who will be a key governmental organizer for the Environmental Justice Advisory Commission.
Gilmore Richardson is very optimistic about the large amounts of funding that are part of the Biden administration's Covid-relief measures and Build Back Better agenda. She's also a firm believer in the Biden administration's Justice40 Initiative, which ensures that 40% of all funding to improve the U.S. environment goes directly to communities designated as "environmental justice communities."
Gilmore Richardson has also become the self-appointed champion and educator in City Council on the circular economy, an economic concept where manufacturers and retail businesses eliminate waste, reusing materials and products as much as possible, thereby limiting extraction and reducing waste to landfills while also improving economic opportunity.
She continues to fight for more awareness and funding to be put into businesses that are adopting circular practices and moving toward zero waste. When asked about the Office of Sustainability's recent promotion of their Zero Waste Partnership Micro Grant, which intends to open more opportunities for BIPOC businesses especially but only dedicates paltry grants of $250 to $1,000, she was circumspect.
"As a city we have to ensure that we are able to adequately fund the work we know we need to do in Philadelphia," she contends. "I remember having to explain [the circular economy] in last year's budget cycle. But we have to continue to educate on these issues so that my colleagues understand why this is important and why I'm pushing for money for all of this."
And a big part of that comes down to the priorities set forth in the next mayor's race, which is set to begin at the end of this year, leading up to the election in November 2023. Thinking back to how much has changed from the Reynolds Brown era to Gilmore Richardson's, the women almost in unison bring up the flooding of I-676 in September 2021 from Hurricane Ida.
They both make the salient point that when Reynolds Brown and Mayor Nutter were advocating for Greenworks in 2008, Philadelphians were not seeing the immediate effects of climate change. Now they are.
Given the urgency of the moment, both for the environmental and social protection and progression of Philadelphia, both women hope future mayoral administrations continue to press sustainability advancements and act proactively against climate change.
Gilmore Richardson explains: "We need to ensure that our next mayor knows and recognizes the importance of this issue and is willing to work with the residents of Philadelphia to continue to build trust. And that they are ready to invest in this issue in a serious way moving forward."
Reynolds Brown echoes this.
"Don't put them on the back burner," she says of environmental issues. "Put them at the forefront of this next election. And ensure that people understand why it's important for us moving forward."