For the past two years, Ray Daly has spent many of her days bouncing around Philadelphia's parks. Pulling up to farmers markets and other events in her Ray's Reusables van, outfitted as a mobile refill station, she's made a name for herself by bringing low-waste, plastic-free lifestyle products to neighborhoods across Philly.
This week she opened a storefront in Northern Liberties to continue her mission of helping Philadelphians live more sustainably.
Here's the scoop on the new storefront and why Daly chose to roll out a brick-and-mortar after a few years on the road.
This interview has been edited for clarity, length and style.
What made you want to open up a storefront?
When I began Rays Reusables I wanted to try and make shopping more sustainably easier on people by bringing the sustainable store closer to their front doors. I started popping up at farmers markets, events, and sometimes just in neighborhoods. I love being able to go out and meet people in their neighborhoods, but I wanted to make a space that would exist outside of market hours. That way if you're not free for the four hours a week that I'm in your neighborhood you have an alternate option to refill.
Aside from that the storefront opens up a lot of avenues that are difficult to achieve with the van.
Being outdoors and having to fully set up and break down every time I had to think about how products would do in the heat and cold and sun, and how much I was reasonably able to build into a display. In the storefront, I have so much space to display products in a stable environment, so that's really exciting.
Will you still be selling out of the van at all?
I will absolutely be keeping the van alive!
My mission is still to make living a more sustainable lifestyle more accessible and convenient for people, and I think the van is an important part of that. I'm currently working on getting some people trained to help me tackle being in two places at once, so for now the store front will be closed Saturday mornings, but soon I'll be fully operational in both locations.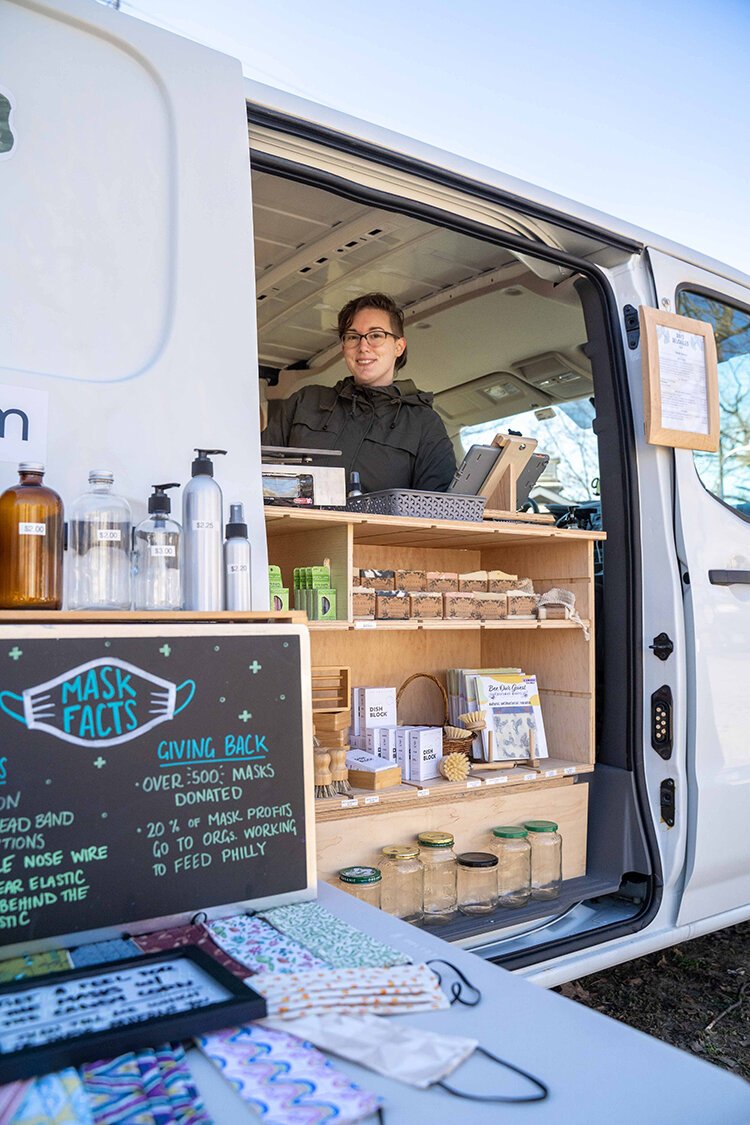 You built out a lot of the store space yourself. What was that process like? Did you learn anything new compared to building out your van for refills?
My gosh, I learned so much. I was pretty involved in the design stage of the van build out, but I didn't have any woodworking experience at the time, so my father-in-law is the one who constructed the cabinetry that went in there.
This time around I was the one doing the making.
We did some minor alterations to furniture that we purchased from the previous owners, but the pegboard wall and refill station table were two projects where I had to learn skills that I've never used before. I learned to use a CNC machine (a computer controlled cutting machine) to make the holes in the peg boards, and I worked with resin for the first time to make the refill station tables.
I'm really fortunate that I have a lot of woodworkers in my life so I had a ton of help from not only my husband and his father, but also from so many people at NextFab.
They helped me troubleshoot the projects I was working on, gave me a lot of really great advice, and were just generally so supportive. Now that I have a little more experience I'm really excited to pursue more building projects.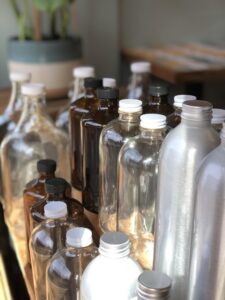 What does your new store offer? Anything you don't sell mobily?
The Ray's Reusables store stocked with low, and zero waste household items.
My storefront offers a variety of being-your-own-container refillable body care and cleaning supplies. You can certainly buy a container from me as well, but I love when people bring their own clean dry containers to refill.
In addition to the refill bar I have a variety of low-waste and environmentally conscious household and everyday items. I carry many items from makers in Pennsylvania, New Jersey, New York, and neighboring states, as well as some states further away.
There are some items that are shop exclusive.
I just brought in a line of Ayurvedic face care items from Bright Body, a woman-owned business based in Virginia, that I'm super excited about.
I also brought in a selection of plastic-sleeve-free greeting cards, an expanded selection of products from Lovett Sundries, Who Gives A Crap toilet paper, and the list is growing!
Why did you choose the Northern Liberties community to plant your flag?
I chose the Northern Liberties in part because it is difficult for me to find pop-up opportunities on this side of town.
There aren't a lot of farmers markets that I'm allowed to sell at, and since I'm so frequently on the West side of the city in East Falls, Manayunk, and West Philly it seemed like the best way to pursue more accessibility would be to set up shop where I'm not able to pop-up.
I'm also hoping that with the shop being so close to several public transportation options it will be almost as easy to get to if you don't have a car as if you do.
What are your goals for the business moving forward?
I would really love to create a space where people are able to come together in community.
Having a shop is fabulous, but much more than being a place where people buy things I want people to feel that they can learn things or that their lives are enriched in some way that is greater than getting some more laundry detergent or shampoo bars.
Once I've had more time to settle in, I'm planning to start hosting some workshops and talks focused on local sustainable initiatives. I don't have anything set in stone yet, but that's the goal… so if there's something you'd like to see in the future, let me know!
Ray's Reusables is located at 935 North 2nd Street. The store is open on Mondays and Thursdays from 11 a.m. to 7 p.m., on Saturday from 3 to 6 p.m., and on Sunday from 10 a.m. to 4 p.m. Visit raysreusables.com to learn more.