Following the birth of her first son in 2018, Melanie Hasan experienced postpartum depression, a condition that affects millions of women each year. She turned to natural dyeing to find comfort.
"Just dipping your hands into a really nice, lukewarm bath and absorbing the color of an onion skin, or just embracing the smell of eucalyptus … it does have characteristics that actually help offset those feelings," says Hasan, 32.
She turned this meditative practice into a full-time business, Modest Transitions, in 2019 when she began dyeing fabric with plants in her kitchen and selling the wares online.
The February opening of her Fishtown storefront will mark four years of healing for Hasan and a new chapter for her business.
The idea for Modest Transitions is we're trying to provide holistic restorations in our community."

—Melanie Hasan, owner of Modest Transitions
Hasan, who lives in Darby, Delaware County, says part of the reason she chose this section of Fishtown, at North 3rd Street and West Girard Avenue, is because the area struggles with drug use.
"I actually wanted to be able to build community and inclusion somewhere it … needs to happen," says Hasan, who worked in behavioral health for eight years prior to starting her business.
"I know that the arts are very therapeutic for someone who's suffering with addiction," Hasan adds, "so I am opening my studio with open arms to help those who may suffer with addiction or any other behavioral health issues."
She says the neighborhood's vibrant energy also drew her in.
"When I hear Fishtown, to me it screams artisans, it screams a sense of uniqueness," Hasan says.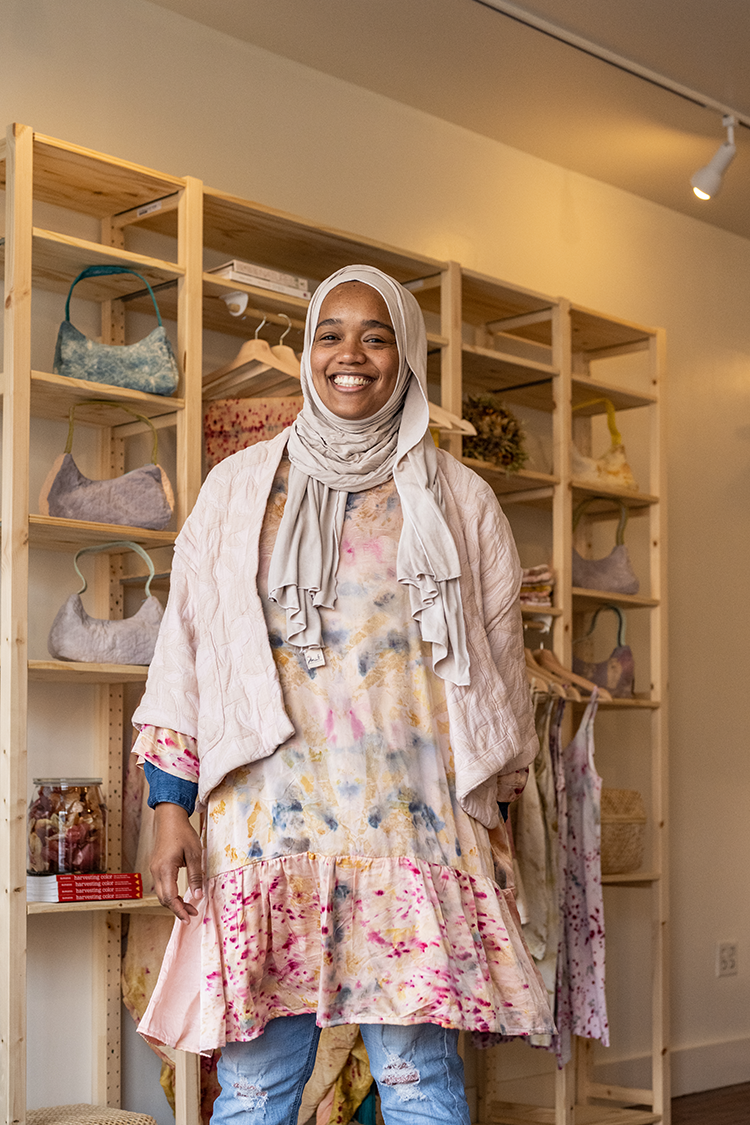 Modest Transitions will offer seasonal workshops on natural dyeing, using sustainable materials and reducing textile waste. Classes will range in cost from $55 to $375, but once a month these offerings will be pay-what-you-wish. Modest Transitions is also building a library that will provide free seeds, fibers and dye swatches.
Hasan says she also hopes to partner with nonprofits to provide job placements at Modest Transitions for those who need employment.
"The idea for Modest Transitions is we're trying to provide holistic restorations in our community," she says.
Bethany Rusen, founder and director of Black Hound Clay Studio in West Philly, has seen Hasan in action as a teaching artist at her studio, where she led sustainability classes.
"She's very much community-minded," Rusen says. "Fishtown is just so blessed to have her in that space and to have her vision and her energy … "
With the opening of her storefront, Hasan is excited to have more space to create the colorful scarves, bandanas, shawls, totes and silk dresses that are part of her collection.
"What I like to do is try to embrace natural beauty and create really unpredictable designs that are just naturally reoccurring," Hasan says of her work.
Hasan creates the dyes for these pieces by simmering organic materials from avocados, onions, hibiscus and black walnuts to extract colors. Because of the unique nature of the dyeing process, none of her pieces come out the same.
"I know how much care she puts into every inch of the fabric that she dyes," says friend and collaborator Liz Sytsma, owner of the Mount Airy fiber shop Wild Hand. "I like to picture her coaxing the colors out of plants in this mystical way."
Another important aspect of Hasan's craft is her focus on sustainability. Not only does her process allow her to make use of food waste, but she also minimizes her carbon footprint through zero-waste pattern making. She uses excess pattern paper to create additional products, and she also repurposes scrap material by weaving it into fiber.
"I realized that there [are] millions and billions of textile waste going into our landfills, and it's just sitting there, and it's really becoming harmful to our planet," says Hasan, who learned about sustainability while studying fashion and textiles in the adult certificate program at Moore College of Art & Design in 2018 and 2019.
Whether it's protecting the planet or creating an inclusive neighborhood space, Hasan's values drive her work, and much of her inspiration comes from her Islamic faith.
At the beginning of her creative journey, Hasan found herself dyeing hijabs, the head covering Muslim women wear for modesty. In doing so she found herself pushing back against stereotypes about Muslim women. The name of her business, Modest Transitions, is an homage to Hasan's own religious conversion and journey of faith.
"I'm hoping that even if you're not Muslim, it almost brings awareness like, 'Wow, I could be a modest woman and still have the most fun,'" Hasan says. "My transition was just my way to modesty, and that's in everything that I do and touch."
Sytsma says the importance of Hasan's faith in her practice is evident.
"You see what it looks like to have a person who's putting their everything, their heart, their soul, their values, their faith into every single step in the production process," Sytsma says. "And that's why I think the dye work looks unique [and] has so much more depth and beauty."
Hasan is currently raising funds to support the storefront through a GoFundMe with a fundraising goal of $25,000. The funds will be used to make textile arts more accessible to the community, provide future job opportunities at the store and create a dye garden onsite, where Hasan will grow the fruits, vegetables and other plants used in her natural dyeing process.