In colonial Jamaica a group of enslaved women were bathing in the nude, washing clothes and likely gossiping on a riverbank when some traveling Englishmen spied them, according to Kevin Dawson, associate professor of history at the University of California, Merced, in his book "Undercurrents of Power: Aquatic Culture in the African Diaspora."
Thrilled with what seemed assured pleasure, the Englishmen made for the women. The women, divining their intent, plunged into deep water.
"The women said, essentially, 'If you want us, come and get us,'" says Dawson, a swimmer since he was three months old. "The women knew most Englishmen feared water while they themselves, like many people of African ancestry in the past, were proficient swimmers."
In "POOL: A Social History of Segregation," a 4,700-square-foot museum exhibition at the Fairmount Water Works near the Philadelphia Museum of Art, visitors can hear recordings of Dawson describing historical illustrations that reveal the aquatic skills of African heritage people in times past.
Through scholarship, storytelling and dazzling exhibits, POOL looks at "segregated swimming in America and its connection to present-day drowning issues affecting Black communities," explains Victoria Prizzia, who created POOL, which was funded by the Pew Center for Arts & Heritage and the Philadelphia Water Department.
Swimming is often seen as un-Black or a white activity, but that's incongruent with our past."

— Kevin Dawson, associate professor of history at the University of California
Using diaries, travel accounts, ship logs, plantation records and other documents, Dawson establishes that people of African ancestry in the Americas had swimming abilities that allowed them to dive for pearls, retrieve gold from shipwrecks, obtain specimens of marine life, and harvest seafood for their enslavers.
"They also built canoes and sometimes paddled to freedom in Spanish Florida," he adds.
Those skills contrast with the way many people in the U.S., including African Americans, view Blacks and swimming today.
"Swimming is often seen as un-Black or a white activity," Dawson says. "But that's incongruent with our past."
The change took root because segregation often gave Blacks little chance to learn to swim.
"In 1940, for example, Washington, D.C., had three inadequate indoor and two outdoor pools for African Americans," Dawson says, "whereas there were nearly fifty pools for other swimmers. In addition, most African Americans lacked the resources to pay for swimming lessons."
Some cities' refusal to provide pools in Black neighborhoods continues to take a toll.
"According to reports from the Centers for Disease Control and Prevention, Black children and teenagers are almost six times more likely than white children to drown in swimming pools," Prizzia says.
POOL blends striking art and the voices of swimming champions, aquatic activists, researchers and scholars—from theater artist James Ijames to Olympic gold medalist Simone Manuel—unwilling to tolerate the status quo. They come from different disciplines but they agree that "the answer to correcting these [racial disparities lies in] making the lifesaving skill of swimming available to all," Prizzia says.
Visual elements range from murals with sensual watery images to digital animations and large-scale architectural projections.
POOL also offers commemorative postcards with images from newspaper archives and the Library of Congress that capture key moments regarding African Americans and swimming. One postcard has a 1962 photograph of young Black swimmers at the Kelly pool at the Fairmount Water Works. "Philadelphia newspaper clippings reveal immense public support for the pool," the postcard says.
That moment contrasts with the situation today when many city pools lack support. Billy Penn reported in June that only 69% of Philly's pools would open this year due to a lack of lifeguards.
Another postcard features Black activist Mamie Livingston. In 1953 at age 18, Livingston, rejected at a public pool near her home because of her color, wrote a letter of protest to the Baltimore Afro-American. The letter spurred the NAACP to take the city to court to equalize recreation facilities, the postcard explains.
Multimedia artist and photographer Azikiwe Mohammed reminds visitors of the connection between Blacks and water in a different way in his exhibit.
"I project water-based imagery onto Black mannequins to remind viewers that water is a homeplace for us, always has been, always will be," Mohammed says.
Featured voices include that of Anthony Patterson, president of the board of governors of Yeadon's Nile Swim Club (NSC), America's oldest Black-owned swim club.
"The African American community established the Nile in 1958 after Yeadon's private white swim club turned away Black families," says Patterson, raised in Yeadon and owner and CEO of Main Line Investors Group.
"NSC offers membership and swim lessons to people of all ethnicities," says Patterson, one of 19 siblings who grew up swimming at the Nile.
"Our NCWDOT [No Child Will Drown in Our Town] provides free swimming lessons to children of all races," Patterson says. The club's pool is located on a four-and-a-half-acre outdoor site. "We partner with the Lansdowne YMCA to continue our program in winter."
Visitors learn about the Harlem Honeys and Bears Synchronized Swimming Team, formed in New York City in 1979 to teach seniors ages 60 and over to swim.
"I learned to swim when I was 62," says team member Willie Joyce Clarke. "I'd gotten sick, and the prognosis wasn't good, and I decided I would learn to swim before I went to heaven. The water is another world. We're mermaids in the water."
"We have a program to teach youth to swim," says team president LeRoi Whethers. "Our two oldest members are 99."
POOL includes an area where one can test "blue mind theory," the idea that being "near, in … or under water induces a mildly meditative state," according to scientist Wallace J. Nichols, author of "Blue Mind."
It's a short hop from that theory to the possibility that people who lack access to bodies of water might lack a resource for emotional balance.
These provocative exhibits also lead one to consider environmental racism. The Flint, Michigan, water crisis, which exposed that city's residents to water-borne lead and disease from 2014 to 2019, happened due to "systemic racism," the Michigan Civil Rights Commission found, according to a report by the Natural Resources Defense Council.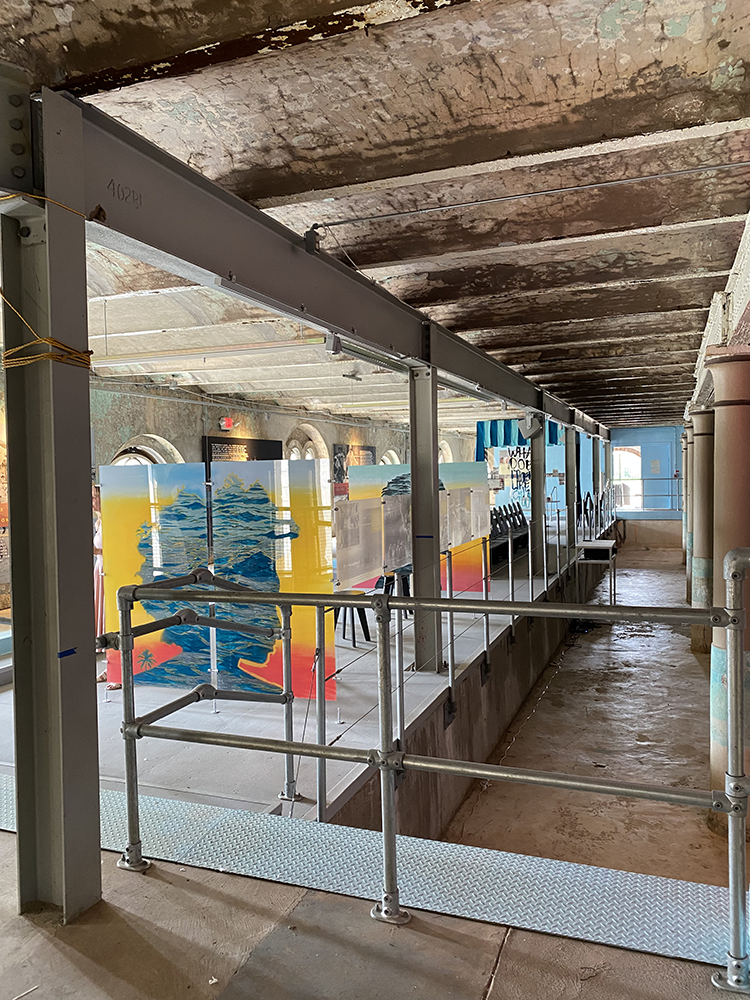 POOL plumbs the history, injustice, activism and achievements involving people of African ancestry and water. "The more I learned about the connection between land use and healthy waterways, the more I could see that the story of all water is a story of social justice," Prizzia says. "Where there's irresponsible development, pollution, poor infrastructure, a lack of greenspace and buffers between land and water, there will also be compromised water bodies and systems—the vital and wondrous living systems we all depend on