There's a new bike shop in town, and for co-owners Adena Brewington-Brown, Michael Brown and Isaiah Urbino, it's about way more than selling bikes.
The trio—a married couple and their "third wheel"—wants The Tricycle Shop to be a community space where everyone will feel welcome and comfortable.
Setting up shop in the same location that housed Riverbend Cycles, along the Schuylkill River Trail in Conshohocken, Brewington-Brown and Brown were preparing for a late-July grand opening when they spoke to Grid about the new business.
This interview has been edited for clarity, length and style.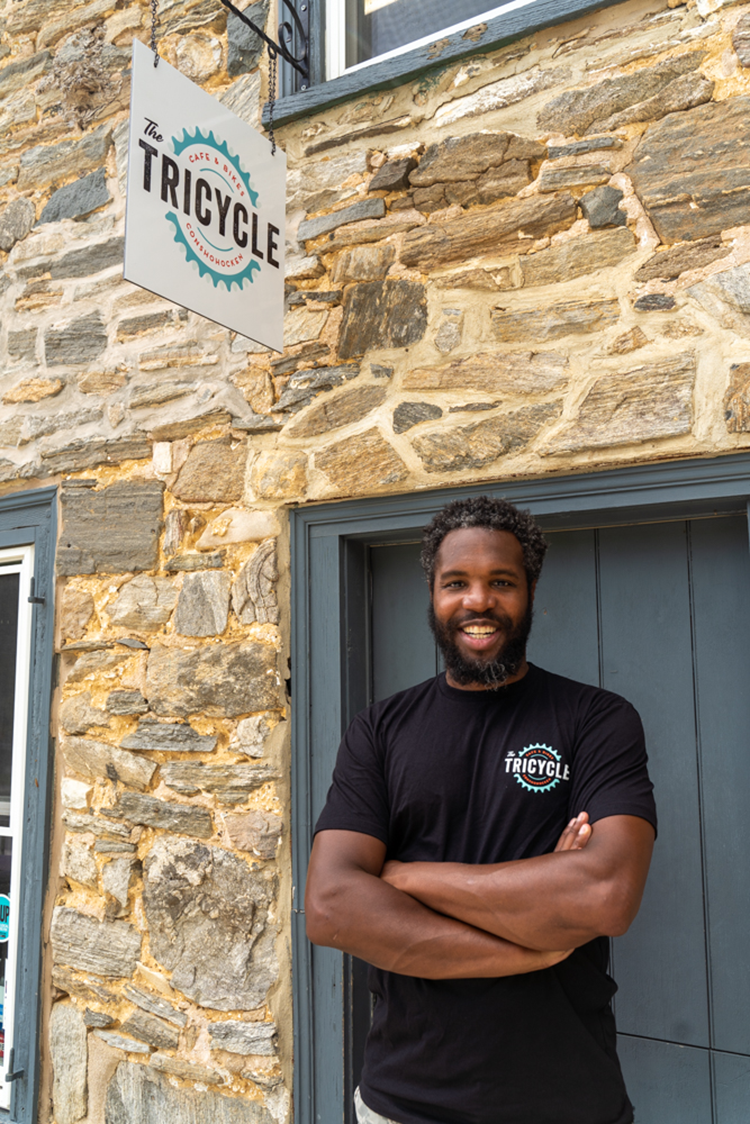 What made you want to open a bike shop?
Adena: Riding my bike around Philly as a kid was something that was exciting for me. I'm from North Philly; we lived close to Kelly Drive, so we would ride our bikes as kids.
As an adult, I got a hybrid bike in 2016, and I realized how much I still enjoyed riding.
Our goal now is just to create an inclusive space for folks to come into, especially because Michael and I are African American. Our partner, Isaiah, is of Latino background. We're minorities within the cycling community, and we want to have a safe space for all people.
There is definitely a need for a new kind of bike shop and a new kind of bike shop owner in some regards.
Michael: I agree with you on that.
Being a cyclist and going from riding a Walmart bike and then upgrading—it felt like a lot of the places that I would go to, you just don't see people like me. The clubs that I went out to ride with were not very welcoming. When I went to certain bike shops, they just didn't make me feel like I belonged. Not that it was their job to do, but it's customer service—so it kind of was.
It is their job.
Michael: You know, in a lot of shops, you'd see the advertisements on the wall. You look on the wall and all you saw were middle-aged white guys that were built like a string bean, you know what I mean? That's the demographic that has been in cycling for quite some time.
And you know what? If you want to see the change, you've got to be the change. That made me want to build an inclusive space, and not just for Black cyclists, but for Asian cyclists, Hispanic cyclists, female cyclists, LGBTQ cyclists.
You don't see that often. Even people with larger bodies. There is no market for them in cycling. So you have all of these people who don't have a home, basically. I want people to come into our shop and say, "I saw a picture on the wall of someone who looked just like me." That goes a long way. Just seeing those little things go a long way.
I wanted to create a space that was welcoming to everyone, like a car dealership.
For sure. Almost everybody can see themselves in a car, not everybody can see themselves on a bike.
Adena: Having people of different backgrounds and body types, I think, gives people an understanding that this is not a sport that really is defined by a type or a specific type of person. There are so many people who won't even consider bicycling as a sport or for leisure. And it could be secondary to some of those insecurities.
We think our shop can help break down barriers. There are so many disciplines in the world that need champions for that.
What kind of bikes do you plan on selling? Is it going to be across the board, or are you going to focus on one thing?
Michael: Well, our main brand is going to be Specialized. We'll also have Jamis. We'll have Yuba bikes, cargo and electric bikes, and Head bikes for entry-level stuff.
We also have our own brand called Built by Brown, and we will be building custom bikes through that brand.
So you've already been building and selling your own bikes?
Michael: I have one at the shop now that has not been sold yet. I sold one already. The one that I have now is absolutely beautiful. And I have one that I'm building that is—they're very, very nice.
They're regular branded bikes, but we strip them down, we repaint them, put a little bit of a flare on them. And it's more of a personal collection that's for sale. It's like you're selling your babies. But I like it. I love the bikes. To be able to share that with other people is also pretty dope.
You intend for this to be a community space, too?
Michael: Yeah, I think that it's worth noting that it's a bicycle repair shop, it's a café, but we're also going to be utilizing it as a community center. So our plan is to do financial literacy, credit management, business management, those types of things.
We're also doing community events out of the shop that are not cycling-related. Adena's in women's health, and she will also be leading some health seminars out of the shop.
Adena: And we'll be doing some events and art curation.
Our space is unique because it's a house that was built in 1910. It's a cool spot, and we'll have the opportunity to showcase artwork or will have part of the café seating area for people who have a collection, to do a presentation, or, really, for any use folks want.