Last fall labor organizers at the National Audubon Society began asking non-managerial staff at the 116-year-old environmental organization whether they would like to form a union in partnership with Communications Workers of America (CWA).
A majority of staff, including workers in Philadelphia, voted yes, but Audubon has yet to recognize the group as an entity that can collectively bargain on the staff's behalf.
Behind the Movement
Bria Wimberly is an environmental educator for Audubon at The Discovery Center, which serves as the base of operations for the Philadelphia Outward Bound School. She felt the need to unionize after seeing the national organization engage in layoffs. She has also been appalled by its handling of issues involving BIPOC and LGBTQ staff.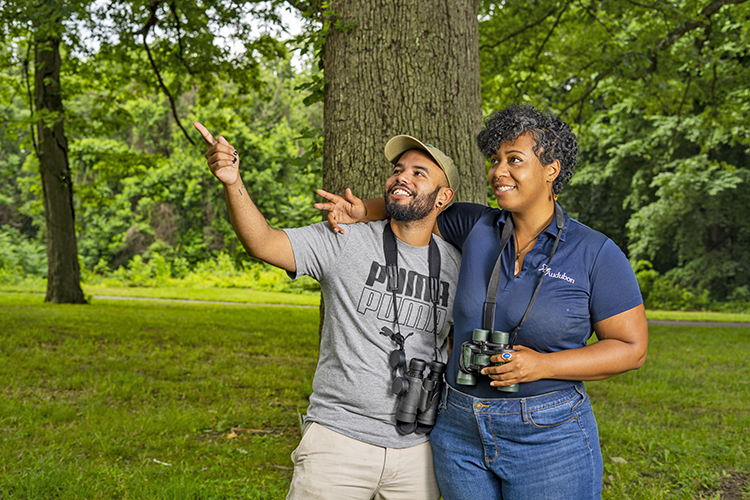 An internal survey in March 2020 revealed widespread staff discontentment, particularly among BIPOC and LGBTQ workers. Audubon's vice president for equity, diversity and inclusion, Deeohn Ferris, left the organization that same month. Devon Trotter, a specialist in the same department, left later in 2020. According to a November 12, 2020, report in Politico, pressure from executive leadership led to Ferris's departure, as well as that of Trotter, who cited intimidation from then-CEO David Yarnold.
In response to the report in Politico, Audubon commissioned an investigation by the law firm Morgan Lewis. The resulting report found "a culture of retaliation, fear and antagonism toward women and people of color." The report also affirmed that decision-making at Audubon was concentrated among a group of white male executives.
That executive team laid off 108 employees in 2020, according to reporting by E&E News. They chose Earth Day to terminate 64 of the positions.
"Most of the decisions made [within] Audubon aren't usually communicated with the people that they're going to affect the most."

—Bria Wimberly, Audubon environmental educator
Jose Santiago, center coordinator at The Discovery Center for Audubon, had been working with colleagues to produce a video to run on Earth Day 2020. "Some of our colleagues that worked on the project with us got laid off, and it made [the possibility of] getting laid off seem very, very real," Santiago says.
Santiago and Wimberly say that having a union recognized by management will make Audubon jobs more secure. They also seek to create a more collaborative culture at the organization, so that diverse voices will be heard.
"Most of the decisions made [within] Audubon aren't usually communicated with the people that they're going to affect the most," Wimberly says. "Having that transparency is definitely something that we'll get with the union."
The union, dubbed Audubon for All, has made demands including more equitable hiring as well as more transparent supervision and career development practices.
"So that we know when we're up for reevaluation. We know when we're eligible for raises. We know what we need to do to be promoted to the next level so we have a clear path up to management," Santiago explains. "Those are the things that we could talk about together and negotiate with Audubon to make the workplace a more equitable space."
The Discovery Center, where Santiago and Wimberly work, is jointly operated by Outward Bound and Audubon Mid-Atlantic, a regional branch of the national organization. Audubon's network also includes independent local chapters, most of which are volunteer-run, including Valley Forge and Wyncote.
Wyncote Audubon President Leigh Altadonna is in favor of the unionization effort.
"Unions do help, from my perspective," he says. "I find it helps to regularize procedures around evaluation, hiring and dismissal. A strong union helps make a strong organization."
Differing Perspectives
Audubon has hired the law firm Littler Mendelson, known for advising employers about busting union organizing efforts, a move that organizers point to as an indication of Audubon's opposition to unionization.
A spokesperson for Audubon says, "Audubon retained a law firm to advise the organization to ensure we are meeting all our legal obligations to employees during this process."
CWA filed a complaint in March 2021 claiming that Audubon was illegally interfering with its employees' unionization effort.
On April 20 Yarnold, Audubon's CEO, resigned. President and Chief Conservation Officer Elizabeth Gray, who is serving as interim CEO, has so far declined to recognize the union.
The National Labor Relations Board (NLRB), the federal agency that oversees union formation, defines two paths to unionization. One is a vote conducted by the NLRB. If a majority of eligible staff vote yes, the NLRB certifies the union. The other, which Audubon for All is pursuing, is when an employer voluntarily recognizes a union based on an indication of staff support.
On May 27 CWA announced that Senator Ed Markey of Massachusetts had counted the cards submitted and confirmed that a majority of eligible staff had voted for the union.
Audubon has not voluntarily recognized the union, in spite of the vote's results.
"Audubon respects the right of employees to unionize and it supports a fair, open and democratic election process that would allow all union-eligible employees to make a private choice for themselves," an Audubon spokesperson tells Grid. "This process would be managed and overseen by the federal National Labor Relations Board, and Audubon would respect the outcome of that election."
Audubon for All regards the national organization's stance in favor of an NLRB-conducted vote as a delaying tactic, noting that several other national environmental organizations have recently unionized through voluntary recognition. Examples from 2020 include 350.org, Greenpeace USA and the Union of Concerned Scientists.
Wimberly and Santiago say that, for now, Audubon for All will continue organizing.
"We are not done," says Santiago, "and will not be done until Audubon recognizes our union."