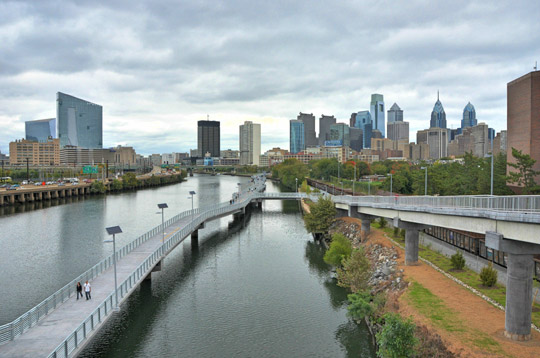 Photo by Raffi Berberian
Walkers, runners and cyclists can now add a new path to their outings: the Schuylkill Banks Boardwalk. The $18 million, 2,000 foot-long concrete structure runs parallel to the eastern shore of the river from Locust Street to the new stair tower at the South Street Bridge, and extends the Schuylkill River Trail.
As part of The Circuit—300 miles of multi-use network of trails throughout New Jersey and Pennsylvania with 50 miles in progress and more planned—the Boardwalk provides more direct access to the Trail for residents in South and West Philadelphia. The Boardwalk sits about 50 feet from the shore and its 15-foot wide pathway has four widened overlooks to allow people to rest, fish and take in the Center City and University City views without blocking the main drag.
The entire path is supplemented with solar-powered overhead lights for evening runs and rides. The project was built by Crossing Construction, Weeks Marine Construction, Nucero Electric and All Seasons Landscaping. Boardwalk design and engineering was funded by the City of Philadelphia, and was completed by URS, Pennoni Associates and CH Planning. Ramp design was executed by Michael Baker Engineers. The Boardwalk is part of the Schuylkill River Development Corporation's plan to connect the Trail on the Schuylkill Banks from the Water Works to Bartram's Garden by 2016.