Local artist Kathryn Sclavi sets up the Re-Shop Flower Shop with students the McVeigh Recreation Center in Kensington. | Photo by Michael Reali Last Wednesday, local artist Kathryn Sclavi braved Philadelphia's rush hour traffic and the January cold in her ZipCar to pick-up flowers in West Philly. But Sclavi wasn't going to a florist or greenhouse. She pulled up to the local Planet Fitness and grabbed two giant trash bags stuffed with discarded water bottles. It turns out the bottles are ideal material for her sculptured bouquets of "flowers."
Sclavi will be giving away the bouquets this Saturday at her pop-up Re-Shop Flower Shop. The shop will be part of a community paint day being held by the Mural Arts Program at the Gallery at Market East. However, the bouquets aren't for free; they're meant as gifts for community members who are doing something good for the planet.
The Re-Shop Flower Shop came out of Mural Arts' Arts & Artists Outdoors program, a partnership between Parks and Recreation and Mural Arts that links local artists with neighborhood recreation centers. Together, artists and students create projects that play on themes of environmental sustainability while highlighting neighborhood green space. Last fall, Sclavi joined a group of students at the McVeigh Recreation Center in Kensington. The result was the Re-Shop Flower Shop, a versatile art and commerce concept that provided students with a hands-on crash course in topics ranging from graphic design and brand marketing to environmental stewardship and creative reuse.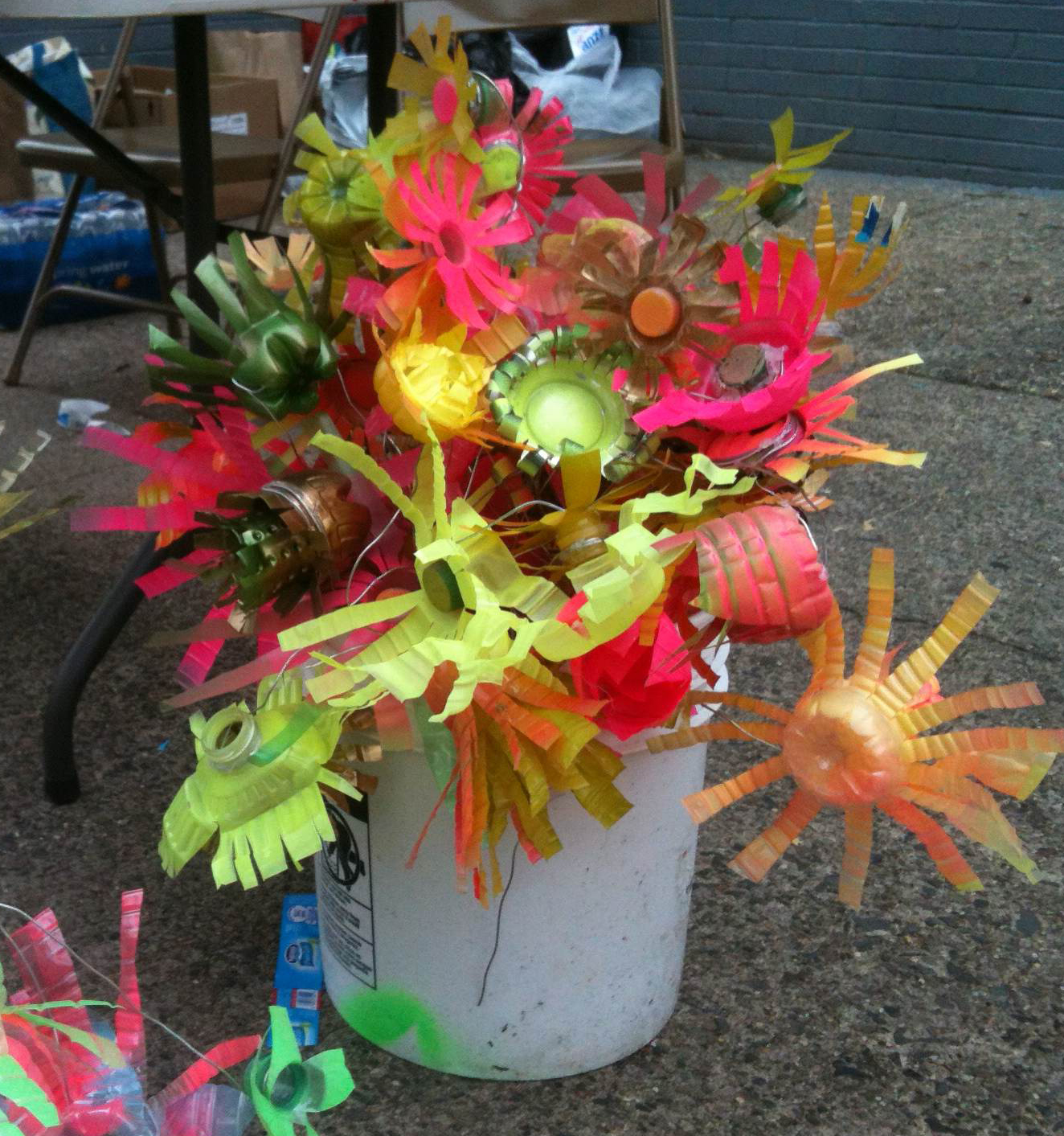 A bouquet of the plastic bottle flowers. | Photo by Kathryn SclaviThe idea is to make flowers from discarded plastic bottles that people can give to members of the community as a thank you gift for doing something good for the environment. In addition to giving the kids a lesson in green art and business skills, the unique form of currency helped uncover the neighborhood's unrecognized sustainability heroes.
"There would be a man who fed the birds and cleaned up the trash at the park every day," says Sclavi, "or the woman at the rec center who was like a vigilante in making sure everything was recycled the right way."
During the community paint day, volunteers who come out to work on the mural destined for the Philadelphia Zoo will have a chance to pick out their very own bouquet from Re-Shop Flower Shop and gift it to an environmental do-gooder in their life.
The free event will be held from 11 a.m. to 2 p.m. on the second floor of the Gallery at Market East (9th and Market Streets). If you're interested in volunteering, please RSVP by emailing events@muralarts.org or calling 215-685-0753.
BRIAN RADEMAEKERS is a writer, homebrewer and gardener living in the Philadelphia area.