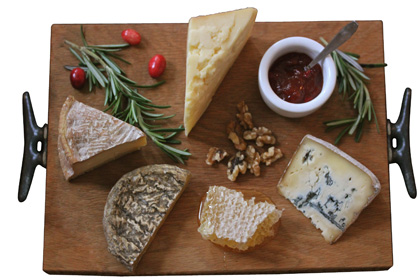 Story and Photo by Tenaya DarlingtonCOLD NIGHTS ARE IDEAL FOR CHEESE TASTINGS, and this time of year, strong flavors warm the cockles. Whenever I put together a cheese board, I aim for a range of textures and flavors. The mix below—all cheeses are made locally—reflect the bold colors and tastes of the winter holidays, from a new washed-rind cheese infused with orange zest to an award-winning blue that breathes hints of licorice. Add some tasty local beers, a handful of nuts, some Tait Farm apple pepper jelly, local honey, and you've got a lovely night by the fire.
1. Levon's Luck
This new moon from Calkins Creamery in Honesdale debuted this year, first appearing exclusively at the Farmers' Cabinet, an eclectic bar for city beer lovers. Cheesemaker Emily Bryant Montgomery infuses her raw Jersey milk with orange zest and coriander. She then washes the wheels with local beer, making for a dense round that is sweetly aromatic with a hint of holiday spice. A bitter flourish on the front end and a salty overlay means this beauty needs a complex sidekick. Try a hoppy, fruity, spice-laced beer, like Voodoo Brewing Company's White Magick of the Sun, which has coriander and orange peel—a perfect mirror to this wheel.
Calkins Creamery, calkinscreamery.com; Voodoo Brewing Company, voodoobrewing.com
2. Red Cat
Sue Miller's slightly gritty and deeply fudgy, washed-rind cheese from Chester County can stand in for any meaty pâté around the holidays. It's a comfort cheese, earthy and warm; think roasted garlic and braised beef melting together in a Dutch oven. Pair this raw-milk super kitten with toasted walnuts and hearty bread, and drape any leftovers over hot polenta or a baked potato. The apricot purr of a Slyfox Saison VOS turns this stinker into a tabby.
Birchrun Hills Farm, birchrunhillsfarm.com; Slyfox, slyfoxbeer.com
3. PA Noble
From Wakefield Dairy in Lancaster County, this cave-aged British Cheddar-style cheese is a good grandpa waker-upper. It's big and strong with a bacon-tasting front end and a sharply bitter finish that packs a wallop; depending on the batch, you may feel your tongue go numb for a minute or two after you swallow. Don't panic—it will pass. Apple pepper jelly from Tait Farm is a confident partner, one that sweetens and rounds out this cheese. For a full evening, roll back the rug, put on a record, and pour a hoppy pint of Philadelphia Brewing Co.'s Newbold IPA.
Wakefield Dairy is available at the Fair Food Farmstand; Philadelphia Brewing Co., philadelphiabrewing.com
4. Crema de Blue
Made from a mixture of sheep and cow's milk, this creamy New Jersey blue may just be the most talked about local cheese of the season. It won silver at this year's prestigious American Cheese Society awards, and is about to make a special debut at Reading Terminal Market. This winter, cheesemaker Eran Wajswol is opening a much-anticipated cheesemaking operation at the Terminal where he'll making cheese on-site. Pair this savory super nova with local honeycomb and walnuts, and sit down to taste this cheese properly. It's incredibly balanced—neither sweet nor salty, but somewhere in between with sustained flavors of black licorice, white pepper and—I can't help it—ice. Tröegs' Dead Reckoning, a bitter porter from Hershey, is the perfect master, and the barley notes wrap around this cheese like a python.
Valley Shepherd Creamery, valleyshepherd.com; Tröegs Brewing Company, troegs.com