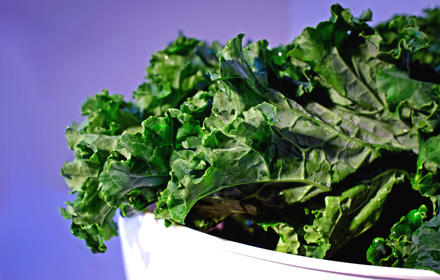 Story and Photos by Grace Dickinson KALE IS FINALLY GETTING the spotlight it deserves. No longer just a garnish, the leafy green is now an A-list celebrity in the vegetable world, and everyone wants a leaf of it.
For the food bloggers, kale is the addition that sends their mac and cheese to the top of the search engine charts. For President Obama, it's the garden-sourced salad gracing his Thanksgiving table. For the health conscious it's a crispy baked alternative to the potato chip. And for local chefs, like Citron and Rose's Yehuda Sichel (see below), it's more than a side dish, starring in salads and stews, or as a replacement for parsley in tabbouleh.
Kale is everywhere, and for good reason, too. This antioxidant superstar can grow until spring, often able to withstand the winter weather, Even if temperatures drop lethally low, kale will still thrive in local greenhouses, making appearances at year-around farmers markets, like Chestnut Hill and Suburban Station, or at co-ops like Weaver's Way, which sell local produce. Roxborough residents will even find local kale at their neighborhood ShopRite, which is where this month's farmer Addison Vawters sells many of his crops.
Nutrition 101
Kale is one of the most nutrient dense vegetables. One serving (one cup) weighs in at just 35 calories, delivering 200 percent of your recommended daily value of Vitamin A and more than 100 percent of the needed Vitamin C. It's also packed with Vitamin K and potassium, and is considered a good source of calcium, iron and folate.
What to look for
For the freshest kale, look for leaves with a dark green hue, and avoid discoloration, such as yellowing or brown edges. Curly varieties, like Siberian and Scots kale, should hold tight curls. Droopy or limp leaves indicate too much time spent out of the ground. The smallest leaves will have the most tender and mild flavor.
For the Gardener
During these boot and scarf months, snow can actually act as natural insulation for kale. Hardy varieties, like Winterbor kale, are known to grow well into fall and often beyond. However, if the plants are leveled by a heavy frost, it's only a few months until the next season's seeds should be sowed. Char Vandermeer, a container gardener in South Philadelphia (and Grid columnist), says the best time to get started is March, and from there, the key to success is keeping the bugs at bay. "Kale's not particularly fussy with soil types, and it's not particularly fussy with water streams," says Vandermeer, who's been harvesting her own vegetables for more than 10 years. "But it is very susceptible to mites and cabbage loopers. You should check for them daily because once there's one, there are generally 40 others, too."
Favorite variety: Curly types, like Winterbor kale "One of my favorite ways to prepare kale is to make kale chips, and the ruffly leaves crisp up nicely."
From the Farm
Farmer Addison Vawters says that the easiest time to yield a healthy kale crop is in the spring when there are fewer pests. "It can be difficult to grow in the fall when harlequin beetles are apt to eat the small vulnerable seedlings before they become mature kale plants," he explains. Vawters manages a farm for Teens4Good—a local nonprofit that teaches at-risk youth how to grow food, often in vacant lots. His farm, located at the Schuylkill Center for Environmental Education, is growing two 100-foot rows of kale under low tunnels (a simpler version of a greenhouse). In addition to ShopRite, Vawters sells their crops to Manayunk eateries and local farmers markets. "Kale is pretty poplar," he says. "It's become expected by customers that we regularly grow and sell it among our crops."
Favorite variety: Lacinato kale "It has this amazing property where it appears to be made of jewels when submerged in water. And in my opinion, it also has a better texture and stronger more savory taste than, say, curly kale for example."
For the Kitchen
After spending two years as sous chef at Zahav, Yehuda Sichel has switched kitchens to oversee the day-to-day at Citron and Rose—the latest venture of power duo Michael Somonov and Mike Cook. This Main Line restaurant opened in November and features strictly glatt kosher cuisine. Whether cooking at Zahav or Citron and Rose, Sichel considers kale an important addition to the menu. "I love kale. It's not too bitter. It's not too sweet or too acidic," he says. "It can hold up raw. You could dehydrate it or fry it or bake it. You could wrap fish in it, you could simply sauté it in garlic. You could fold it into pasta, raw or cooked. You can literally use it for everything."
This kale salad (belwo) is one of Sichel's favorites, and draws on the classic Jewish pairing of salami and eggs. (Vegetarians can swap the salami for grilled Portobello mushrooms.) For this all-in-one meal, Sichel suggests a festive champagne or sparkling white wine to complement the smoky notes from the secret ingredient: paprika. For more of Sichel's kale creations, head over to Citron and Rose where dishes like the ribeye are served alongside a white bean stew brimming with braised kale.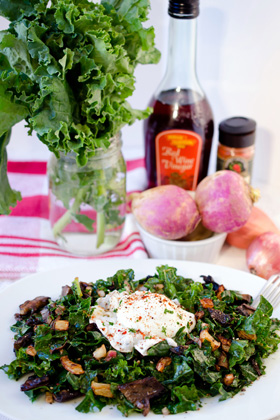 Kale Salad with Eggs and Salami
(Serves 4)
2–3 Tbsp. olive oil
1 cup salami, diced
1 turnip, small dice
4 eggs
4 cups raw kale, chopped
2 shallots, finely diced
1/4 cup red wine vinegar
1 tsp smoked paprika
Kosher salt
Ground black pepper
Chives or parsley, optional
In a large mixing bowl, combine kale, shallots, red wine vinegar, paprika and salt, to taste. Set aside.
Heat olive oil over medium high in a medium-large sauté pan. Add salami and turnips, and sauté until crispy.
While cooking, bring a large pot of salted water to a slow simmer. Swirl the water with a spoon and drop eggs into the pan, one at a time. Cook for about three minutes, until eggs are set.
Once the salami and turnips are crisped, immediately add entire contents of pan to the kale mixture. Toss salad, and distribute evenly between four plates. Finish with one poached egg on each plate. Garnish with salt, pepper, and chopped chives or parsley, if desired.
* For a vegetarian version, swap the salami with one cup of 1/3-inch-sliced Portobello mushrooms. Marinate the sliced mushrooms with 4 chopped garlic cloves, 3 tablespoons of olive oil, 1 tablespoon of balsamic vinegar, salt and pepper (a few generous grinds around the bowl), for 15 minutes. Place on hot grill/grill pan, and cook 5 to 8 minutes on each side, or until tender. Chop and add to bowl with kale and turnips.
For the Pantry by Marisa McClellan
Kale has long been a staple in my kitchen. Fresh, it keeps for a week in the fridge. But to further preserve your kale, here are some options:
To freeze, blanch briefly (45 to 60 seconds in boiling water), wring out the water and portion it into freezer bags. Press to remove the air and freeze.
For truly convenient storage, powdered kale is best. Wash, dry and bake at 400 degrees until crisp. When cool, pulverize in a blender. Use in soups, smoothies and sprinkled over popcorn.
For pasta lovers there's kale pesto. Replace half the basil in your favorite pesto recipe with kale leaves (no stems). It keeps seven to 10 days in the fridge and up to a year frozen.
Canned kale is terrible, but the other methods listed above leave you with something delicious that will keep for a long time.
Each month, Marissa McClellan, Philadelphia's resident preservation pro and author of Food in Jars: Preserving in Small Batches Year Round, will bring you tips for canning and preserving your favorite produce. Follow her at foodinjars.com