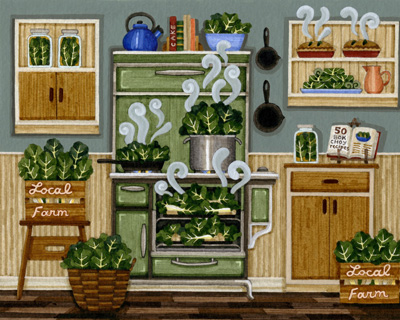 Story by Colleen Davis Illustration by Adrienne LangerAFTER DECADES OF BEING A PRETTY RESPONSIBLE CITIZEN, I felt I'd traveled about as far as I could on the path to eating and living sustainably. Others around me were more zealous, but they were yoga teachers and gardeners whose extreme eating habits grew from their career choices. I never felt compelled to join them in becoming a vegan or buying a Community Supported Agriculture (CSA) share. It looked like too much work.
Then I met Nick, a young California lawyer, who rented a room in my house when he moved to Philly. Along with a small number of boxes, he brought a surfboard, a bicycle and a staunch commitment to eating in a way that helped the environment. A few months after arriving, Nick bought a guitar and an organic CSA share.
I liked the guitar music and thought the CSA was a noble gesture. But it seemed awfully impractical since he was a busy, single guy with few cooking skills. Every Thursday, when he hauled in his box of food, I pictured all the rotting greens that would end up in our trash. I wondered how many heads of broccoli would go bad before he'd give up and order pizza.
Against all odds, Nick managed to teach me a few lessons over the five-month stretch of his share. Though he often got home after 8 p.m., Nick stayed committed to making vegan meals from his CSA stash. In the beginning, he wasn't sure what to do with some vegetables, so I taught him techniques I'd learned through years of cooking. I showed him how mere roasting could turn beets into a feast of caramelized sugar in less than 50 minutes. And I demonstrated how fresh, grated nutmeg and other spices could enhance the taste of many foods, even bitter broccoli rabe. We both enjoyed the results.
Nick quickly learned that roasting worked well with other produce, like yams and squash, but he was still stumped by the piles of bok choy that kept arriving. That's when I introduced Nick to the magic of culinary websites. For years I'd read cooking magazines that helped me learn how to feed the people I love. My shelves are stuffed with well-buttered books and pages torn from the now-extinct Gourmet magazine. But the demise of those volumes has been ably supplanted by vast online cooking libraries like Epicurious.com with its huge trove of recipes from Gourmet and Bon Appétit.
Using these sites solved the bok choy dilemma, but it didn't address Nick's quantity problem. Sometimes that box of food held too much for even a hungry surfer. One week he got a huge slab of the sweetest watermelon I've ever tasted. And, doubtful readers, we discovered countless ways to use the good fruit. Nick shared some with his law colleagues and gave plenty to me. I shared mine with neighbors and my yoga class. When we all hit our limit, I took some to a nursing home where the melon evoked delicious summer memories for a group of 80-year-olds.
Ultimately, Nick put almost everything in his share to good use, especially with his new kitchen mantra: "When in doubt, roast it." As for me, I learned plenty from watching him. Using a CSA share does require a bit more thought and planning, but not as much as I feared. I learned that there are plenty of hungry people excited to share in your extra food. And, in the Internet-era, a few minutes of research can dig up 50 ways to cook an overabundance of bok choy. Even on my busiest days, I could certainly invest that much time in building a more sustainable life.
Colleen Davis is a freelance writer who splits her time between Northern Liberties and the Pocono Mountains. She is the author of BetweenThePondAndTheWoods.com, a website for caregivers.