ON A BRISK FRIDAY AFTERNOON, Gabriel Mandujano parks his bicycle and enters a large, clean laundromat at 48th and Pine. Three women in neon green Wash Cycle Laundry t-shirts greet him enthusiastically, though their hands never stop sorting socks and folding sheets. He checks in with each employee, taking a moment to help fold while he talks, then walks into a back room, where a computer system is tracking bags of clothing and linens from pickup to delivery. He stops briefly to answer a phone call then hops back on his bike to continue his rounds to two other facilities. After that, it's back to the office at 17th and Arch to handle paperwork, bookkeeping and the other facets of a blossoming small business.
This is a typical day for 29-year-old Mandujano, who launched Wash Cycle Laundry just over two years ago in Philadelphia. The business, which uses bicycle trailers, sophisticated route planning software and a self-designed automated washing system, is revolutionizing the way Philadelphians receive clean laundry. With roughly 100 corporate clients and several hundred residential customers, Wash Cycle is proving that the laundry industry can be greener, cheaper and more efficient than the current model.
Birth of an entrepreneur
Mandujano grew up in Maryland, and moved to Philadelphia to attend the University of Pennsylvania where he majored in urban studies and real estate. From there, he went on to earn a master of science in comparative politics from the London School of Economics and a master of philosophy in land economy from the University of Cambridge. Mandujano first worked in the nonprofit sector, directing the Enterprise Center Community Development Corporation in West Philadelphia then, moved to Mexico City to work for the Center for Sustainable Transport. But, says Mandujano, he wasn't satisfied with the results of his work.
"If you want to find ways to inject jobs with meaning, and turn a low-wage service job into a launching pad for an upwardly mobile career path… you need to be the employer," he says. "You actually need to control what somebody does at work every day."
So, Mandujano began thinking about a business that would follow a triple-bottom-line perspective of people, profit and planet. Under this criterion, the company would measure performance not just by financial standards, but by social and environmental ones as well. A friend suggested Mandujano start a diaper service. That lead to laundry, and everything fell into place after that.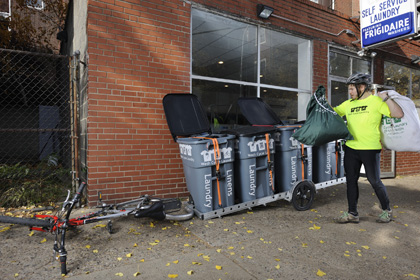 "There's a real parallel between what [Mandujano] does and what we do—trying to get people to change their behavior," says Ann Karlen, executive director of Fair Food (a Wash Cycle customer), which works to build a sustainable, humane food economy by helping local restaurants and businesses source locally. "It obviously makes sense from a social and political standpoint, but if it costs more money and takes more work, people won't do it." However, continues Karlen, Wash Cycle is dedicated to avoiding this obstacle. "One of the things I admired about what [Mandujano] was doing is that right out of the gate he was saying he could provide a substitute that doesn't change the way you do business."
Putting people first
For Mandujano, people are the most important part of the triple-bottom-line equation. And his employees know it—those working at the three Wash Cycle facilities are quick to praise Mandujano. Geraldine, a shy middle-aged woman who's been with the company since May 2011, says immediately, "I love it. He keeps us busy." Barbara, her 65-year-old coworker, adds, "He's good to work for. It's a blessing to hire a senior citizen."
Wash Cycle Laundry works with several organizations to provide jobs for difficult-to-employ populations. The newest is Gearing Up, which helps women in transition from abuse, drug dependence and/or incarceration learn to ride bicycles. "What I really like about [Gearing Up]," says Mandujano, "is that they really get to know their clients." Wash Cycle also partners with the EARN Center, a more traditional government welfare-to-work program, and the Asociación Puertorriqueños en Marcha (APM), a traditionally Latino-focused organization providing financial and home ownership counseling, budgeting, credit repair and other services. Wash Cycle works directly with APM's Financial Opportunities Center to support their job readiness, life skills and career services initiatives.
Most of Wash Cycle's employees have been with the company for more than a year. "I think our turnover is really low for the industry that we're in," says Mandujano, who is hiring his sixteenth employee this winter. "I can't remember the last time we had a no-call, no-show." If labor is 50 percent of cost, he reasons, making your employees 10 percent more productive—whether by making them happier, helping them do their jobs better, or minimizing defects—will result in soaring profits. "I think you do that," says Mandujano, "by trusting people and letting them solve problems and take initiative."
He cites positive feedback as the key factor to keeping his employees happy and proud of their work: "In general, people coming through the public benefit system aren't receiving a lot of it. It's that much more powerful because it's been scarce." Wash Cycle has recently implemented a scorecard system for supervisors and supervisees to give each other performance feedback. Positive performance leads to bonuses and increases in base salaries. Wash Cycle also employs an "Own Path" policy to help employees follow their ambitions and utilize their strengths.
"Everybody in the organization, including myself, has started out folding laundry, riding a bicycle, or both," says Mandujano. "We're pretty committed to internal growth paths. And that's not just for people who come through a welfare program; that's everybody. We try to find out what their interests are, what interests the company has and then we merge the two." To earn a supervisory position, Tracy walked all over West Philadelphia to find a new partner facility. Joel, the one-man sales department, started out folding laundry. Kevin, the South Street facility supervisor, was hired just three months ago as a cyclist.
Making laundry eco-friendly
Though his top concern is his team, making his company environmentally sustainable was a welcome challenge. Mandujano's hero, the late Ray Anderson, was the founder and chairman of Interface, Inc., a manufacturer of modular carpet. Anderson decided in the mid-1990s to turn Interface into a zero-waste company, and he received much acclaim and several awards for his environmental work. "[Anderson] took this really boring industry, he did something amazing in terms of environmental impact, and as a result was financially rewarded for that," says Mandujano.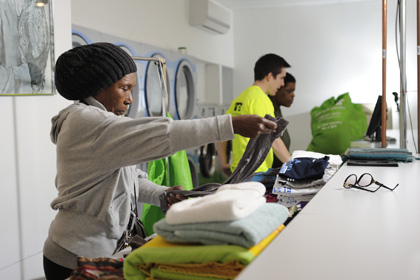 Wash Cycle Laundry uses several different strategies to make the business more efficient. First, they use Energy Star-rated, high-efficiency, front-loading washing machines built with "soft mount" technology. Soft mounting puts the wash drum on a suspension system that absorbs the shock, so the spin cycle can run two to three times as quickly as the older floor-bolted machines. These washers also extract more water, which reduces drying time and heat use by 30 to 40 percent.
For residential customers, Wash Cycle uses a natural, environmentally friendly detergent from King of Prussia-based Sun and Earth. For restaurants and gyms with more challenging laundry, an EPA-certified line of products from Gurtler Industries is used. And although no client has chosen it yet, the company also offers rentals of patented recycled cotton towels from New Jersey's Star Linen & Supply. The towels are repurposed cotton scraps collected from factory floors.
The bicycle delivery system, of course, eliminates emissions in the delivery process. Aluminum cargo trailers from the Iowa-based Bikes at Work can handle as much as 400 pounds of laundry when hitched to one of Wash Cycle's donated mountain bikes. And Viamente route-planning software ensures riders know the most efficient routes.
Then, there's the noticeable absence of paper in Wash Cycle's daily operations. The Laundry ELF computer program links bar codes on bins and bags to scales and machines in each laundromat. The machines are pre-loaded with different types of detergent suitable for everything from underwear to floormats, and are operated from the central computers. Each cyclist has the program on his or her mobile phone to ensure constant access, and washers can be started and deliveries ordered or amended via text message. It's a complicated and intriguing system, which Mandujano says is "a bit of a work in progress."
The quest to improve
Mandujano believes wholeheartedly that the typical laundry business is rife with waste . "We think that our delivery operations are about a third the cost of a truck-based operation," he says. "Energy- and water-efficient equipment pays for itself in about two years in the laundry industry, and that's just sort of the first step. There's even more cool stuff that we haven't even tried to do, like water recycling."
Even as Mandujano makes these advanced improvements to his services, he remains pragmatic. "You think of green business as being this sort of luxury," he says, "and that's not what I was going for." Basic service for an individual, which includes 12 pounds of laundry picked up, washed, folded and delivered in a 24-hour turnaround, costs $18. And prices for businesses are just as competitive.
"Basically what he's done is created an alternative to wash our towels that doesn't cost me any more money and has the same level of service," says Karlen. "I can do business with someone that first of all I like, and second delivers our towels to and from us on bicycles and uses good cleaning products."
Socially conscious businesses, such as eateries Pizza Brain and Hip City Veg, do use Wash Cycle. But, says Mandujano, "I think we can compete on our own merits even if people don't share the same values we do." After all, he continues, "everybody needs to do laundry."