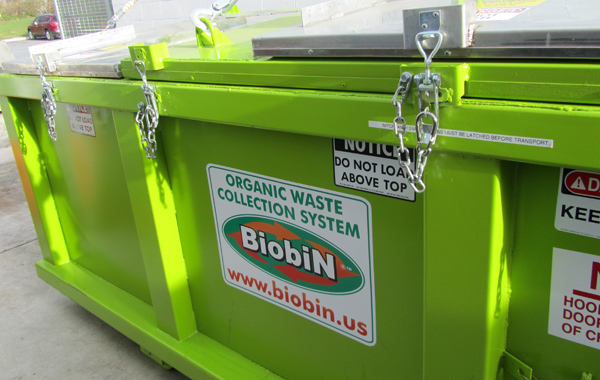 story by liz pachecoComposting can be a messy business. For commercial-scale composters, like restaurants and hotels, finding the proper equipment and adequate space can be a challenge. And worse, if the organic waste isn't properly handled, it smells bad.
Judy Ward, chief executive at Advanced Enviro Systems, says that making collection user-friendly and easy for a business is key. Her company partners with businesses like Wawa to manage their trash and recycling. She explains that older composting solutions worked well in institutions—especially universities—where users managed the entire composting process, and saw it as an opportunity to educate. But for mid-size generators like Wawa, these approaches require too much effort, including mastering the science behind organic waste management. "Most weren't interested in that," says Ward.
Recognizing this niche market in the composting industry, Advanced Enviro Systems has helped introduce a new technology to American markets: the BiobiN.
Invented by Peter Wadewitz, chairman of Australia's Compost Committee, the BiobiN was originally designed as a composting solution for poultry farms. Waste is dumped into a large, airtight container with paper and/or wood chips on the bottom. "The BiobiN's great advantage is it has a bio filter… that circulates the air in an airtight container so there are no smells," says Maurice Sampson, a sustainable waste management expert and founder of Niche Recycling, a Philadelphia-based recycling consulting business. The confined setting accelerates the process, while keeping odors in and pests out.
After reading about BiobiN online, Sampson contacted the Australian company and helped bring the company to the U.S. BiobiN connected with Advanced Enviro Systems, who then founded the North American BiobiN branch in Chester, Pa. The first BiobiN was bought by Wawa in December 2009 for their Royersford store. Since then, Wawa has introduced BiobiNs in multiple locations. The Philadelphia Airport Marriott and two Delaware businesses—a banquet facility and a nursing home—are also using the BiobiN.
Sampson, who was the city of Philadelphia's first recycling coordinator, sees the BiobiN as the ideal solution for composting in a shared environment, like a shopping district.
Typically, a commercial compost bin can't be left for more than two days, explains Sampson. With the BiobiN, collection can happen every few weeks. "It's the collection side of [composting that] is real expensive," he says. "You have to pay the transportation cost. If you can do it fewer times… once a month instead of once a week, you're talking about a huge amount of savings."
The one downside is that BiobiNs do come with a hefty price tag. The two to three cubic-yard sizes are around $8,000, and the 10 to 25 cubic-yard versions are $16,000 to $20,000. But Sampson says they're well worth the cost.
"Whereas the capital costs seem high, the operating costs are low," he stresses. "When you do the math, it pays off."
Learn more about the BiobiN at biobin.us.