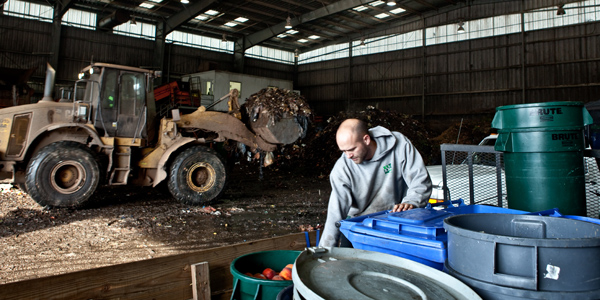 photos by christopher leamanWhen Tim Bennett moved to Philadelphia 10 years ago, he wanted to compost. But composting in a college apartment seemed difficult and the city didn't have a collection service (and still doesn't). So, a few years later, Bennett started his own collection business. Today, Bennett Compost works with residential and commercial clients throughout Philadelphia, hauling their organic waste to community gardens and large-scale facilities in the area. We spent a day with Bennett to get a behind-the-waste look at what happens in the composting process.
Tim Bennett's day begins early with residential pickups in Philadelphia.
He collects kitchen scraps left outside in plastic Bennett buckets. Together, residents contribute more than one ton of food waste each week.
After swinging through his Philadelphia warehouse, he heads to the Acme in South Philadelphia, one of the many commercial pickups he'll make at restaurants, corner stores and grocery stores.
These commercial sources contribute about two tons of food waste a week.
Bennett then delivers the waste to commercial processors, like Two Particular Acres in Royersford, Pa. and the Wilmington Organic Recycling Center in Delaware.
His compost marathon concludes with a final turn of their static piles at the Bouvier Community Garden in South Philadelphia, before heading home to shower and dream of black gold.
Interested in Bennett Compost doing your dirty work? Find out more at bennettcompost.com.