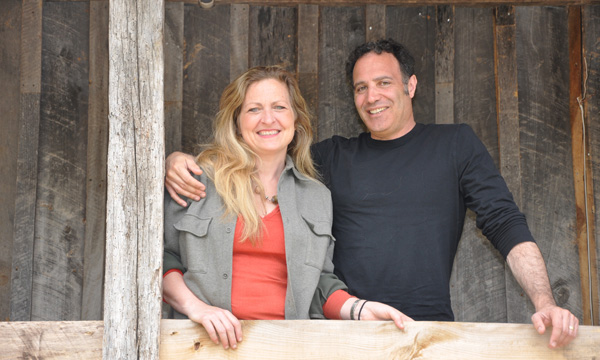 stories by shaun brady & brian freedmanBefore he returned home to convert his parents' old bucks county horse barn into a winery, Tom Carroll Jr. spent three years in California learning as much as he could in the country's most renowned wine regions. Along with the cultivation of grapes and chemical nuances of fermentation, Carroll picked up something else from his West Coast stint: a passion for environmentalism.
"I think people out there have a greener mentality," Carroll says. "So, from the get-go, we looked to California wineries as our model. Especially since I grew up on this property—what place are you going to care about more than the place where you grew up? To me, this is such a natural, pure place that I don't want to pollute it."
Crossing Vineyards, the 15-acre winery that Carroll co-founded with his parents in 2000, reflects that eco-conscious attitude in numerous ways, from approaches as obvious as recycling—no small matter for a business that uses so much glass—to a 3,000-square-foot warehouse, built with an energy-efficient geothermal heating and cooling system, no windows and super-insulated doors. Half of the barrel room's roof is occupied by a solar array to offset the winery's energy use. Winery waste is composted as fertilizer and sustainable agricultural methods are used to minimize the use of harmful chemicals.
Walking through the winery that he first envisioned at the age of 10, it's clear that Carroll is always seeing some future vision of the place, rather than the one that stands before him. As he throws open a recycling bin to reveal the shards of green glass within, he talks about researching more easily removable labels so that bottles can be sterilized and reused rather than destroyed and recycled; opening the door marked "Danger: High Voltage" in his barrel room, he's pleased to see energy being generated even on this overcast March day, but can't help pointing out the half of the roof that's not currently occupied by solar panels.
"I'd like to be 100 percent energy-independent at this winery," Carroll says. "We're about a third of the way there… for now, we're like the hybrid car winery. We're getting 40 miles to the gallon rather than 14, but I would like to get 150; instead of being the Prius, I'd like to be the Nissan Leaf, where I could be totally off-grid."
The opportunities to go green in the wine business are, Carroll claims, "as big as your checkbook," and Crossing has been supplemented by an avid search for grants and subsidies.
Just south in Chester County, Brad and Lele Galer are encountering the environmental compromises one has to make when dealing with the expense and logistics of opening a winery.
Galer Estate Vineyard and Winery, the couple's new Kennett Square endeavor, culminates nearly six years of work spawned by Lele's charge to her ex-pharmaceutical industry exec husband to "get a hobby." That turned into nearly eight acres of vines on two sites; part of the property includes the former Folly Hill Winery alongside Longwood Gardens, currently in the process of becoming the winery and tasting room.
The couple set out with a purist's ecological intentions, "because we're very liberal Democrats and we very much believe in it," Brad says, only half-joking. "We lived in California and Seattle for many years; we like shopping at Whole Foods. I'm a doctor, so I realize the importance."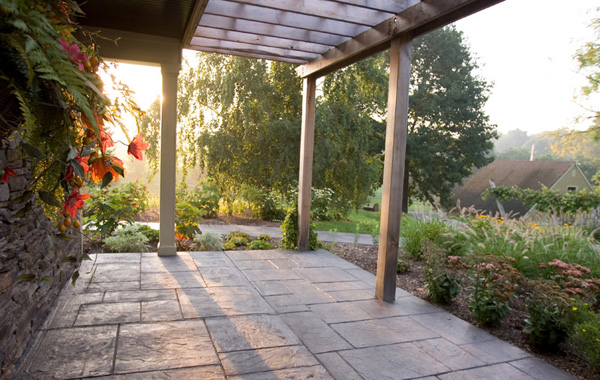 Brad and Lele are striving to be as organic as possible, a tall order on the East Coast.
"The hardest challenge on the East Coast is disease control, due to the heat, humidity and rainfall," says John Griggs, manager of Penn State's Lake Erie Regional Grape Research and Extension Center. "There just aren't organic products available at this point for every weed and disease."
"We'll do the best we can with farming and viticulture," continues Lele. "The things we can make more environmentally friendly, we will."
One of the areas where the Galers have been able to implement their green ideas is the actual rebuilding. Having cleared 10 acres of scrub trees to make way for their first plantings and forced to tear down a dilapidated barn on the Folly Hill site, the couple milled as much wood and gathered as many rocks as they could to reuse in the building of their new facilities.
"I'm a salvage-crazy person," says Lele, an artist by trade. Stained glass windows propped against a wall in the half-finished tasting room bear witness to her vocation. "Everything comes out of something else. Maybe it's eco, but it's also funky and fun."
Vineyard manager Jan Grimes is taking the Galers' eco-consciousness (and her own) to the grapes themselves, using high-density planting and French viticultural methods. The winery made its public debut at the Philadelphia Flower Show, co-sponsoring an exhibit with the University of Delaware on rain harvesting methods they plan to implement at the winery.
Grimes, like Carroll, is also working to minimize the chemicals used in the vineyards, finding organic alternatives made from crab meal and seaweed. "Some of the fungicides that have been historically sprayed on grapevines are pretty nasty," she says. "We wanted to do a softer spray program that's more gentle on the environment, and actually makes the plant healthier, so it can fight disease, rather than just spraying stuff on the disease to eradicate it."
"Theoretically you could drink this stuff," she says of the spray, though a 2008 Chardonnay made from the winery's first harvest makes a far more appealing sip.
Regardless of the individual approaches, what's key, Tom Carroll summarizes, is the way that taking steps alters one's thinking. "We've found that the second you put even one solar panel on your house, you start thinking not necessarily about what power that panel is making, but about what you can do to conserve. You start to play a game where you know what it's producing, so how can you try to stay within those guidelines and make it work? You have to get smart about what you're consuming. Having that mindset is almost as—if not more—important than the technology that you implement."
But How's It Taste?
We asked wine writer/educator Brian Freedman (brianfreedmanphiladelphia.com) to put Crossing Vineyards' offerings through their paces. (Galer did not have product available at press time.)
Crossing Vineyards Viognier 2008
All the peach and honey notes you'd hope for in a viognier are here, if just a touch less aromatically flamboyant than examples from the grape's native Rhone Valley. The upside of this subtlety is that the wine comes off as lighter on its feet than the plodding viogniers consumers still see too often. The sweetness here lends the wine an almost dessert character, its candied lemon, orange oil, sweet white peach and honeysuckle flavors sparkling under a sugar-kissed light. Still, I expect this viognier to pair nicely with spicy dishes or smoky barbecued seafood, making it a very handy addition to the season's wine arsenal.
Crossing Vineyards Cabernet Franc 2008
Oak is the first note that jumps out on the nose, but once you work through that, there are appealing hints of chocolate-covered black raspberries, blackberries, red plums, and the tobacco leaf aromas that cab franc fans often look for. The palate seems to gain its greatest sense of definition through a lush, velvety texture, and though it's lacking enough acidity to really sing, this has the mark of a crowd-pleaser: rich in dark berry, plum, roasted green bell pepper and chocolate-covered caramel flavors.