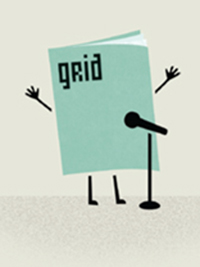 The second Grid Alive is happening this Thursday night and we couldn't be more excited to hit the stage again. Like before, there will be great guests, live music and local brews, but expect a couple surprises too.
Your hosts Alex Mulcahy, Grid publisher, and Nic Esposito, Philly urban farmer and novelist will be talking with Ron Celentano, a solar PV industry consultant who has found himself deeply involved in the legislative discussion that could kill Pennsylvania's solar industry. Following him will be Lauren Mandel, a rooftop agriculture specialist with Roofmeadow, who will discuss the possibilities for bringing rooftop agriculture to Philly. We'll close out the night with a performance by musician Johnny Miles. There will be local beer, cheese and wine from Rolling Barrel, and we're launching the action table, where we will be featuring The Energy Co-op.
Tickets are on sale now for $5 and available at the door. Hope to see you there!
Thursday, March 22 at the Trinity Memorial Church (22nd and Spruce Sts.), doors open at 5:30 p.m., show starts at 6:15 p.m.