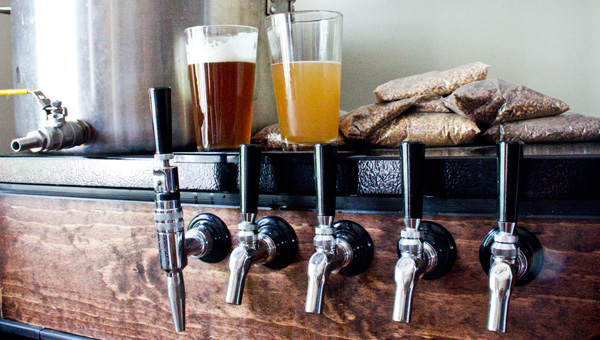 story by brendan skwireWhen Tim Patton moved to Philadelphia in 2006, going into the beer business wasn't even on his radar.
"I came up from Wilmington, where I'd started an Internet business," he says. "I wanted to get out of the suburbs, so I moved up here to find something else to do with my life."
Patton began homebrewing in 2008, and soon after purchased the old firehouse that would inspire the name of Saint Benjamin Brewing Co., his opening-soon brewery.
"My girlfriend did a really good job of getting me into craft beer, and I really like to pick things apart to see how they work," he says. "I got a good response from my friends. I'd been looking for something a bit more hands-on, and brewing just kind of stuck."
He decided to go professional in December 2010, but didn't want to start out big: Patton freely admits he has no experience working in either a brewpub or a production brewery. He decided to start small. Really small. Saint Benjamin is a nanobrewery—which means it makes fewer than 100 gallons (about six kegs) per batch.
Patton's original plan was to start up the nanobrewery in his spacious firehouse, but the zoning waiver process didn't go well: Neighbors who had previously supported him changed their minds, claiming that Saint Benjamin would be a brewpub and, therefore, a nuisance. Patton emphatically denies this and explains his plan was to brew small, keg-only batches to supply local bars. In the end, he gave up the fight and found warehouse space in Kensington, where he's currently setting up shop. He plans to open during the winter.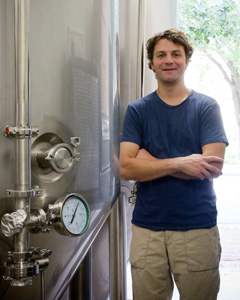 In the meantime, Patton has been serving his brews (for free) at Philadelphia events. During Philly Beer Week, Saint Benjamin was at Opening Tap and the Super Secret Beer Concert Series; his Transcontinental beer received second place at Beer Camp. Patton has also shared brews at Fishtown Neighbors Association events and with the Fishtown Beer Runners.
One of the first things you notice about Saint Benjamin beers is that while none are particularly highly hopped, most have a velvety maltiness. "I'm not a particularly hop-forward brewer," Patton admits. "My philosophy is not to hit people over the head. I don't like it to be 'all hops' or 'all seasoning' or anything like that. I'm kind of the opposite of most brewers, in that I'm more focused on the malt and the yeast."
Patton plans to keep Saint Benjamin small, local and sustainable. When it comes to ingredients, sustainability gets a little more complicated. Since local malt is difficult to find, he sources from the regional Valley Malts in Massachusetts. "As for rye, corn and wheat," he says, "I want to see what local options are." With small batches, Patton can frequent local markets for more specialized ingredients. He plans to use local honey and is exploring options for buying coriander and other spices from nearby greenhouses.
"My vision is something like a neighborhood or European small-town brewery," says Patton. "Maybe not the widest reach, but the freedom to make whatever I want at that time."
This fall, look for Patton's beers at the Laurel Hill Beer Barons to Homebrewers event and the fall Beer Camp. To keep tabs on Saint Benjamin's progress and to find out where you can taste a brew, visit blog.stbenjaminbrewing.com and facebook.com/stbenjaminbrew.