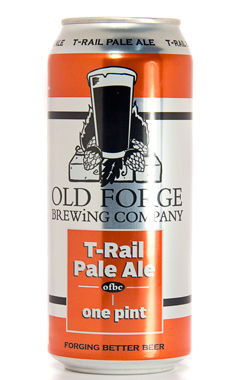 story by Lucas HardisonOld Forge Brewing Co., Danville, Pa.
American Pale Ale / 5.5% ABV
In early February, Philadelphia watering holes welcomed Old Forge Brewing Company to their taps with a series of events celebrating the brewer's newly broadened distribution. Among their suds is a new canning line of 16 oz. Endless Summer and T-Rail Pale Ale.
T-Rail Pale pours a light amber color with a thin head… okay, yes, you're probably going to enjoy this straight from the can—who are we kidding here? It's light on carbonation, checks in at 5.5% ABV, and offers a soft and balanced one-two of hops and malts. Basically your quintessential session beer.
While the sustainability of cans vs. bottles is still up for debate, for beer enthusiasts the arguments for aluminum—specifically, superior protection from light and oxygen—tend to be more convincing than the mostly aesthetic arguments for glass. And the idea that you can't get good beer in a can has long since been put to rest, so when you're finished with that "pounder" (or is it a "tall boy"?), that's something to think about on your way to the recycling bin.
More at oldforgebrewingcompany.com