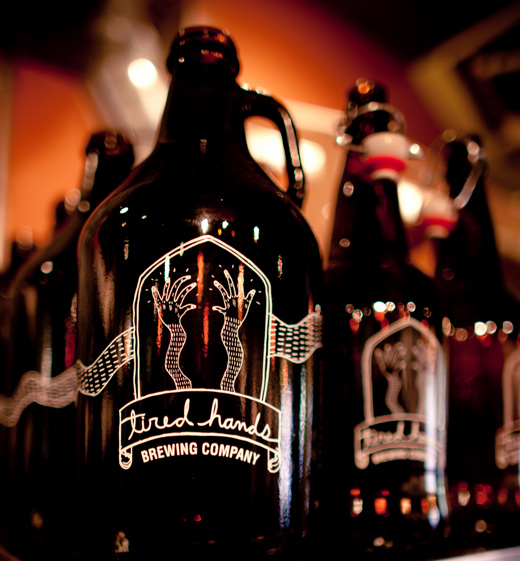 I am sitting at the bar with Jean Broillet at Tired Hands, his brewpub in Ardmore, sipping "Herbert West," a coffee IPA. But it doesn't taste like coffee. It tastes like blueberries.
Broillet explains that the mosaic variety hops and Ethiopian Worka beans they chose for this beer (brewed with ReAnimator coffee, which is cheekily named after the eponymous character from an H.P. Lovecraft story) both have strong blueberry profiles. The combined effect "really shreds," he says, and I have to agree.
"You barely even taste the coffee!" Broillet says. "The notes are vibrating at the same frequency until you swallow, and then there's a little earth, cocoa, done."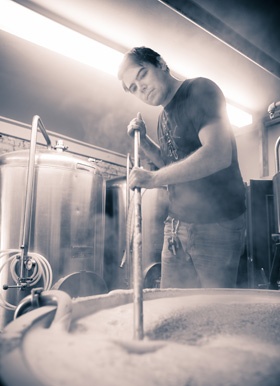 Tired Hands Brewing Company mastermind Jean BroilletThe baby-faced 30-year-old, who owns Tired Hands Brewing Company with his wife, Julie, vibrates at his own frequency, too. He's the mastermind behind most of the irreverent beer names and the artist behind the doodle-y, vaguely psychedelic line drawings that make up much of the company's branding. He's jovial and laughs freely, but when he talks about people who email him asking for advice on opening their own breweries, he gets a hard gleam in his eye: "I'm like, no! Start by scrubbing mold for somebody. I'm not giving away my secrets!"
Whatever his secrets, they are working. Since opening in June of 2012, Tired Hands has earned a stellar reputation. Their house beers, Hop Hands IPA and Saison Hands, and a litany of weirder beers (think passion fruit sour ale and lychee green tea Berlinerweisse) have been amassing a growing fan club of adventurous drinkers —"organoleptic cartographers," as Broillet calls them. His 10-plus years of brewing experience is evident in the way that all of his beers, no matter how out-there, are balanced and bright.
"Every strange beer we make is based on a structure of solid, sound brewing practices and technique," he says.
Thus, the brewery is experiencing what Broillet calls the "good/bad small business problem" of demand far outpacing supply. They plan to add a much larger production facility in 2014, greatly increasing their brewing capacity. Currently, all the beer is made in a small fermentation room on-site at the pub. Brewing their beers mere steps away from where they'll be poured is the cornerstone of Tired Hands' commitment to keeping it local.
"My goal was to make badass beer that you'd otherwise have to go across the Atlantic or to the other side of the country to procure," Broillet says. "Philadelphians, we all have this great thirst for awesome Belgian and hoppy West Coast beers. Instead of burning a lot of fuel to get them over here, we're making them, and bringing people to a very local outpost."
Tired Hands Brewing Company is located at 16 Ardmore Ave, Ardmore, and online at tiredhands.com
Story by Emily Kovach | Photos by Mike Donk.