The big library — the size of several classrooms — in the Cook-Wissahickon School in Roxborough stands as a monument to activism. Closed for several years in the late 1990s and early 2000s, the library now serves pre-kindergarteners through middle schoolers with story hours and a robust lending program that enrich the lives of students. Sadly, the library is an exception.
Philadelphia's lack of school libraries is one of its best-kept, and most devastating, secrets.
"When I talked with people about it at the May Fair in Clark Park, they were shocked," says Katelin Beck, program manager of the West Philadelphia Alliance for Children (WePAC), an organization that mobilizes volunteers to staff and reopen libraries in public schools. "They assume there's a library because they grew up with them," she says.
The Philadelphia Alliance to Restore School Librarians (PARSL), a grassroots group pushing to restore school librarians, notes a startling statistic in its just-published report, "Ensuring Equity and Access to School Librarians and School Library Services in the School District of Philadelphia." "Two out of three children in Philadelphia cannot read on grade level by fourth grade," the report says, adding that such youngsters are "six times more likely to drop out of high school."
That damage can snowball.
There's a correlation between low literacy and the possibility of future incarceration, notes Jennifer Leith, WePAC's executive director. In addition, low-literate adults also have more health problems and earn less money than their well-read counterparts, says Reading Partners, a national nonprofit that helps students read on grade level by fourth grade.
Strong school libraries could help address these issues, library science researchers Keith Curry Lance and Debra E. Kachel conclude in their 2018 study, "Why School Librarians Matter." Good school libraries can boost academic achievement "for … the most vulnerable and at-risk learners, including students of color, low-income students and students with disabilities."
Many Philly schools once had a library, but they fell victim to budget cuts. In 1991, the School District of Philadelphia employed 176 librarians for 259 schools, PARSL says, but the district slashed funding for them in the late 1990s. As of 2021–22, the school district had the equivalent of one full-time librarian for its 217 schools, according to PARSL.
WePAC stepped into the breach to reopen libraries in elementary schools.
Some groups, including the Main Line Reform Temple, the Bryn Mawr Presbyterian Church and civic organizations, found the funding cuts inequitable and unacceptable, and joined forces to reestablish a library at Rudolph Blankenburg School, Leith says.
"WePAC promotes childhood literacy by reopening and staffing libraries," Leith says. WePAC first offered its services in West Philadelphia during the 2003–2004 school year by placing six volunteers in Rudolph Blankenburg School on West Girard Avenue. "In our vision, every Philadelphia student will have the literacy skills vital to their success," Leith says.
We're trying to build a love of reading, a love of books and learning."

—

Phil DeLuca,

principal of Samuel Gompers Elementary School
Today, WePAC, now an independent 501(c)(3) nonprofit, focuses on literacy in kindergarten through fourth grade. "We're a lean, scrappy organization," says Leith. "The vast majority of our funding comes from private donors and foundations. We do fundraising and write grant proposals. We provide all of our services at no cost to schools or to the school district, although we have received some support in the past from the Philadelphia Activities Fund."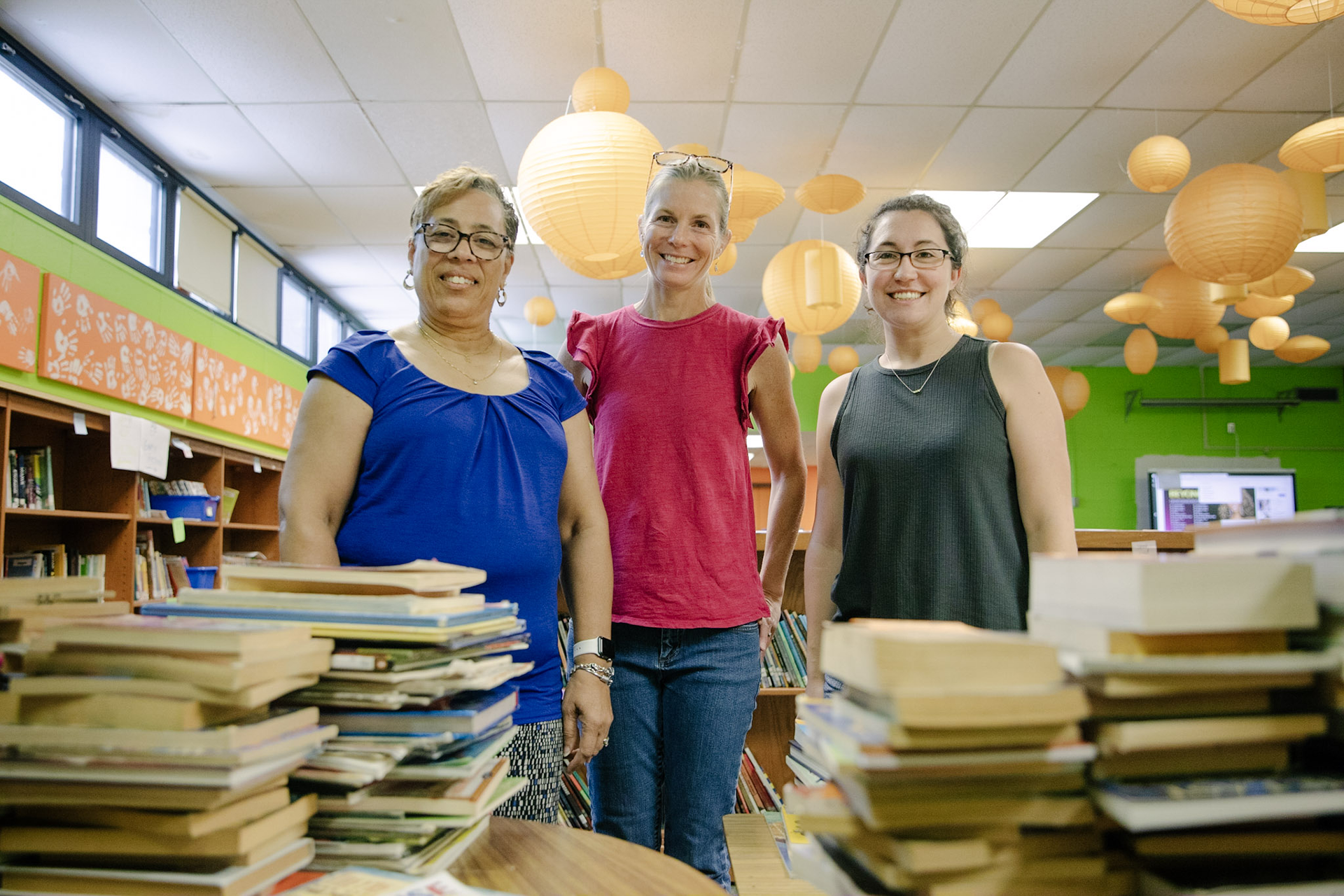 WePAC also relies on volunteers.
"We had a base of up to 200 volunteers before the pandemic," says Beck. "Now we have 60 to 70. They're really our backbone." Retired teachers and students from the University of Pennsylvania and Saint Joseph's University volunteer with WePAC.
WePAC volunteer Erica Preaga, the mother of a second grader and a fourth grader at Cook-Wissahickon, estimates that she spends 10 to 20 hours a week in the school library.
"Some days I'm here from 9 a.m. to 3 p.m.," Preaga says. "We've added 3,000 books since January. There are lots of volunteer opportunities. Books need to be cataloged and shelved. We need weekly volunteers. We also have one-time service opportunities for your workplace or organization."
Despite the drop in volunteers due to the pandemic, WePAC is regaining ground. It has reopened nine libraries post-pandemic, served 1,750 students, circulated 47,000 books and trained 75 volunteers, Leith says.
"We're currently on track to re-open 13 libraries by the beginning of the 2023–24 school year," says Beck. "They're really important. Surveys show that for many students, the school library is the only library they visit."
School libraries seem to win over even kids who are reluctant at first.
"One of the evaluations mentioned a boy in second grade who wanted nothing to do with the library at first," Leith says. "Over the course of the year, he changed his mind and began borrowing books regularly."
Other youngsters seem to need no encouragement. Nicholas, 9, who lives near the Hardy Williams Mastery Charter School in Southwest Philly, stuffed two bags with free children's books at the community fair held at A. W. Christy Recreation Center, on South 55th Street, on June 24.
"I'm picking up books to read to my sister," he said. "She's three years old. My own favorite book is 'Pete the Cat.'"
Peggy G. Carr, commissioner of the National Center for Education Statistics in Washington, D.C., part of the U.S. Department of Education, would cheer Nicolas's enthusiasm. Students who've developed an appreciation of reading for pleasure outside of school scored higher than peers who reportedly seldom read for enjoyment, according to results from the National Assessment of Educational Progress (NAEP) Long-Term Trend Assessment. An article in the June 21, 2023, Philadelphia Inquirer, "Basic skills scores sink significantly for 13-year-olds, showing pandemic learning losses," cited that finding.
In the immediate future, WePAC will concentrate on updating collections in 13 school libraries opened before the pandemic.
"In these 13 schools, the staff already has an understanding of what a library does, of the benefits it can mean," says Beck. "We have the support of the administration and families at those schools. The administration understands that we're striving to fill a need. How we'll prioritize schools requesting our help later, we haven't decided."
Wherever it reopens libraries, WePAC will emphasize community engagement.
"We encourage community involvement," Leith says. "We're strategizing about how to put the word out: Should we have a parent/caregiver day?"
WePAC has found good grassroots support among Reading Captains. Modeled on the lines of the block captains, volunteers who lead efforts to make their blocks safe and beautiful, Reading Captains help their neighbors raise strong readers.
"We give out free children's books and literacy tip sheets at churches, the Philadelphia Zoo and rec centers," says Diane Mills, a Reading Captain in Southwest Philly. "We've even given out children's books at Wendy's. We go to Father's Day events. We're strictly volunteers. We do this because we love it," says Mills, who says that a brush with death also motivates her. "My purpose is to help these children."
Mills stresses the role of Reading Captains in helping parents. She advises them about issues like enrolling their children in pre-kindergarten and preventing "summer slide," losing academic ground over summer vacation, by reading together with children.
Reading Captain Patricia Erwin-Blue, a retired social worker and Reading Captain for her block on Buist Avenue, sometimes sees, and helps address, other circumstances that may impact a child's learning.
"You ask yourself what else may be happening at home," Erwin-Blue says.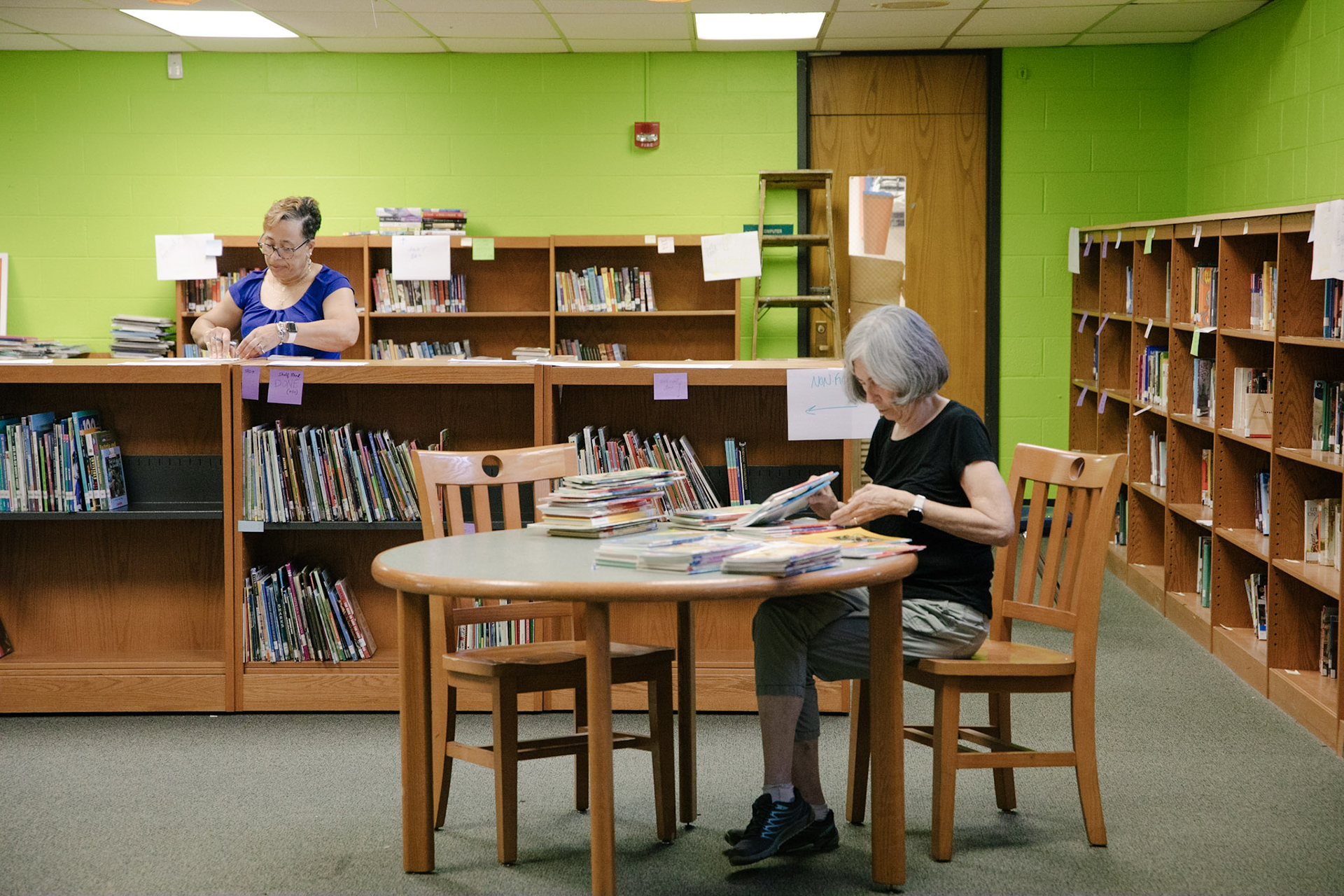 WePAC, administrators, Reading Captains and other volunteers have come together to spotlight and help remedy the critical need for libraries in Philly's public schools.
"We're trying to build a love of reading, a love of books and learning," says Phil DeLuca, principal of Samuel Gompers Elementary School in Wynnefield, which is spiffing up its library post-pandemic. "We need a space to do that."
To learn more, visit wepac.org.