Archers celebrated summer solstice with bows and arrows on the John Heinz National Wildlife Refuge at Tinicum archery range this year. Instructors like Kelly Kemmerle, who leads the youth archery program, welcomed Philly residents onto the archery range for safety lessons and target practice. Many attendees were new to the sport, holding a bow and releasing arrows for the first time. Some, as Kemmerle shares, are returning archers who've taken a liking to the program and come back every chance they can get.
"The most fulfilling aspect is seeing people come back time and time again and have fun, connect with the sport [and] build their skills, and being able to build that rapport with people," Kemmerle says.
The youth archery program has become a pillar for neighbors in the Southwest Philadelphia community interested in a free and accessible way to get outside. "[Archery is] a really approachable activity. Sometimes people feel intimidated by nature-based activities or feel like they don't have the background knowledge, but archery can attract people that didn't necessarily feel welcome," Kemmerle says.
The refuge staff work throughout the year to help neighbors from Black and Brown communities in Southwest Philadelphia overcome the racial prejudice that comes with being outside as well as the economic barriers that prevent many lower-income communities from participating in expensive sports like archery.
Attendees learn about the sport and practice shooting on the refuge's range under the tutelage of USA Archery–certified instructors at two-hour pop-up events that take place on weekday evenings. The youth archery staff are able to bring the fun off the refuge and into the streets through partnerships with local schools and summer camps, further opening that window of opportunity for people who have never participated in the sport.
The most fulfilling aspect is seeing people come back time and time again and have fun."

— Kelly Kemmerle,

archery instructor
Learning archery is one thing, but putting those skills to use is a whole other sport, according to deputy refuge manager Mariana Bergerson. "We realize a lot of people in this area aren't exposed to hunting growing up. And archery is a great way to have that stepping stone into learning a little bit more about it," says Bergerson.
John Heinz's hunting program helps bridge the gap between archery and conservation. The hands-on initiative addresses deer tracking, prepping for a hunt, using a crossbow and choosing a location. Haley Phillips of the Pennsylvania Game Commission shares the joy in teaching a skill rarely offered to people living in a city, where the meat roams only on the Acme shelves.
"A lot of people eat meat, but [they're] nervous about hunting and don't know where [their food] comes from. But once you explain it, it's such a unique process to actually get your own food for yourself," Phillips explains. Hopeful that hunting provides an appealing way of discovering archery, all efforts are made with the hope of getting more people into and interested in the refuge.
As the summer solstice session comes to a close, participants are reluctant to lower their bows, especially the kids who have found a new appreciation for archery. It has become a common cycle for former students to return as certified volunteers, ready to instruct the next cohort of archers.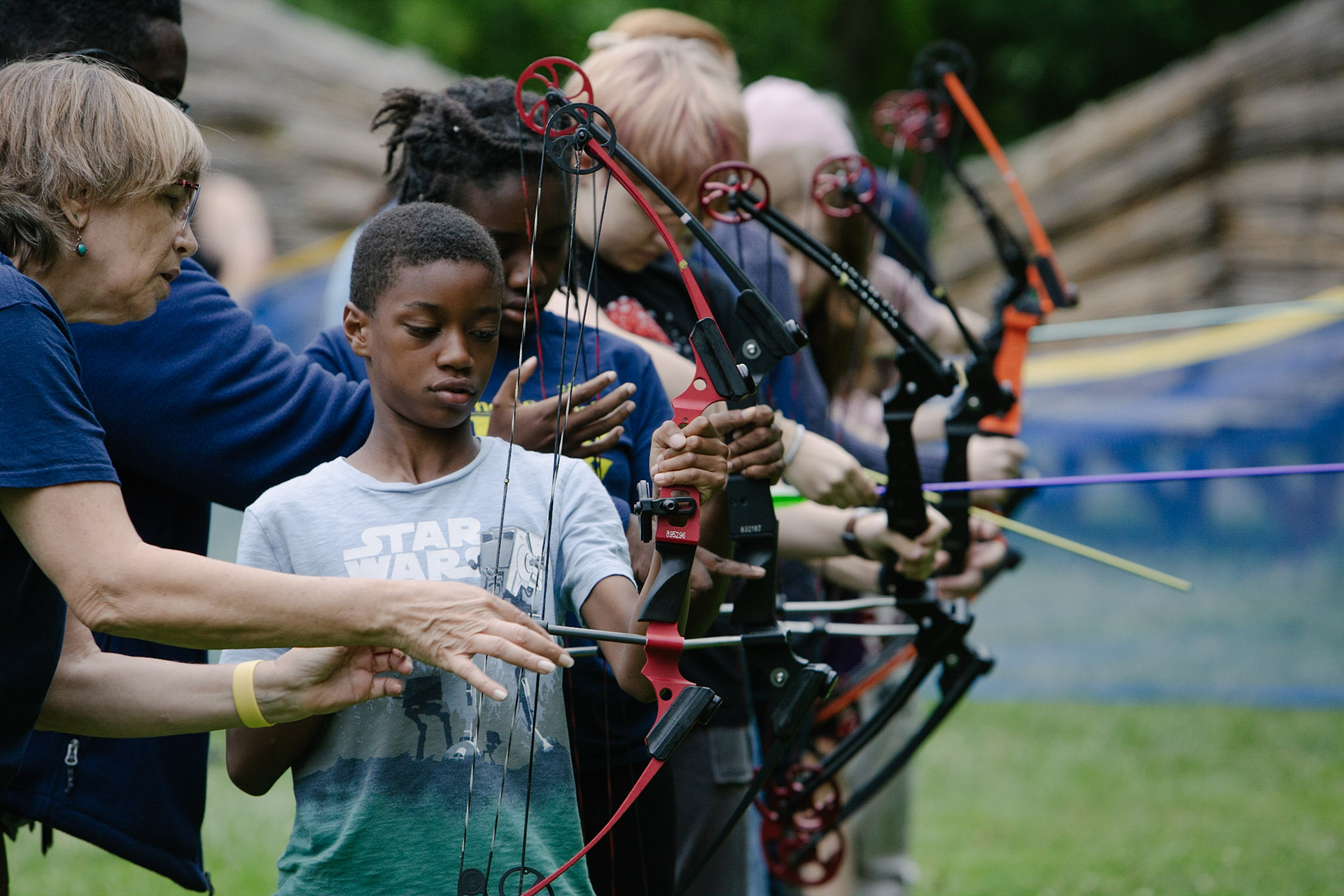 Bergerson sees archery as a stepping stone for engagement. Along with Kemmerle and Phillips, the John Heinz team hopes to continue introducing both kids and adults to activities that establish a positive perception of nature and our relationship to it. In some cases, all it takes is a bow and a few arrows.