In Johanna Dunn's Belmont Hills studio, rich upholsteries abound: lush reds, animal prints and houndstooth mingle with florals, tweeds and blackout curtains. Her slow-fashion company, City Totes, specializes in artistically crafted bags made from reclaimed fabrics.
Dunn, 55, loves finding materials destined for the trash and designing a new life for them. Over the past year her business has kept over 700 yards of fabric out of area landfills. "It's a lot of hard work, but I love it. I love to play with fabric and use a sewing machine to mold it from its intended use into something functional and beautiful."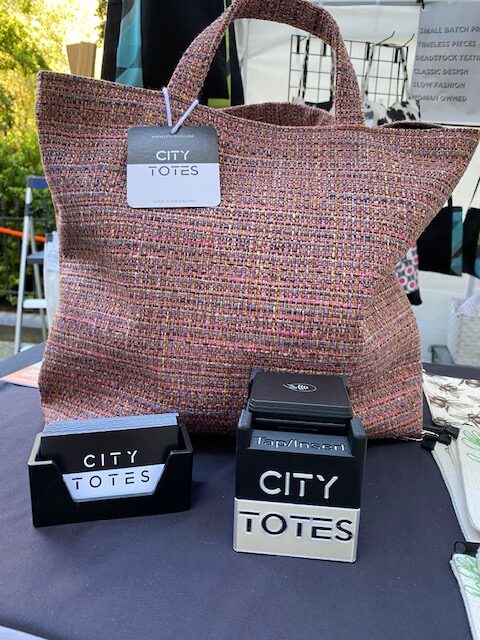 Prior to designing bags, Dunn created large multimedia paintings using found materials. In 2018 she began creating bags from her old clothes, and then in 2019, when her aunt passed, she inherited eight closets full of designer garments. The following year the pandemic made it impossible to donate the clothes, and Dunn had more time to work with the fabrics. "They were gorgeous clothes from international craft shows and much of it with designer labels. I started cutting it up. The fabrics were too beautiful to throw away." She began to fashion the fabrics together into bags.
In 2019 when the owner of a gallery where Dunn was showing some paintings asked if she had other work, she showed him her bags. He told her to label them and bring them in; City Totes was born. The bags sold well, and now? "It's absolutely a passion that's taken over my life," Dunn says.
Dunn's grandmothers, who painted and sewed, influenced her. Eventually, she taught herself how to sew. Nowadays, she works from deadstock—out-of-date fabrics or excess materials. Upholstery is her favorite. "It's thick and would take longer to break down in a landfill," she says.
Dunn's daughter, an environmental scientist, once mentioned to her that a pair of jeans can take 200 years to break down in a landfill. "That stuck in my head." So through City Totes she seeks to divert materials from landfills, reduce fashion's impact on the planet and educate her customers. There's a greater need for reusable bags given the recent bans on single-use plastics in places like Philadelphia and New Jersey, she says. "When someone buys a bag from me, they get to learn about it. I try to do it without making them feel guilty," Dunn says.
According to the Center for Biodiversity, "the fashion industry as a whole is responsible for consuming 79 trillion liters of water per year, producing over 92 million tons of solid waste per year, and contributing up to an estimated 20% of global wastewater and 10% of CO2 emissions" (Niinimaki et al., 2020; UN Climate Change, 2018).
As her business has become more successful, Dunn has taken on Alina Wolfenson, a senior in Drexel University's fashion design program, as her assistant. Dunn says the perspective Wolfenson, 21, brings keeps her work fresh, and they learn from each other.
"I get to see someone doing this fulltime and seriously—what's hard, what's easy. I learn a lot from watching her test different markets," Wolfenson says. This helps as she has her own zero-waste fashion brand — Scrap Grrrl — that she markets on Instagram and Depop.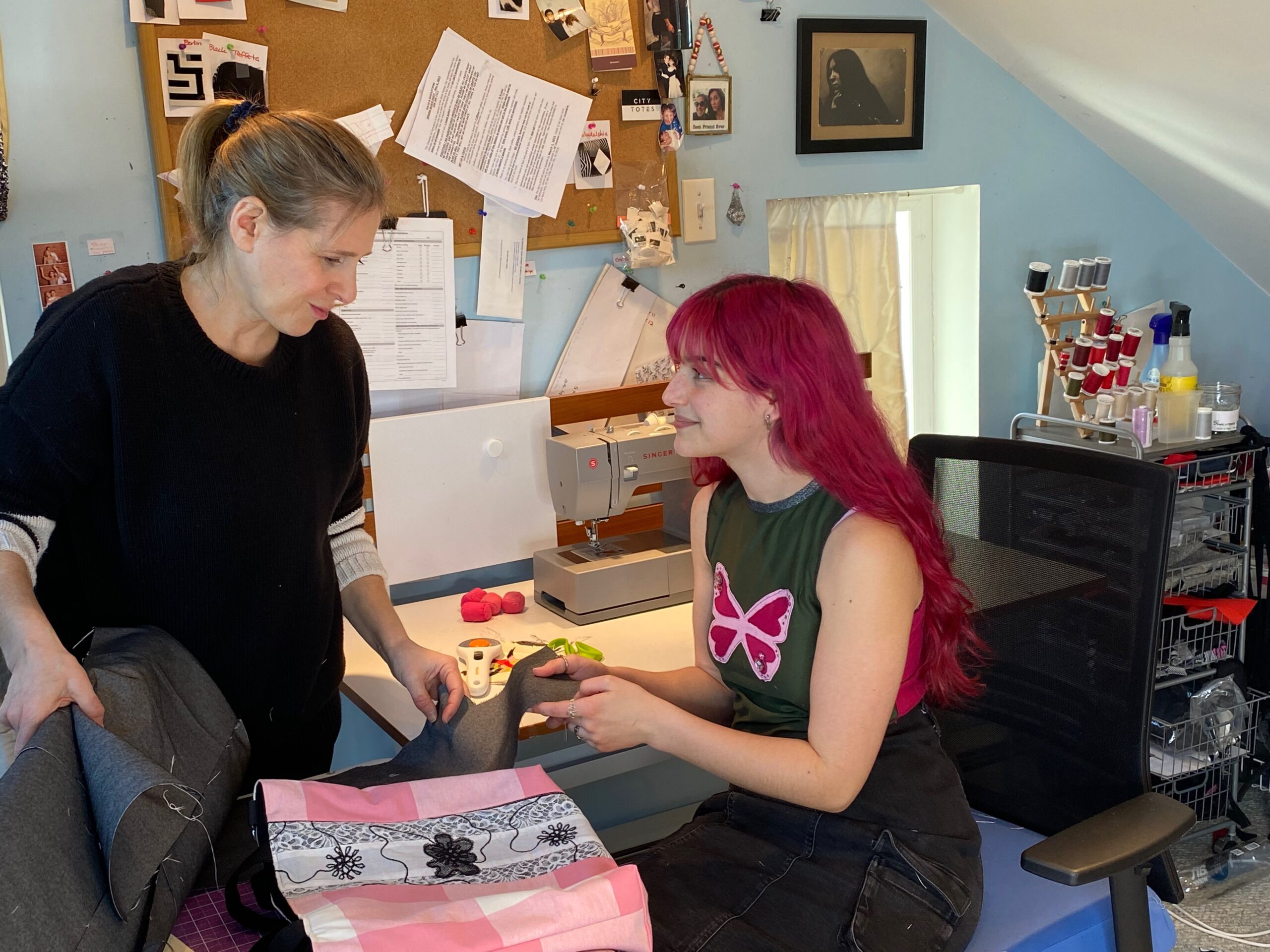 Philadelphia's expanding circular economy makes it easier for Dunn to find fabrics. Some of her favorite suppliers include Gaffney Fabrics in Germantown, Fabscrap in South Philly's Bok Building, and Jomar Textiles in North Philly. In turn, she sends her scraps to Rabbit Recycling (which has dropoff locations throughout the region), where they are often shredded and used as fill for things like pillows and dog beds. Dunn recognizes that there are other small business owners who are taking a similar approach. "It's not just me; I'm meeting so many vendors with the same idea," Dunn says.
Tina Dixon Spence, owner of Buddha Babe, a Northwest Philly studio that designs and sells accessories for babies, praises Dunn's work. They met at a market, and she bought a tote as a Mother's Day gift for her grandmother and one for herself. "It's great for running errands, but it doesn't look like a grocery store bag. She has the most stylish bags…and a great eye for textiles."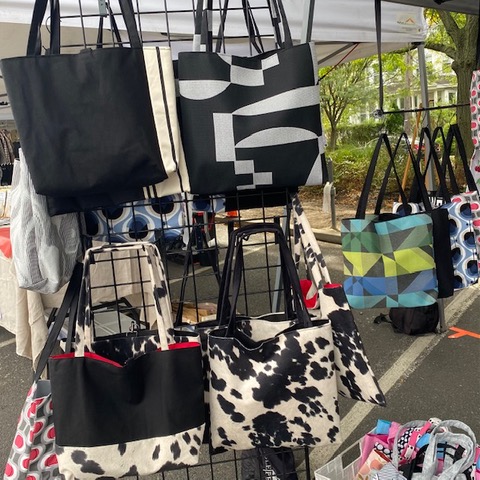 Dunn believes in helping similar-minded businesses. For the upcoming Flower Show, Dunn will include Wolfenson's Scrap Grrrl shirts at her booth. She also advertises and sells products on her website from vendors whose work she believes in. HHPLIFT is an example. The Chicago-based company employs people who are formerly incarcerated or experiencing homelessness. They transform discarded fishing nets and construction waste into bright, shimmery bags and backpacks.
Dunn suggests that, to make a difference, people should purchase fewer items, but spend more when they do. "The people who buy from me know they have this beautiful, functional, handmade piece of art. I think those things are valuable, and my customers think they're valuable."
Bags listed on the City Totes website range in cost from $40-$85. In the coming months Dunn will offer her totes at:
Philadelphia Flower Show, March 3–12
Clover Market, Collingswood, NJ, April 30
Rittenhouse Square Spring Show of PA Guild of Crafters, May 12, 13, 14
Rose Squared Celebrate Morristown Art Show, June 3 & 4
Manayunk Arts Fest, June 24 & 25