Glass is 100% recyclable: it can be melted over and over again to form new glass products without any loss in quality. Most of it is not recycled, however, despite the fact that the planet is running out of the sand necessary to make glass and other products. The opportunity for glass recycling, therefore, is enormous, but obstacles abound. Many experts believe that the pathway to saving glass from the landfill almost certainly begins with the dismantling of the single-stream system of recycling collection.
Maurice Sampson, the City's first recycling coordinator, proposed in the mid-1980s a system based on the same conclusion. In his plan, every household would have two bins: one for paper and one for containers. The reasoning was that it would greatly reduce contamination, sorting would be easier and much more material would be recovered.
But the multi-stream system Sampson proposed required a new fleet of trucks, and the City did not want to invest the additional money. The existing side bucket trucks the City had at the time accommodated paper and combined glass and metal but could not accommodate glass collected separately.
The system remained in place until 2008 when the City embraced single-stream recycling, the system we have now that collects all recyclables in the same blue bucket. Trucks with compactors, which were designed for garbage, were enlisted for the new task, with inefficient results.
"The whole thing has to do with what our priority is, and what the system of waste management is putting a priority on," Sampson says. "If your emphasis in your system is waste disposal, then you undermine your recycling program."
How glass recycling works
When Philadelphia residents put their blue bins out to the curb for recycling, the materials in the bin are taken to a materials recovery facility operated by Waste Management for sorting and preparation, to be sold to manufacturers who can use the material.
Very little glass actually makes it to an end market because the material is crushed, first by the truck's compactor and then again when it reaches the Waste Management plant.
In theory, the cullet — smaller pieces of glass ideal for recycling into new glass objects — is supposed to fall through a grated floor to then be collected. It is usually impossible, however, to sort the glass by color and decontaminate it once it has been crushed and jumbled with microplastics and paper.
The problem
Much of the contaminated glass that is irreversibly mixed with other materials cannot be recycled; it can only be used as landfill cover. The City does not have numbers for how much glass in the single stream goes to the landfill. While landfill cover is technically a form of "downcycling," along with other uses like sandblasting, the material is not making it to an end market to be given new life. It still sits in a landfill — the opposite of the aim of recycling.
The Streets Department says that glass makes up about 18% of recycling materials. In 2017, that number was 28%.
Keeping glass out of the landfill
AeroAggregates, a company producing lightweight foam glass, has found a way to keep glass out of the landfill.
Aero uses the small, mixed-color pieces that are unusable and unrecyclable in any other context to make foam glass, which is used in construction of roads and buildings. Their secret to using this otherwise landfill-bound material? Small particle size and specialized cleaning equipment.
"One of the things we did early at Aero was invest in our own cleaning equipment so that we could take some of that glass that nobody wants, and that's kind of been one of the keys to our business. The glass we use is literally the stuff that nobody else could use," says Archie Filshill, founder and CEO of AeroAggregates. And for that reason, he says, Aero's "finished product is basically 100% curbside post-consumer glass."
The Eddystone, Delware County-based company works with Philadelphia as well as Delaware, Lehigh, Montgomery, Camden and Burlington counties.
Diverting the waste for reuse
Offering on-demand and subscription-based service models for both homes and businesses, Rabbit Recycling accepts everything the City does plus additional materials that are more difficult to recycle: batteries, straws, light bulbs, rubber bands and hundreds more items. Unfortunately, one of the few things they cannot accept for safety reasons is broken glass — and that's because everything they collect is sorted by hand.
"We don't dump anyone's stuff together. So if you give us your stuff and it's clean and dry — which is what we require — then it will be recycled," says Rabbit Recycling project manager Zoe Fuhrman. "Even if somebody else didn't clean their stuff, it won't contaminate yours."
Rabbit sorts glass by color and texture and anyone — artists, educators, glassblowers — can source glass from Rabbit for free. Their only requirement? Make sure the glass gets reused.
Rabbit Recycling's glass strategy promotes reuse. Instead of grinding bottles up to be recycled, less energy and transportation is involved in keeping whole bottles in the local economy.
"Our goal is to keep all waste as local as possible for reuse or recycling," Fuhrman says.
Reusing bottles, recycling glass
One of the major recipients of whole bottles from Rabbit Recycling is Bottle Underground, the nonprofit glass reuse and recycling arm of Remark Glass.
Remark was founded in 2016 as a small batch studio using 100% post-consumer glass. Remark worked closely with their clients and community to source glass. "We were interested in what the glass was capable of in the glass studio," says Remark cofounder Rebecca Davies, also a founding board member of Bottle Underground.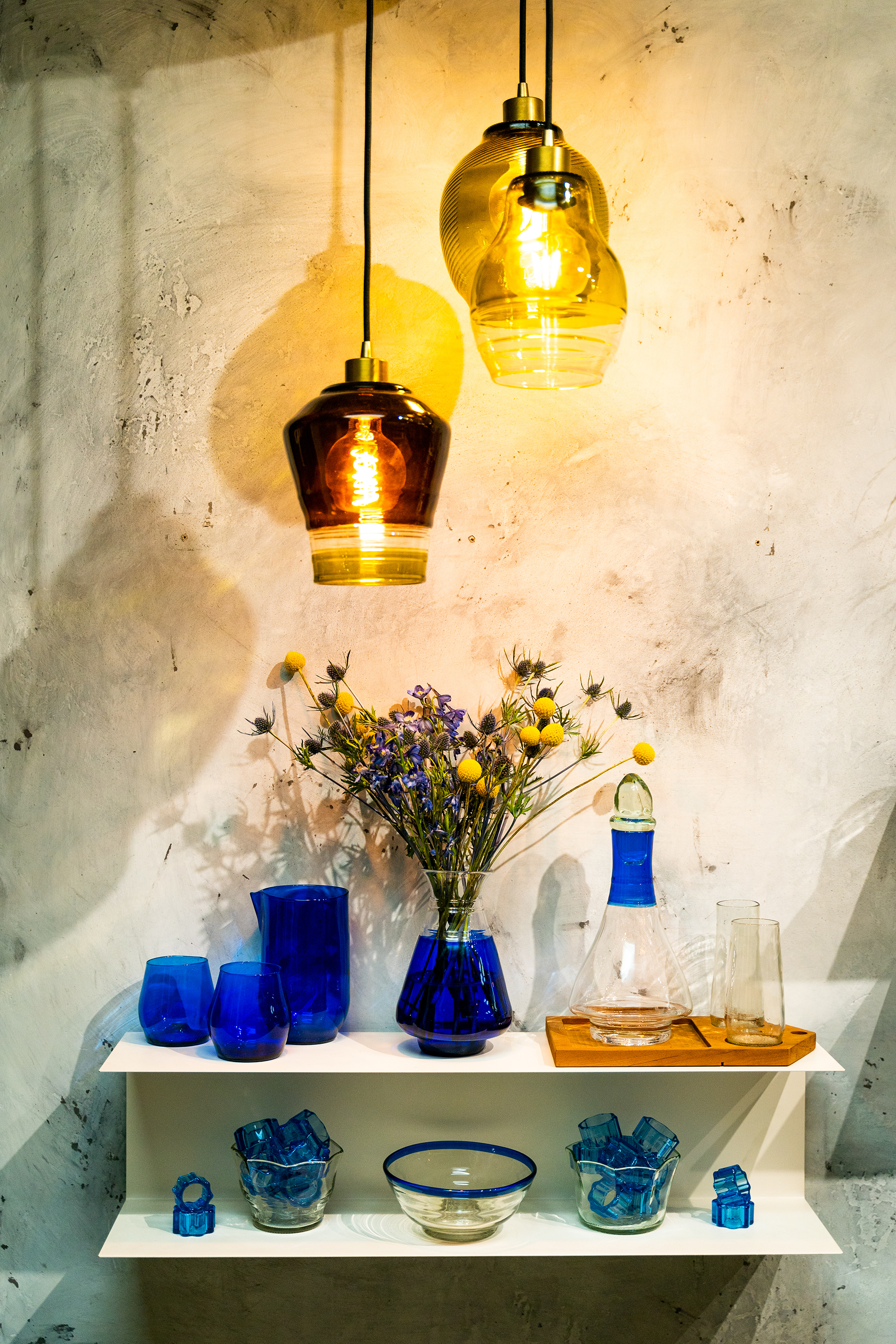 In 2020, recognizing a need for scalable recycling efforts, Remark launched its sister nonprofit, Bottle Underground, which focuses on taking glass donations, finding the best use for materials and creating processed glass for multiple end markets, from their own glassblowing studio to local businesses that need, say, whole reused jars.
And while Remark blows its own glass items from recycled materials, Bottle Underground is focused on collecting whole bottles and jars, which are then cleaned and made ready to use for interested businesses. Some of these businesses include Saté Kampar, South Philly Food Co-Op and Vellum Street Soap Company. According to Remark's website, this has kept 153,631 pounds of glass out of the recycling process altogether, saving energy and emissions.
"There was a huge demand for people who wanted to participate," Davies says of the expansion. And it fits with the Remark founders' own "true desire to participate" beyond collecting glass for use in their studio.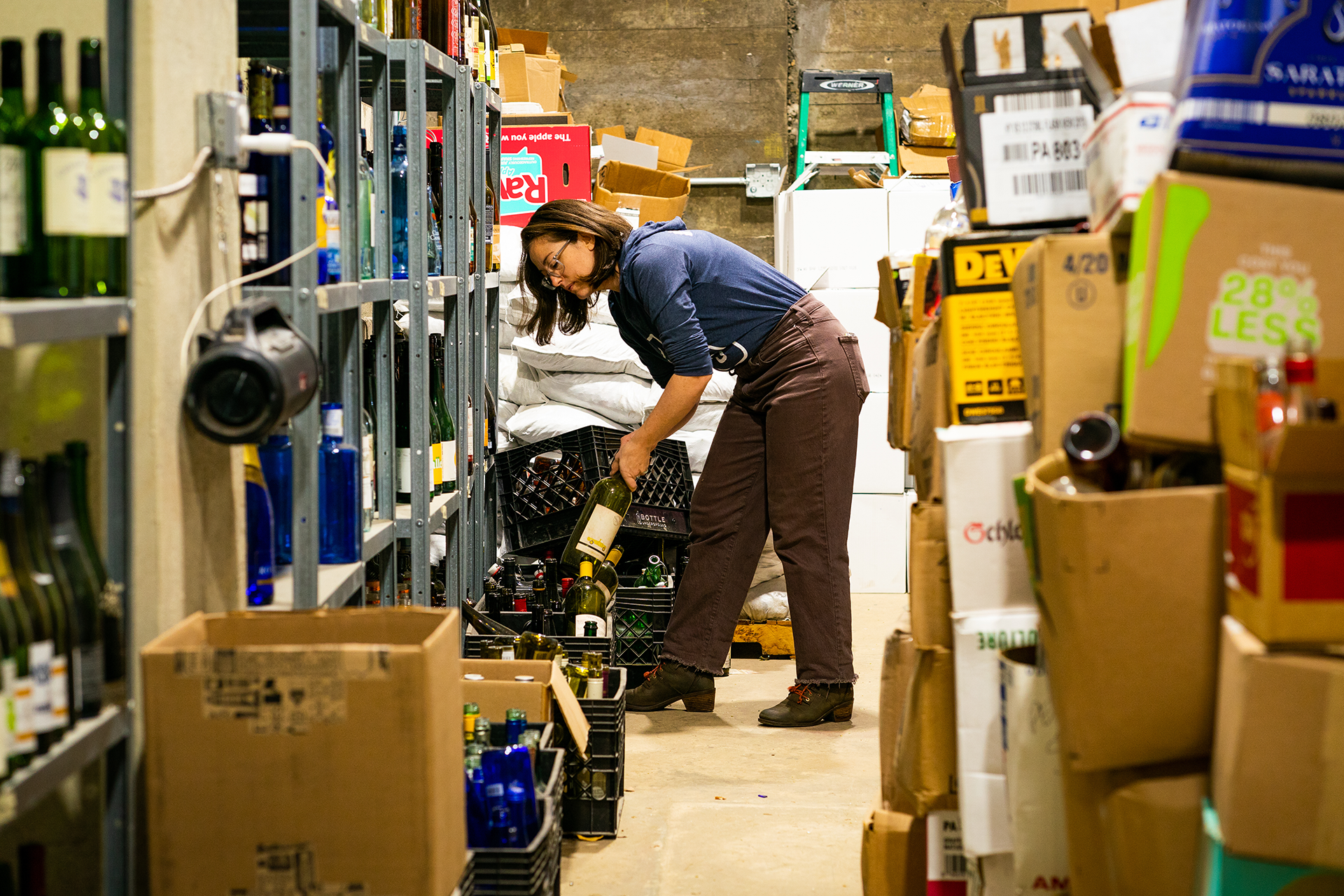 The future of glass
While it seems inevitable that, eventually, markets will open up for glass recycling to be profitable, it doesn't seem imminent. "It is going to take a lot of resources to change the flow of material here," Davies says.
In the meantime, attacking the problem from as many angles as possible is key, Davies believes.
"It would be great if we could have one solution that we could kind of apply and see huge changes," she says. "I think that what is important about waste and material is that it won't really look like a one-size-fits-all solution, not even for all the glass here in Philadelphia."