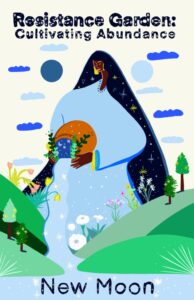 The Painted Bride Art Center has announced Resistance Garden: Cultivating Abundance, a programming series including five community dinners, five artist residencies, and four zine releases.
"When you're making a radical effort like beautifying and reclaiming land, the best way to engage people is art. Our artist residencies are how we bring an element of creativity and beauty to the way we support these garden sites," says Amalia Colón-Nava, Painted Bride's project manager for Resistance Garden.
The project is a collaboration with nine partners, comprising farms, gardens, and foragers across the city (Urban Creators, Norris Square Neighborhood Project, foragers Lady Danni Morinich and Alicia Rink, Philly Forests, Cesar Andreú Iglesias Community Garden, Truelove Seeds, One Art Community Center, and Girls Justice League).
The first of the dinners was held on the evening of June 15 with Philly Forests, a Germantown community farm, at Awbury Arboretum. The dinner included work by artist-in-residence Birdie Busch.