It was flooding in the Ablett Village public housing development in Camden's Cramer Hill neighborhood. It had rained overnight from Saturday, April 24, into Sunday, April 25, and that brought water that pooled in driveways and on the sidewalks running between the area's long, two-story brick apartment buildings.
This is not at all unusual, according to Tracey Fleming-Powell, the president of the tenants' association.
"Sometimes you can't see the sidewalk or can't tell the difference between the sidewalk and the driveway," says Fleming-Powell. She sent me photos taken on Monday, April 26, showing a lingering puddle that spanned a driveway and deep tire ruts in the adjacent grass left by cars that drove around to avoid the water.
Water also infiltrates Ablett Village from the tidal Cooper River, just to the west. "We got water coming from the bottom and we got water coming from the top," says Fleming-Powell.
There are multiple ways that Camden floods. 
At high tide the surrounding waterways can flood low-lying parts of the city, and it is surrounded by water on three sides. The Delaware River bounds Camden to the north and west; Newton Creek runs to the south; and the Cooper River runs through the city and into the Delaware, separating the northeast third of the city, including Cramer Hill.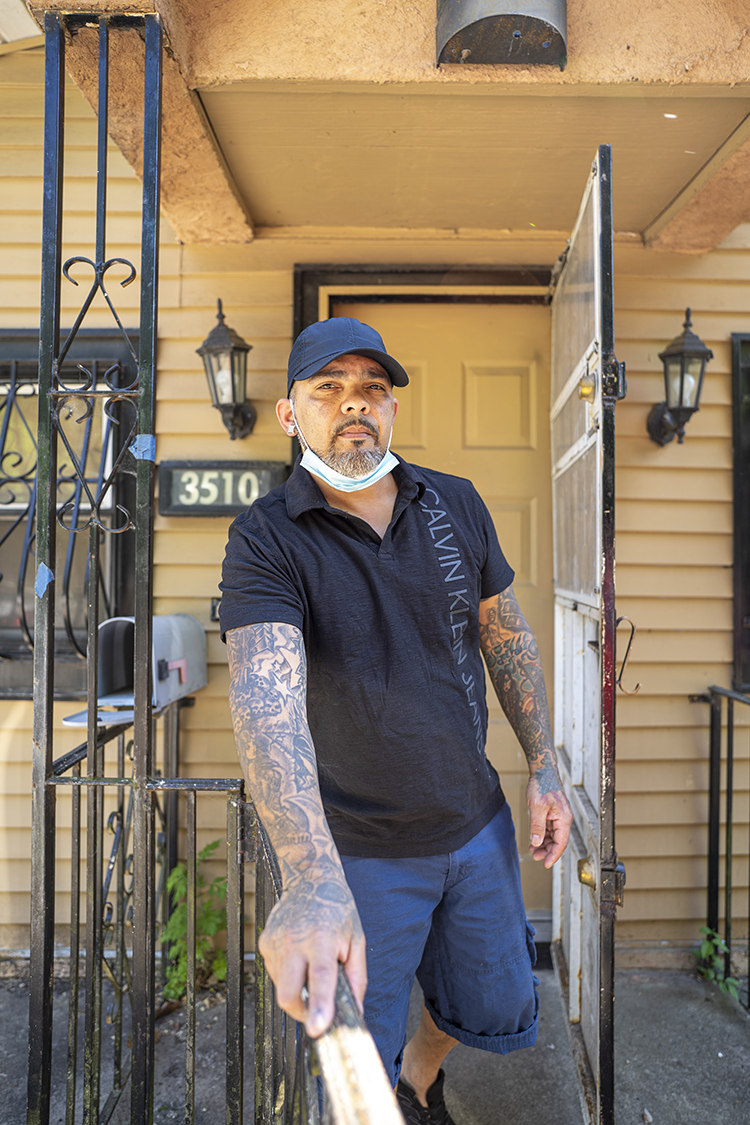 Camden is not the only Delaware Valley community facing these problems, but it is one that highlights the disparate impact of climate change on low-income communities and communities of color.
About 74,000 people live in Camden. About 40% are Black and about half are Hispanic or Latino. About 36% live below the poverty line.
"Every rain … my basement has a little flood. I have to have my pump on all the time."

— Eduardo González, Camden home owner
Roughly 10 ,000 people live in the Cramer Hill neighborhood. About 65% are Hispanic or Latino, about a quarter are Black and about 35% of residents fall under the poverty line.
The people I spoke with in the neighborhood all had stories about flooding.
Eduardo González has seen the flooding in his basement worsen over the 20 years he has lived on Farragut Avenue across from the Cramer Hill Nature Preserve.
"Every rain … my basement has a little flood. I have to have my pump on all the time," he says.
Several people mentioned cars stalling out in floodwater. González says his son got his car stuck on a flooded street. It was a total loss.
Raul Rodríguez, owner of Raul's Auto Repair Center on River Road, just east of the Cooper River, sees two or three cars stalled out whenever the road floods.
"Most people see the water is deep and turn around, but some people keep on driving. And then you know what happens. They've got to call a tow truck," he says.
Heavy precipitation can also overwhelm the city's antiquated stormwater system, a problem exacerbated by high tides.
When this happens the water ends up in other places, says Meishka L. Mitchell, vice president of Cooper's Ferry Partnership (CFP), a Camden planning and redevelopment organization.
"It backs up through the sewer system into the streets, into the parks and into people's basements," she says.
And it's not just water that fills basements and obstructs streets. Like many older cities, Camden is drained by a combined stormwater and sewer system. When heavy rain overwhelms the system, untreated sewage along with stormwater comes out through overflow pipes in what is known as a "combined sewer overflow," or CSO. It can then back up into streets, parks and basements.
Camden commuters also need to pay attention to the rain and the lunar cycles in ways most of us wouldn't imagine. Tides are highest at the full and new moons. According to Camden County Commissioner Jeffrey Nash, the Ferry Avenue PATCO station parking lot is prone to flooding at high tide in rainy weather. "People know not to park there on a full moon," he says.
Elected officials such as Nash hear about flooding regularly from their constituents. "Flooding is one of the top problems in several of the communities—and when it floods, they call," he says.
From 2007 to 2008, CFP partnered with a Cramer Hill community organization on a neighborhood planning process. At one session, residents were given pretend money to spend on neighborhood issues as a way of identifying community priorities.
"There were a lot of problems people could have chosen from, like public safety, potholes in the street, bad lighting, and the No. 1 issue in this neighborhood plan was to fix the flooding in Von Nieda Park," says Mitchell.
"Flooding is one of the top problems in several communities— and when it floods, they call."

—Jeffrey Nash, Camden County Commissioner
The park, about 19 acres of playing fields, ball courts, a community center and a playground, was built in the early 1950s over a stream called Baldwin's Run.
Fleming-Powell recalls flooding on River Avenue through the park, deep enough to swallow vehicles.
In 2015 a coalition of organizations including CFP, the New Jersey Department of Environmental Protection (NJDEP) and the Camden County Municipal Utilities Authority (CCMUA) completed a project to restore Baldwin's Run and separate the stormwater drainage from the sewage system. According to Fleming-Powell, it still floods, but not nearly as badly as before.
Flooding in Camden is both ubiquitous and poorly understood.
When I asked Scott Schreiber, the executive director of the CCMUA, where in Camden flooding is particularly bad, he said there is rarely more than anecdotal information to go on. Not knowing exactly what conditions result in how much flooding and where makes it hard to come up with solutions. That's true for current conditions as well as for the higher tides and increased precipitation caused by climate change.
Although global warming has been recognized and studied for decades, its impact on the local scale has been coming into focus only recently. Global models of sea level rise and weather patterns need to be translated down to the local level to be useful for planners.
Even the best models present a range of possibilities, further complicating planning.
Should a city government use the most-likely, mid-range of sea level rise estimates, or should it prepare for a less-likely higher level?
"A lot of these cities, that's where they are. They know they have to do something, but they don't know exactly what to do because there's a lot of variability in what the future could look like," says Franco Montalto, civil and environmental engineering professor at Drexel University.
How communities prepare for a wetter climate also depends on their surrounding administrative landscapes.
For example, federal and state laws require local governments to reduce CSOs. The specific regulations governing how local governments need to do this require them to evaluate planned fixes relative to past flooding.
"So if they look at rain gardens or making sewers bigger, they'll rerun [a year on record] and see how they would have done. You have an outcome whereby they could implement a plan that's compliant with the Clean Water Act but doesn't look forward at all," says Montalto.
The CCMUA is currently in the process of developing its next five-year plan to reduce CSOs for Camden County, Camden City and neighboring Gloucester City, whose stormwater and sewage treatment systems are interconnected.
"Once we figure out where and why it floods and how to fix it, we have to account for climate change," says Schreiber. "We haven't gotten to that point yet. We know that whoever designs that infrastructure has to take into consideration … river rise and design to those standards."
Working with the CCMUA with federal funding from the National Oceanic and Atmospheric Administration, Montalto has been developing models of local flooding solutions that take climate change models into account.
In Cramer Hill, PowerCorps Camden members (in collaboration with AmeriCorps) are helping gather more data for the modeling project.
The PowerCorps Camden members take pictures of flooding when it rains. That documentation of how much and where the neighborhood floods is helping develop computer models to predict precipitation in the short term as well as into our wetter future.
Montalto's team then hopes to present Camden decision makers with options for gray (equipment and built structures like pipes and treatment plants) and green infrastructure (landscaping such as parks and rain gardens) that can reduce CSOs while also reducing flooding for Camden residents.
Greening Camden is already part of the solution. The Camden SMART Initiative, a collaborative launched in 2011 to address stormwater and flooding problems, kicked off a wave of greening projects.
"There have been over 50 green and green infrastructure projects completed in the city of Camden since 2011, and those 50 projects capture about 60 million gallons of storm water a year," Mitchell says.
A project manager with NJDEP, Frank McLaughlin points to several green projects along the waterfront that give residents more greenspace while soaking up water.
The 35-acre Cramer Hill Preserve that opened in 2019 converted an overgrown former sewage treatment plant into a waterfront park. The 62-acre Cramer Hill Waterfront Park is set to open at the end of this summer on the site of a former landfill, and the CCMUA is planning to install a living shoreline at the 5-acre Phoenix Park, using shoreline plants to absorb the energy of the tides.
Flooding is far from the only environmental problem that Camden residents deal with. The newly launched Camden Collaborative Initiative seeks to take the same collaborative approach that reduced flooding in Von Nieda Park and apply it to water issues as well as air quality, waste management and the improvement of public spaces.
Mitchell noted the importance of educating residents about the relationships among environmental problems and their role in solving them. Fighting litter can help ease flooding by cutting down on trash clogging up the stormwater system.
Camden residents have a role to play in adapting to climate change, but the infrastructure projects that are needed to deal with flooding today as well as in the future will not come cheap.
"It is a very difficult problem because the causes are ever shifting, and the solutions are extremely expensive at a time when government does not have extra resources to devote to large infrastructure solutions," says Nash.
A report, "An Equitable Water Future:   Camden," developed by a coalition of state and local agencies, prioritized the creation of a stormwater utility. This would be a fee charged to landowners for stormwater running off their properties. Making businesses pay for the impact of impervious surfaces such as roofs and large parking lots could motivate them to reduce runoff while also giving local government funds to build infrastructure to deal with flooding.
The Housing Authority of the City of Camden (HACC) is hoping to use grant funds to demolish Ablett Village and rebuild it out of the reach of floodwaters. According to HACC Director of Modernization and Development Charles Valentine, the new development would be at least two feet higher.
"We're going to lift the site," he says.
Larger-scale solutions to Camden's flooding will take years to implement, and it remains to be seen whether the city can stay ahead of climate change. In the meantime, residents continue to bear the costs.
While Eduardo González has learned to live with the chronic flooding, he's also got one eye on the future.
"It's tolerable, but I'm thinking of moving," he says. "And I don't know how hard it will be to sell the house when there's water coming inside the basement."