By Shari Hersh, Ron Whyte and Emma Wu
While many people are experiencing pandemic fatigue, understandably eager for a return to normalcy, the COVID-19 crisis remains far from over.
India is experiencing a nightmarish second wave that has led to overcrowded hospitals and critical shortages of lifesaving medical equipment. In its neighboring country Nepal, the situation is also increasingly grim. South America, too, continues to battle the virus, with relatively high positivity rates in Uruguay, Brazil, Argentina and Peru.
Pictured here, Trash Academy's "COVID-19 + Climate Change" implosion project aims to remind people of the ongoing seriousness of the pandemic, while illustrating how the virus's root causes are inextricably linked to climate change and overconsumption. The artwork questions the state of the world and asks how we can play a role in changing it for the better.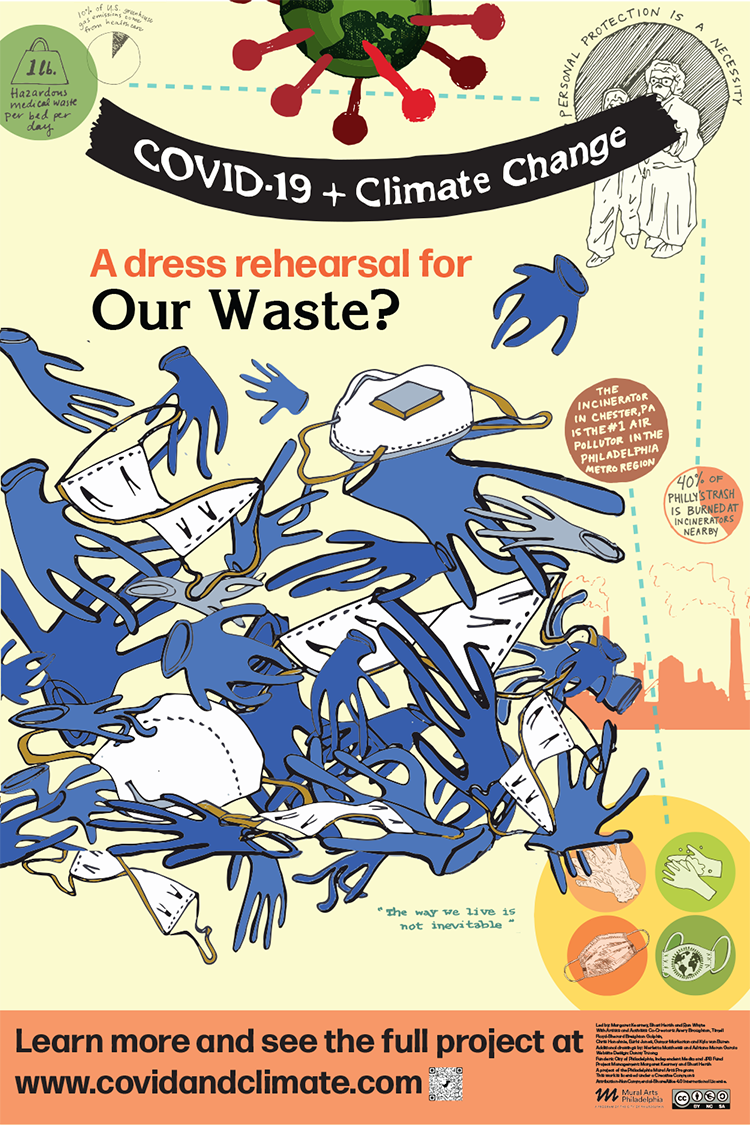 More than 129 billion disposable face masks and 65 billion gloves have been used per month during the pandemic's duration. Industry used COVID-19 as an opportunity to delay plastic bag bans and expand the market for disposable products. Equally visible were overwhelmed municipal waste systems and glaring health risks to essential workers.
While unpacking and examining the root causes of these crises, we also explored how social and political systems have disproportionately negative impacts on BIPOC communities.
As we've seen in countries like New Zealand, Vietnam, Cuba and Rwanda, disaster is not inevitable; strong public health measures coupled with a deep commitment to following the science can help us weather the storm of both COVID-19 and climate change and support a just transition.
Interested in learning more about implosions and how they can be a creative, participatory research tool for building coalitions and exposing the hidden connections that fuel systems of injustice? Contact trashacademy@muralarts.org or book us to present our interactive implosion. See the full COVID-Climate Implosion Project at www.covidandclimate.com.