My family and I have been meaning to take part in a nature program at Vernon Park in Germantown by the Tookany/Tacony-Frankford (TTF) Watershed Partnership for years, but up until recently, it's never panned out.
It was never for a shortage of events—they've hosted a wealth of volunteer work days, nature walks and other watershed education programs there—it's just our schedules have never seemed to line up.
It is hard to remember all the reasons why, but here are some of the usual suspects: We had conflicts with other events. Guests were visiting from out of town. We were out of town. We had soccer games to attend. We had work. The kids melted down on the way out the door.
The key to us finally making it there? The pandemic.
"… a lot of the work we do is getting people outside and talking about water and connecting people to nature."

— Ryan Neuman, upstream conservation leader at the Tookany/Tacony-Frankford Watershed Partnership
"When the pandemic started we couldn't go out and do programs with people," said Ryan Neuman, upstream conservation leader for TTF. "Obviously a lot of the work we do is getting people outside and talking about water and connecting people to nature."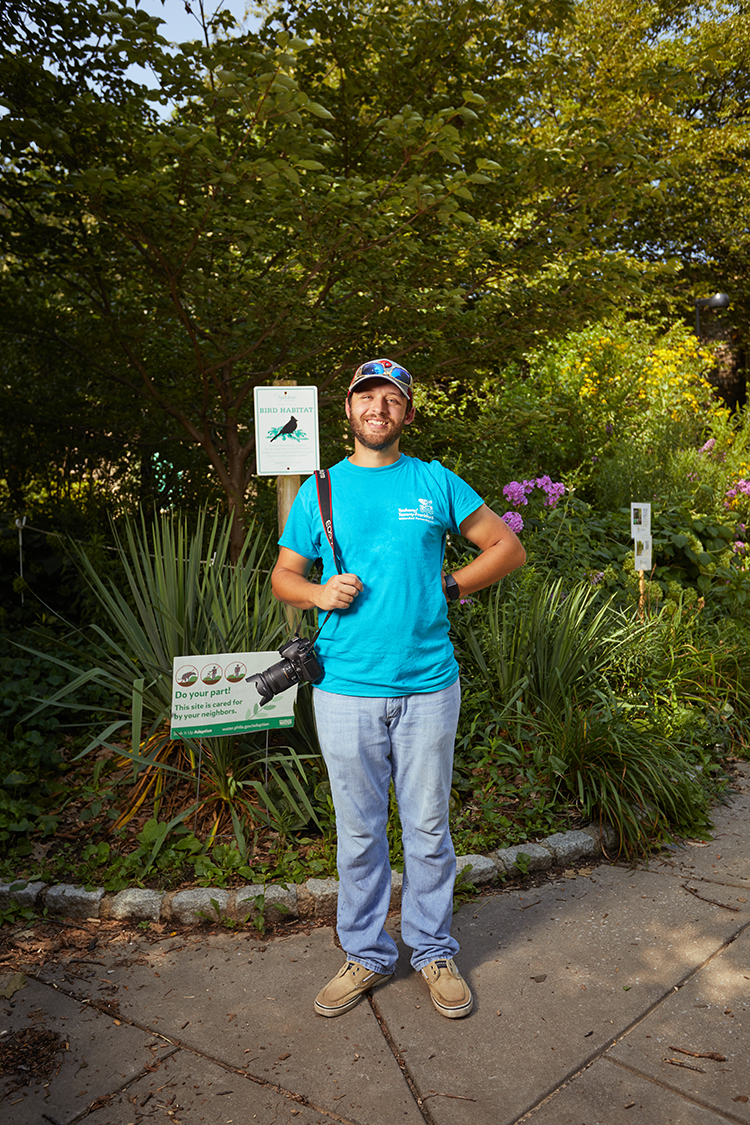 With a pandemic response grant from the Alliance for Watershed Education, TTF developed a series of virtual nature walks that were published through the summer of 2020. The Bring Us Along! (¡Tráenos Contigo!) virtual tour series offers maps, nature highlights and videos hosted by environmental educator Brandon McCracken in English and Spanish.
In 2020 visitors flooded parks even as live programming dried up. The virtual content enabled TTF to continue to connect them to nature.
At first glance, Vernon Park—mostly landscaped grass and trees with a playground, rain garden and an historic house—might not seem like a nature destination. But programming by TTF and partners such as Friends of Vernon Park and the Free Library of Philadelphia have demonstrated that even neighborhood parks can serve as gateways to experience nature.
According to Neuman, on Saturdays during the pandemic 20 to 30 people viewed the virtual programs—more than might attend a live walk. This summer TTF has continued to promote virtual programs, with 5 to 20 people viewing them each Saturday—still a respectable showing.
I read through the Bring Us Along! post about Vernon Park before we left the house and kept it up on my phone while we explored. Numbers on the map marked plants and animals we could look for, along with level of difficulty.
Gray catbirds, rated "easy," were indeed a piece of cake. We saw plenty of these engaging birds foraging for worms and berries and watching us from nearby shrubs and low trees. We did not spot any red-banded hairstreaks. These delicate little butterflies were rated "expert," so we didn't feel too bad about it. If we were visiting after dinner, we might have spotted big brown bats or eastern cottontail rabbits, which, as McCracken explains in a video, are on the menu for just about every other animal in the park.
TTF isn't the only local nature organization to continue self-guided programming spurred by the pandemic. In the spring of 2020 the Schuylkill Center for Environmental Education (SCEE) had to cancel its Saturday morning guided family nature walks. A few months later, in September, it replaced them with self-guided nature exploration kits. A kit might include a magnifying glass, a bug box, a set of binoculars, a trail map and scavenger hunt sheets.
"The response has been great. We have seen just over 1,500 people come out to pick up a kit between September 2020 and this past Saturday," says Amanda Cohen, the manager of public programs at SCEE.
"For comparison, between September 2018 and July 2019 [the same amount of time], we saw just under 700 people come out to our Schuylkill Saturday program," she says.
SCEE plans to continue to offer the kits through the fall and into the winter.
TTF continues to promote the virtual walks and is experimenting with other ways to add content for self-guided nature walks. For example, it is placing temporary signs with QR codes next to flowering plants and other ephemeral features. Visitors can scan to learn more about what they're seeing, and TTF staff can shift the signs around to follow seasonal changes.
To be clear, self-guided tours are nothing new. Educational signage is commonplace on nature trails, allowing visitors to learn about the habitats they're walking through. Museums have long offered audio tours to visitors who can listen to experts as they view exhibits.
However, it's safe to say that the pandemic, with its widespread lockdowns and social distancing, has forced many organizations to expand their self-guided programming.
None of these programs can replace the in-person experience of tours and other events, especially outdoors, where so much can happen unexpectedly. (Only an expert can react to a hawk flying overhead and help you identify the eastern kingbirds harassing it.) But for all the times our schedules don't line up, self-guided programs can be there, too.