Bloc delivery cofounder Alison Cohen believes people are much more likely to support local businesses if they do not have to leave their homes to do so. Her vision, a local alternative to Amazon that provides Philadelphia's small businesses with a wider customer base—where all the deliveries are done by employees riding on a fleet of strategically placed bikes—is just starting to take root.
"I wouldn't want to drive an hour into West Philly to get some headphones," Cohen, who lives in Mount Airy, says. "But if they could be brought to my door in an affordable manner, I'd feel much better about spending that dollar than having it show up in a van from Amazon."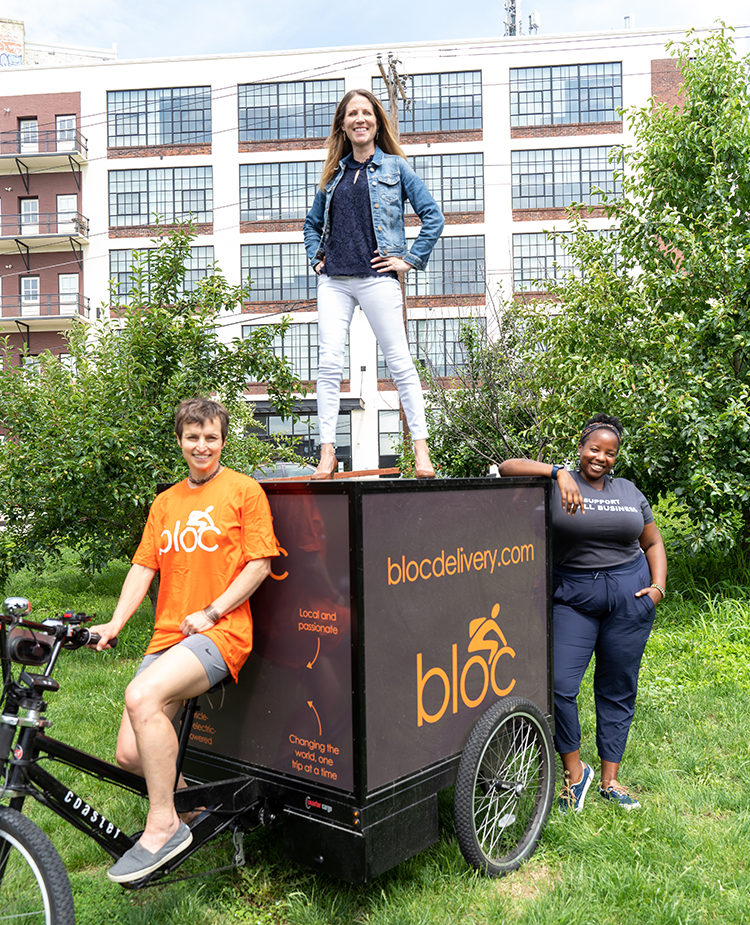 Customers are able to place an order from available businesses in their neighborhood on the Bloc website. All zip codes that qualify for delivery are listed on each business' page. Delivery specialists provide next-day delivery.
Bloc Delivery provides delivery service for Mariposa Food Co-op in West Philadelphia, South Philly Food Co-op and Weaver's Way Co-op in Mount Airy.
Bloc does not have any redistribution centers, which means that each delivery person goes directly from businesses to customers' homes.
"This is about our passions and wanting to help our neighborhoods."

— Alison Cohen, Bloc Delivery cofounder
Every order from Bloc includes a $7 delivery fee for this door-to-door service, and customers can expect a text from their delivery person when their order is en route.
Though Bloc is still relatively small (especially when considering the monolithic nature of Amazon), it has helped connect local businesses with new customers, which has given them an extra boost during COVID-19.
Rian Watkins and Leroy Mapp cofounded their protein bar company Gorilla Power in 2017.
After connecting with fitness buffs and promoting their bars at yoga sessions and outdoor workout events throughout the city for years, they had to find new ways to connect with the fitness community in 2020.
Another Bloc cofounder, Kiera Smalls, a yoga and mindfulness teacher (as well as cofounder of the running group City Fit Girls) knew Mapp, and she believed adding Gorilla Power to the Bloc website would be a win-win. Mapp and Watkins could reach more customers, and Bloc could expand their featured products.
"We want to meet [the needs of] all kinds of consumers—not just the ones looking for hot food or quick snacks. We want everyday staples and products for the once-in-a-blue-moon consumer," Smalls says.
Fitness-focused products like sneakers from Philadelphia Runner or protein bars from Gorilla Power bring in people who may be interested in products that fit their active lifestyles rather than the grocery items Bloc also carries.
Gorilla Power's partnership with Bloc has helped them spread the word about their protein bars. Mapp and Watkins have gained new followers from cross-pollination on Instagram, which in turn has given them new customers.
"Exposure has increased," Watkins says. "They show a lot of love to Black-owned businesses."
Smalls wants to keep Bloc's support of local business owners going as stores transition out of pandemic crisis mode and are no longer in the red. She plans to do this by strengthening community connections, reaching out on social media and revamping Bloc's website.
Part of the change is a filter that will allow customers to search for Black-owned and women-owned businesses.
Equity and Access
Cohen and Smalls cofounded Bloc in March 2020 with Jennifer Grega, CFO of Bicycle Transit Systems. (Cohen is currently the president and CEO.)
Smalls previously oversaw the marketing, communications and equity efforts of Indego Bike Share, which was launched by Bicycle Transit Systems in 2015. She notes that all three founders worked together to launch Indego, and that it has shaped how they've set up Bloc.
"As individuals over the years, we've done a lot of work focused on equity and access," Smalls explains. "Coming into Bloc, it has been a normal part of our operations."
Bloc is minority owned and operated and has always been focused on empowering local business owners who often struggle to compete with big-box stores and Amazon.
"We have a diverse team at all levels of the company and we have a diverse marketplace of business owners," Smalls says.
In 2020 Cohen saw an opportunity to empower local businesses and help her neighbors spend their dollars locally. Cohen had been interested in creating an electric cargo bike "last mile" delivery service since 2019 but had not considered transporting products directly from businesses to consumers until the pandemic began to limit how much customers traveled and left their homes to shop.
As a Mount Airy resident, Cohen was interested in starting Bloc in her neighborhood and helping businesses she knew best.
Meg Hagele, owner of High Point Café, was also searching for a way to connect with customers when Cohen approached her about Bloc.
"Alison Cohen is a regular and a neighbor. She mentioned rolling out this electric cargo bike [program] right in our neighborhood. It was a great way to get coffee to many of our regulars who were housebound at the time," Hagele says.
Though Cohen focused on Northwest Philly in the early months of the pandemic, Bloc now has a much wider reach with customers in West and South Philly, as well as Collingswood, New Jersey (near where cofounder Grega lives).
"This is about our passions and wanting to help our neighborhoods," Cohen says.
pedal power
Each electric bicycle has about 40 cubic feet of storage in the back, enabling it to hold about $1,000 worth of groceries, or around 30 grocery bags. One battery can power a bike for 20 miles on a single charge.
Just a Bike Ride Away
Unlike other delivery services like Instacart or Uber Eats, Bloc does not rely on gig workers. Each delivery specialist is an employee of Bloc.
"Our [workers] are riding [e-]bikes, which requires training. We're providing the vehicle. All of these things are things an employer does. We feel like it's a legal requirement that these folks should have benefits. Having workers covered under our workers' compensation is important to us," Cohen says.
The bikes are
stored in different sections of the city. In Mount Airy, Bloc rents out a residential garage where one of its delivery bikes can be stored and recharged. Keeping bikes in specific neighborhoods ensures that each rider can make efficient deliveries and that customers will not have to wait too long for their purchases to arrive.
This efficiency appealed to customer Trudi Dixon, who began ordering from the service at the beginning of the pandemic.
"I discovered that it's a really easy way to order from stores that I don't often go to," she says.
Dixon has ordered from Baker Street Bread Co., High Point Café and farmers markets in the Northwest. She plans to continue to order from Bloc even as she begins to shop in-person again.
"I mention it whenever I get the chance," Dixon says.
Though Bloc was founded during COVID-19, Cohen believes its sustainability-powered values will help it thrive as the world picks up again and pandemic restrictions drop.
"People want to be intentional about how they use their dollars," Cohen says. "The trend for younger people to want to know where their dollars are being spent was happening pre-pandemic. The pandemic accelerated those shopping habits."
As Bloc grows, Cohen wants it to serve customers who are in zip codes currently outside of their delivery areas. Right now, boundaries like the Wissahickon Creek prevent delivery specialists from serving potential customers in Roxborough or East Falls. Similarly, in South Philadelphia, the Navy Yard is too far for bicycle delivery.
"Within a year, we want our delivery zone to be all of greater Philadelphia," Cohen says.