Spring is here, vaccine appointments are available for all adults, and you're ready to get back on your bicycle.
After all, it was a long winter defined by a right-wing riot at the Capitol, some pleasant snowfall (which we hadn't seen around here in a while) and slightly uncomfortable outdoor dining in freezing temperatures under heat lamps.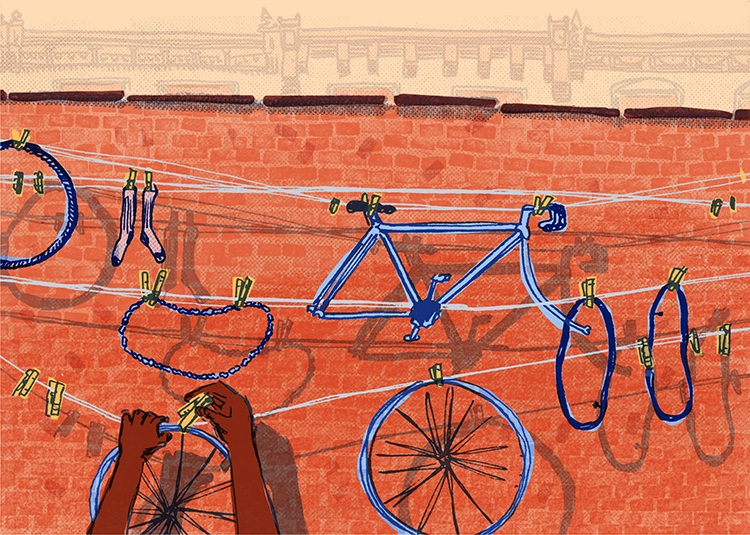 You deserve a little two-wheel time.
"The first thing you need to do if you haven't ridden your bike in a while is to check that stuff you need to make the bike move." — Noah Faust, Bicycle Coalition Youth Cycling athlete
Bicycling in the street can be a bit hairy—especially if it's been a few months. It's always good to make sure you and your bicycle are ready to ride. With that in mind, I reached out to some local bike maintenance experts to hear what they had to say about getting back on your bike this spring. Spoiler alert: If you haven't yet, check your tires!
Noah Faust, a 17-year-old Philadelphia high school student and Bicycle Coalition Youth Cycling athlete, points to checking what are known as the biking ABC's: Air, Brakes, Chain.
No Air
"The first thing you need to do if you haven't ridden your bike in a while is to check that stuff you need to make the bike move," Faust says. "And if there's something you don't know how to fix on your own, take it to a bike shop."
For those of us who live in small row houses and apartments, there's not much space for bikes. They are often kept outside or in cold, damp basements. The lack of use combined with a fluctuation in weather can mess with a tire's air pressure.
That's why it's important for tires to be inflated to the appropriate pressure every couple of weeks, says Monica Pasquinelli, owner of Firehouse Bicycles in West Philadelphia.
"If your bike has sat for a few weeks, or months, [your tires] may be flat, but that doesn't mean they need new tubes. Riding with your tires pumped to the correct pressure will give you a better, safer ride and also prolong the life of your tires," explains Pasquinelli.
Full-size bike pumps measure your tire pressure as you pump, so figuring out what air pressure is right should be easy.
"Each tire has its own suggested tire PSI [pound-force per square inch], which you can find on the sidewall of the tire," continues Pasquinelli.
Low air pressure not only leads to poor biking but also makes it easier to end up with a completely flat tire.
Your tire size (for buying new tubes) is also listed on the side of your bicycle tire.
"Always carry an inner tube, tire levers and a mini pump—a fix-a-flat kit," says Faust, because you never know when you're going to get a flat. Fix-a-flat tools (usually sold separately) are sold at all bike shops and even some chain stores like Target.
You're Braking Up
City riding requires you to be aware of your surroundings at all times and come to frequent stops. Even the safest bike lanes can be obstructed, so good brakes are essential.
Changing brake pads is pretty easy, assuming you've got an Allen wrench, but if you're not sure how to change pads, hitting up a bike shop is important. And if your brakes feel loose, you should get them changed, too, which is a more arduous process, but can also be done with simple bike tools and pulling up a how-to on YouTube.
"Brakes are tricky because they wear down as you use them," explains Faust. "… [C]lean the rims of your bike where you brake because they can get greasy and dirty, which can affect your stopping power."
[Don't] Break the Chain
If your bike has been outside all winter, make sure your chain has lube on it, says Lee Rogers, owner of Bicycle Therapy on South Street.
Additionally, if your bike has gears, shift through all of them before going for your first ride. "If it shifts without noise, you're cool," says Faust.
Words of wisdom: don't ever be too proud to go to your local bike shop. They're the experts, and a full tune-up is always a good idea. Your bike will thank you.