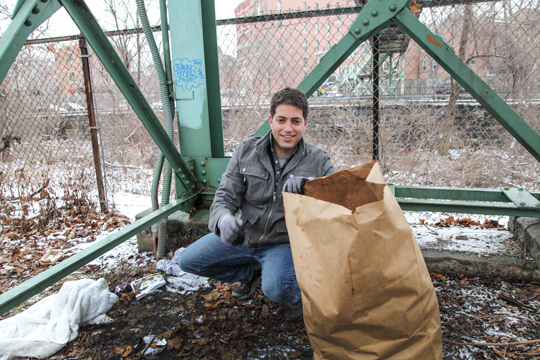 When he's not working with the Fairmount Civic Association, Sam Holloschutz picks up trash at the wooded area near his apartment. | Photo by Stephen Dyer
A popular TV show awakens an environmentalist in Fairmount
Sam Holloschutz credits an unlikely source of inspiration for his devotion to sustainability: the TV show Lost. "Just seeing how beautiful Hawaii is made it click." Suddenly, he became acutely aware of the beauty of nature, and simultaneously the effect human life has on the planet.
Holloschutz is a Fairmount resident and former Temple University graduate with a degree in real estate and marketing. In 2013, he joined the Neighborhood Improvement Committee of the Fairmount Civic Association, a nonprofit community development organization.
In August of last year, Holloschutz took over as the committee's chair, putting him in charge of further greening the community, and he's led four neighborhood cleanups so far. Every few months, he also cleans up a wooded area by his apartment building: "It's a great piece of nature for a city dweller to escape to from time to time."
Holloschutz completed the Pennsylvania Horticultural Society's eight-week Tree Tenders program to become a certified Tree Tender, which enables him to plant and care for trees throughout his community. He was able to secure eight new trees for his apartment's block through
TreePhilly, a tree giveaway initiative led by Philadelphia Parks and Recreation. The first of the bunch, a cherry blossom, arrived last spring.
Through the volunteer teach program of Keep Philadelphia Beautiful, a nonprofit organization focused in part on recycling education, Holloschutz has begun to visit city high schools to talk to students about litter, composting and recycling. The organization's Executive Director, Michelle Feldman, invited Holloschutz into the program after seeing his passion firsthand during his community cleanups.
"I believe he has quite an impact," Feldman says. "Community cleanups and environmental education efforts have a ripple effect beyond pure numbers."
Holloschutz enjoys composting so much, he shares a Bennett Compost bucket with his neighbor and tries to get others to sign up for the service. "I just love the concept of turning trash into something useful," he says.
Lena Nhek, Holloschutz's girlfriend, says that he unplugs electrical appliances at home that aren't in use, even switching off the circuit breaker to the oven if they aren't cooking. "He is just constantly conscious of what type of effect an action of his might have on the environment," she says.
Holloschutz currently works in real estate, but plans to focus his career on sustainability. He has already taken the next step in making that a reality by enrolling in Pennsylvania State University's Master of Professional Studies in Renewable Energy and Sustainability Systems program.
"I just feel like Earth's at a tipping point with all the pollution and waste that gets used," says Holloschutz. "Things are changing, and I don't feel like I can just sit by and do nothing."