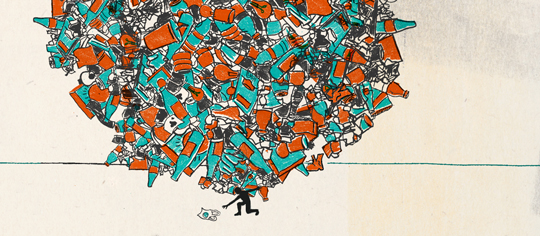 Illustration by NARRATOR
Wissahickon's litter problem prompts man to collect it for a year, turning it into a powerful art project
Since moving to Philadelphia from my small Central Pennsylvania hometown in 2000, the single biggest gripe I've had with the city is its litter problem. Many anti-litter programs have come and gone—and even exist today—and still, it persists. It was one of the main reasons I moved to considerably cleaner Portland, Oregon, in the fall of 2009.
Before I did, I took one last hike in the Wissahickon, the most scenic 1,800 acres in the Fairmount Park system. I was appalled and disheartened by the graffiti and the litter I saw trailside, in the woods, even around (but not in) the trash cans near trailheads that lead out into the park.
Two years ago, I moved back to Philadelphia with a Pacific Northwest fever—a need to live somewhere with immediate access to nature. From my new home in Mt. Airy, I can access three trailheads into the Wissahickon within six blocks. They're part of the roughly 50 miles of trails within the park, carefully maintained since 1924 by Friends of the Wissahickon.
As a manner of learning them all intimately—and doing something better than simply complaining—once a week for all of 2014, on three-hour hikes, I explored different routes and picked up all the litter I encountered. Aside from well-known problem areas like Devil's Pool and Walnut Lane Bridge, no section of the park was particularly worse than another. If a littered item was too large to hike with, like a tire or wooden pallet, I made arrangements to later remove it. I've sorted and stored all of it in a shed in the park.
With 52 weeks' worth of trash, some things were not surprising: the amount of cheap beer cans (330) and plastic water bottles (255), the plastic overall. There was one object of plastic—Mylar balloons, iced tea jugs, candy wrappers, grocery bags—for one object of every other type combined.
And as one might expect, most of it was gross. But nothing is as disgusting as discarded dog waste bags. The amount of plastic bags—190 of them, compared to 78 open-air piles—was mind-boggling. Even the corn-based "biodegradable" bags take forever to decompose, and there's little so jarring as a bright pink bag of dog waste hanging eye-level from a tree on an otherwise peaceful woodland saunter. There's little so infuriating, either, although the trash left by fishermen whose hobby depends on the health of the creek comes close.
Philadelphia Parks and Recreation's one condition for my using their shed was simple: no organic trash. While I recorded each bag of dog waste, unfortunately, I left them where I found them. But the rest of it—hard plastic, soft plastic, film plastic, Styrofoam, aluminum, glass, paper, cardboard, rubber, ceramic, fabric, bags of clothes, sporting goods, miscellaneous—has been kept in storage.
Now, it's going public. Opening April 22, this year's Earth Day, and running through June 26, "One Man's Trash" will be on exhibit at the historic Fairmount Water Works, which this year celebrates its 200th anniversary. Come for the consumerist commentary, stay for the hand-drawn map of the Wissahickon.
While longtime users of the park, like Parks and Recreation's volunteer coordinator David Bower, confirm that the park is much cleaner than it was 30 to 40 years ago, there's still enough litter to make a yearlong project possible. I don't expect its exhibition will put an end to litter, nor do I hope that it will inspire others to pick up someone else's litter. But I do hope that the visual impact of litter collected by just one person in just one park might make us recognize, collectively as a city, that we need to do better to prevent it in the first place.
Bradley Maule is a photographer and writer, one of the editors of Hidden City Philadelphia and editor of Philly Skyline. "One Man's Trash" will run from April 22—Earth Day—through June 26 at the Fairmount Water Works. Find out more at phillyskyline.com.