Kensington's Philly Fixers Guild works to keep
broken items out of the landfill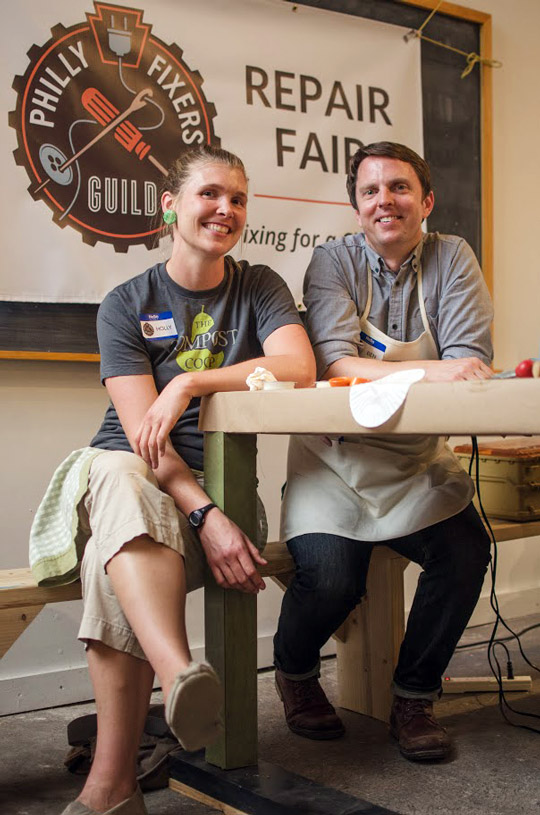 Philly Fixers Guild co-founder Holly Logan and founder Ben Davis created a long-term repair group to teach people how to fix their own broken items. | Photos by Megan Matuzak
That formerly dependable but now inoperable vacuum cleaner doesn't have to go to the landfill, and neither does that broken necklace or anything else you have that doesn't quite work. In Kensington, a determined pair is working to repair those items, and to teach others to do the same.
Philly Fixers Guild founder Ben Davis and co-founder Holly Logan met in 2012 while on the steering committee for Sustainable 19125 & 19134, a nonprofit in the Fishtown, Port Richmond and East Kensington neighborhoods that aims to create the greenest zip codes in the city.
After Davis, a commercial airline pilot, read a 2013 article in Wired about repair cafes on the West Coast, he started fixing broken items in his neighborhood, and Logan joined shortly thereafter. With some financial and moral support from Sustainable 19125 & 19134, and another local nonprofit, New Kensington Community Development Corporation (NKCDC), Philly Fixers Guild was established in November 2013.
"I just thought, 'why don't we have one in Philly?' So, we made it ourselves." Davis says. Logan, a Kensington Community Food Co-op board member and volunteer, adds: "Ben and I looked more into reducing the waste that was happening in the first place, like the mantra that we all grow up with: reduce, reuse, recycle."
Around the same time PFG got started, a Repair Cafe in Northwest Philadelphia was happening, although Davis says he had no idea there were other people trying to host repair events. But for Davis and Logan, the more the merrier—they both say they would like to see Repair Fairs and Repair Cafes pop up all over the city, and have a broader goal for the group.
"We want to turn PFG into multiple opportunities to engage with the community, whether that is through Repair Fairs or potentially through workshops," Logan says.
Alex Whitchurch, a volunteer electronic fixer, works on a broken item at a Philly Fixers Guild event in September.
Serving neighbors in the area who have limited options for broken items is another goal, according to Davis. "I think in our community, our version of a repair organization in [the] Fishtown/Kensington area, is going to be more like something that somebody just can't afford to buy a new fan."
The Philly Fixers Guild does not have brick-and-mortar home base, but wants to host several Repair Fairs a year around the neighborhood, where volunteers evaluate and try to fix broken items. This past September, 12 fixers, a Guild volunteer, and Logan and Davis greeted 45 guests at the Sculpture Gym in Fishtown. The PFG Repair Fairs will be hosted throughout Kensington and Fishtown. Out of 35 items brought in, including a 1940s record player, a leaf blower and clothing that needed stitching, 18 items were fixed—a good first run according to Davis and Logan.
Nick Stellato, a volunteer electronic fixer was surprised that people didn't just want their items fixed—they wanted to learn how things worked, too. "It was really cool to see so many people interested in the mechanical wonders that they had, rather than, 'just make it go,'" Stellato says.
For their second Repair Fair in late November, PFG's numbers increased and kids ages 10 to 12 got involved as "apprentices" coming with wires, sockets plugs and test bulbs. Approximately 85 people from the Philadelphia area, including Deptford Township in New Jersey, came through the door, to find 16 fixers waiting. Out the approximately 50 items brought in, 30 of them were fixed, including eight dining room chairs a family couldn't afford to fix before Thanksgiving.
Both Davis and Logan agree that the most instrumental function of the Repair Fairs is the interaction between fixer and guest. The guests and the fixers sit elbow to elbow as the broken item is evaluated. With each step, guests learn how the item works and how to repair it.
"If we can teach them those sort of basics, maybe they'll start to be able to repair their own things on their own and eventually not even need us," Davis says. "That would be the ultimate success."