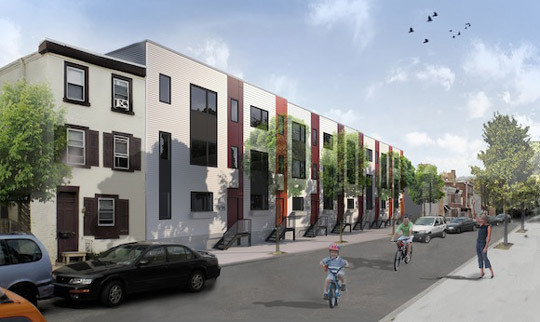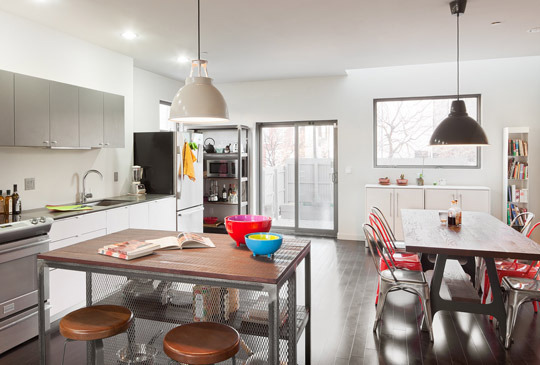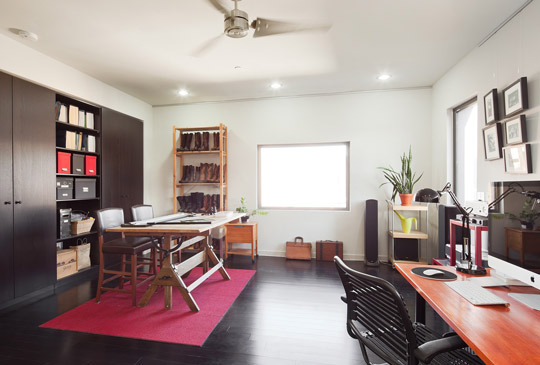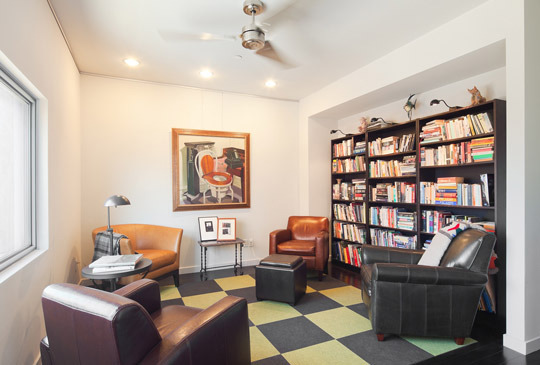 Postgreen's new green building project Awesometown aims to live up to its name
Erin Witman wasn't planning on becoming a homeowner when she walked into Fishtown's Lloyd Whiskey Bar one evening after work in March. But a colleague had encouraged the real estate professional to stop by for the launch party of Awesometown, a collection of 14 super-insulated and energy-efficient townhomes that will soon be rising along the 400 block of Moyer Street in Fishtown. Created by the local residential development firm Postgreen Homes, the houses promise to be rich in utility-saving features: LEED Platinum design specs, rainwater collection areas, low-flow bathroom appliances, and triple pane windows to keep both warm and cool air inside the homes, which are scheduled for completion next summer.
Postgreen Homes has maintained its focus on building modestly priced and sustainably constructed houses with a design-friendly edge for over five years. The small firm initially won both local and national acclaim in 2010 when its first project, the East Kensington-based 100K House—so named because its construction costs were capped at $100,000—was honored with the LEED for Homes Project of the Year award by the U.S. Green Building Council. Another project is a cluster of 31 customizable sale and rental units in Francisville known as Folsom Powerhouse, which have already sold out.
The mini-community of Awesometown will be built atop one of Fishtown's many long-abandoned former industrial sites. In addition to Energy Star-rated appliances, airtight construction, 100 percent CFL or LED lighting and a high-efficiency HVAC system, the units will also feature a walk-out roof deck. And because of a collaboration between Postgreen and the Philadelphia Water Department, 95 percent of the site's surface space will be permeable, preventing stormwater from overwhelming our city's sewage system.
"I'm extremely passionate about environmentalism," Witman says. "And it was kind of a pipe dream to live in a house such as one that Postgreen would build. But I didn't consider it something that was viable for me."
But for the first time, Postgreen Homes has teamed up with a Philadelphia-based nonprofit community development corporation, the New Kensington Community Development Corporation, to offer subsidized housing rates. Postgreen president and co-founder Chad Ludeman says four of Awesometown's 14 units will be sold to qualified moderate-income buyers, who are required to earn less than the Philadelphia median income rate, which in 2011 was about $34,000 annually.
"We really liked the NKCDC and their mission," Ludeman says. "We were excited about doing a mixed-income project. And we saw an opportunity to do a public-private partnership, but with traditional private funding and no government subsidies or tax credits."
The NKCDC owns and will develop the land. But prior to teaming up with Postgreen, NKCDC wasn't having much luck pre-selling units at the prices they needed to make the project work.
"By partnering with the NKCDC, we were able to make the prices successful," Ludeman says.
Meanwhile, as far as Witman is concerned, Awesometown has already lived up to its name. After entering a public lottery to bid on one of the four moderate-income units, which are selling at half the price of the $400,000 market-rate townhomes, her name was chosen. "It's an amazing opportunity," she says. "I'm really excited."