Why Paso Verde is the most important green building development in Philadelphia
For Paseo Verde, APM chose to build on an empty lot that Philadelphia Gas Works employees were using for parking right beside SEPTA's Temple University Regional Rail station. | Photo by Jeffrey Totaro
On a recent afternoon, Latifa Patton prepares three giant aluminum baking pans full of aromatic macaroni and cheese with vegetables. The kitchen of her three-bedroom townhouse in the mixed-income Paseo Verde development in North Philadelphia is lined with succulents. The living room is an oasis of potted palms, orchids and colorful cushions.
Patton says people ask how she can afford to outfit her home this way. She makes $7.50 an hour at a work-study job; and with the help of student loans, she supports her nine-year-old daughter and two-year-old son while earning a degree in social work at Community College of Philadelphia. "I go to thrift stores. I'm creative," she says. "I love my house. It's why I have to make it comfortable."
Before she was accepted as one of Paseo Verde's first tenants for its subsidized apartments, Patton and her children were homeless and had been living in a shelter for a year. Now, she pays just $302 a month in rent at Paseo Verde.
Latifa Patton was one of Paseo Verde's first tenants and decorates her space with colorful accents. "I love my house. I go to thrift stores. I'm creative." | Photo by Stephen Dyer
The Paseo Verde development, which cost $48 million and was finished in December of 2013, combines environmental sensibilities with the principals of sustainable community development. The mixed-income, mixed-use project includes 120 affordable and market-rate apartments. The block-long building is also what developers refer to as mixed-use. In addition to the residential units, there are businesses facing the street on the ground floor.
The project is also certified LEED Platinum, the highest rating given out for sustainable design by the U.S. Green Building Council, under the Neighborhood Development (LEED ND) system, a designation for large-scaled mixed-use projects by a single developer. This standard encourages the implementation of design principles that aim to reduce water, energy and car use in a neighborhood, rather than in a single building.
The driving force behind the project has its offices in Paseo Verde's south side. Asociación Puertorriqueños en Marcha (APM), a Latino-based health, human services, community and economic development nonprofit organization, was founded by a group of Puerto Rican veterans returning from the Vietnam War in 1970 who wanted to provide services for their community in Philadelphia.
Nilda Ruiz, president and CEO of APM, at left, helped to create a vibrant community project in Paseo Verde, which attracted Sabri Ibrahim, far right, to open a Pharmacy of America there. | Photo by Stephen Dyer
When Nilda Ruiz, now the organization's president and CEO, was young, her mother wouldn't allow her to go to the lower east section of North Philadelphia alone. This area was, like its neighbors, devastated by the gradual drain of manufacturing jobs.
"It had a lot of drugs, a lot of crime," says Ruiz, who grew up mostly in nearby Hunting Park. "[It had] abandoned lots. It wasn't a safe place for kids to walk around."
She says these early impressions give her a greater appreciation for the changes in the intervening years.
APM became involved in housing in 1989, beginning with 24 affordable rental units in North Philadelphia. Rose Gray, who started working at APM as Director of Housing, led the first housing project, The city, she says, had demolished many homes in an effort at urban renewal: "More houses were being taken down." The houses that remained were dilapidated, but because the homes were inexpensive, many people with limited means moved there, including a number of Puerto Ricans.
APM is interested in what Ruiz calls "holistic" development. That meant recruiting a credit union and a supermarket to the area that specialized in Hispanic food products, but also a turn for APM to designing housing projects with an eye on health and sustainability goals.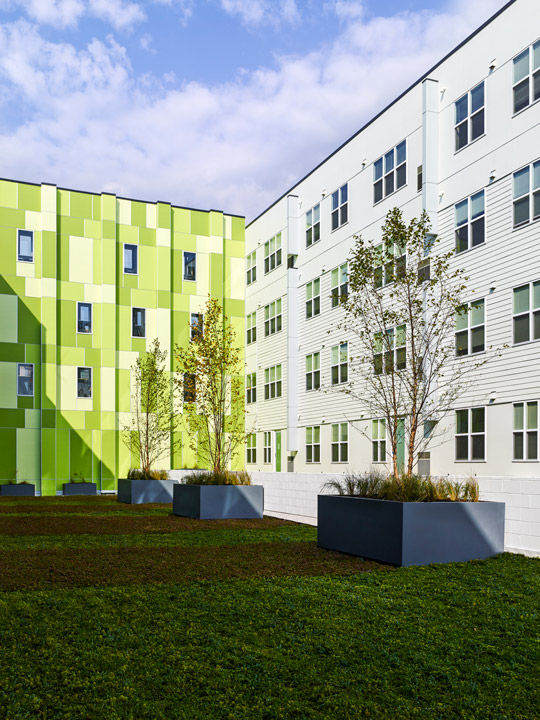 Photo by Jeffrey Totaro
In 2011, APM dedicated its first green development, the LEED Gold Sheridan Street Homes, a block of 13 sleek, eco-friendly homes designed by Interface Studio Architects for the Community Design Collaborative's 2005 Affordable Infill Housing Design Challenge. Shortly afterward, APM attracted an innovative new partner, the Jonathan Rose Companies, as a partner on creating Paseo Verde. The green real estate policy, planning, development, owner's representative and investment firm, which has multiple offices around the country, completed construction of the 222-unit, mixed-use, mixed-income Via Verde development in the Bronx the same year construction began in Philadelphia.
For Paseo Verde, APM chose to build on an empty lot that Philadelphia Gas Works employees were using for parking right beside SEPTA's Temple University Regional Rail station. The placement of Paseo Verde in a location that will encourage the use of public transit is one attribute contributing to its LEED rating. Other features that contributed included both the use of a green roof and its lesser-known cousin, a "blue roof."
Lined with the same rubber material used at the bottom of a swimming pool, the blue roof can hold up to 20,000 gallons of rainwater, which it slowly releases through three drains—an important addition to any building given Philadelphia's stormwater issues. The water management system is so effective that the city's water department has waived most of its stormwater utility fees, which building owners pay to cover the costs of managing their runoff. The comprehensive stormwater management plan also includes permeable pavement. Paseo Verde also boasts solar panels; local, recyclable and renewable materials; formaldehyde-free materials to enhance indoor air quality; and low- or no-VOC paints and primers. The project's envelope, which refers to the walls of the building, and mechanical systems are also energy-efficient. Local firm Wallace Roberts and Todd was responsible for the award-winning design.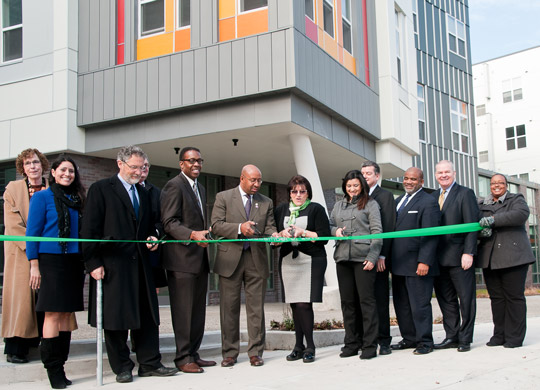 Third from left, Jonathan F.P. Rose, President, Jonathan Rose Companies; Mayor Michael A. Nutter, City of Philadelphia (center); in green scarf, Nilda Ruiz, CEO and President, Asociación Puertorriqueños en Marcha (APM) | Photo by Simon Bolivar
"The completion of Paseo Verde brought Philadelphia closer to being America's greenest city," says Philadelphia Mayor Michael Nutter, "and continued our commitment to providing quality affordable housing."
Between common areas and the individual units, based on the energy model for the building, Paseo Verde's "projected energy savings" is anticipated to reach at least 25 percent, versus a code-compliant building.
"That is important because [for] occupants of affordable housing [utility bills are] a higher cost of their monthly budget," says Jon Jensen, an advisor on the project at New Jersey-based MaGrann Associates. Jensen adds that local and state governments with affordable housing funds have increasingly given an edge to projects with green components, if not outright requiring them.
The U.S. Green Building Council (USGBC), developers of the LEED green building rating system, says that 109,059 of the units registered under LEED for Homes are considered market rate, versus 53,738 classified as affordable. A separate nonprofit organization, the Green Building Certification Institute (GBCI), acts as a third party to verify that a project has complied with the system. In 2010, at the beginning of the project, USGBC awarded the project an Affordable Green Neighborhoods Grant for $27,665 as part of a national competition.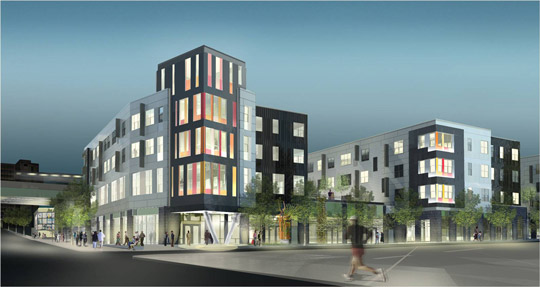 Rendering courtesy MaGrann AssociatesPaseo Verde stands out in the greater Philadelphia area, according to Janet Milkman, outgoing executive director of the Delaware Valley Green Building Council. For a community organization to do all the work to meet LEED standards is, she says, "really exemplary."
The building garnered so much respect from the DVGBC that it was one of the winners of the 2014 Groundbreaker Awards, among other winners Shoemaker Green at the University of Pennsylvania, and The Hamilton Family Children's Zoo and Faris Family Education Center: KidZooU.
Paseo Verde "demonstrates that exceptional Sustainable Design (LEED ND Platinum and LEED for Homes Platinum Certification) can be achievable for both affordable and market-rate accessible housing," the DVGBC wrote in September. "The project helps reconnect this North Philadelphia neighborhood to the rest of the city and region, and provides access to employment/economic opportunities."
Milkman hopes that the recognition the project received will inspire others. "APM went above and beyond what a typical, cash-strapped nonprofit development organization is going to do," she says.
Paul Freitag, who directs development for Jonathan Rose Companies, says Paseo Verde's design also focused on its effects on residents' health.
"[People with lower incomes] are also more impacted by environmental health factors," particularly asthma, he says. In response, Freitag says it pays to opt for cleaner materials, encourage public transit use, or even design a building that is built to encourage more people to take the stairs.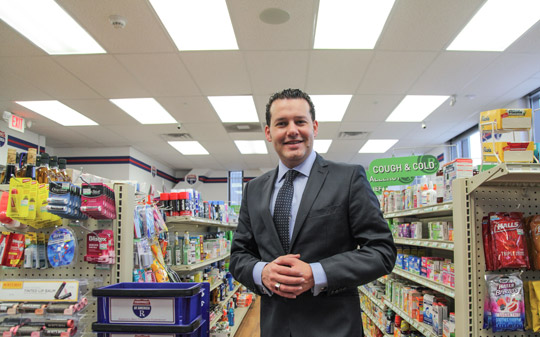 Sabri Ibrahim was impressed with Paseo Verde and opened a Pharmacy of America there. | Photo by Stephen Dyer
At Paseo Verde, a health clinic and a pharmacy both rent space on the ground floor. Sabri Ibrahim was looking for a location for the fourth branch of his small chain, Pharmacy of America, when he heard about Paseo Verde. Ibrahim knew the neighborhood well. He'd arrived at Temple in 1994, but, "If not for Paseo Verde, I would not be there," he says.
"It's not the safest area," he concedes. "But, I think with Paseo Verde and construction around it on this street and block, the immediate neighborhood is definitely going to be a much better place to live in and do business in the next couple years."
APM's constituency is evolving. Increasingly, upwardly mobile Puerto Rican residents have moved to the northeast and to Berks County. Today the neighborhood is roughly split between African Americans and Latinos—no longer just Puerto Rican—but also a number of resettled Palestinian refugees and Asian immigrants.
The non-subsidized apartments at Paseo Verde, which comprise about three-fifths of the building, are envisioned as "workforce housing," Freitag says, for staff and graduate students at adjacent Temple University. Temple's presence has increased housing prices in adjoining neighborhoods.
As a first-generation college student, APM's Ruiz says she had trouble connecting her studies to what she wanted to do with her life. "That's why I get excited about mixed-income [neighborhoods]," she explains. "If you have a police officer or a professor living next door," they can help to answer questions like, 'What should my major be or if I want to work after high school, what should I do?' "
Beth Miller, executive director of the Community Design Collaborative, says APM has done the long-term planning to ensure that their tenants with lower incomes will not get pushed out.
"We talk about the g-word [gentrification] and things like that, but they're in action preserving equity and affordability in a neighborhood that just had been very much forgotten," she says.
APM has started planning to preserve and rehabilitate its original developments, including retrofitting them to be more energy-efficient. Renovation, Gray says, is less sexy than new construction, but equally important.
"We believe in mixed-income, but managing so no one loses the opportunity to stay in the community," says Gray, now Senior VP, Community and Economic Development for APM. "We didn't do this for people to move out. We did this to create an environment for them to stay."