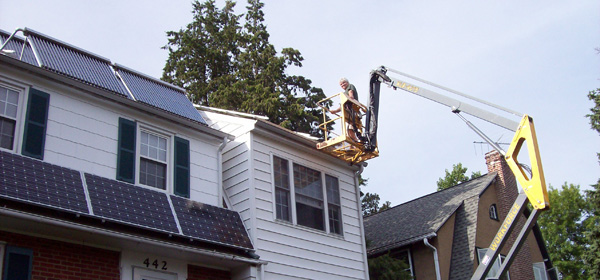 story by Bernard BrownYou would think Greg Scott was talking about building bookshelves from a box, not installing a solar array on his roof. "Once you know how to build stuff for a reason, you sort of figure out how to build things," he explains. Scott, together with his do-it-yourself partner Tom Weissert, thinks we can do it, too.
Scott and Weissert have installed both a solar hot water system, which heats water with solar warmth, and a photovoltaic (PV) array, which converts sunlight into electricity, on Weissert's house in Narberth, and they are close to installing another PV system at Scott's house in West Philly.
Scott is adamant: This is a project well within the reach of other do-it-yourselfers. "If you want a fully guaranteed, don't-have-to-think-about-it job, then you should pay the considerable extra cost of using a commercial contractor. However, it is doable as a home project if you have some skills. If you can do work around your house, some plumbing or a little electrical, this is for you." He continues, assuring that one "can do much of the work and still get a good quality installation for little more than the cost of the components."
To be fair, Scott and Weissert aren't the average tinkerers. Weissert has a Ph.D. in physics, while Scott, a man of many gigs, has a background building racecars and teaches high school robotics. He is also a volunteer and part-time teacher with the West Philly Hybrid X team, in which high school students build competitive electric cars. (As if that's not enough, he also plays at least five instruments in the big band Big Push). With plenty of experience already in computer-aided design, it was relatively simple for him to draw up plans for a solar energy system.
Solar arrays cover almost every shingle on the front of Weissert's south-facing house, even the slice of pitched roof that extends between the first and second floors. The two hot-water arrays are outnumbered by four of the PV. In 2007, Scott and Weissert began with the hot water, by far the more challenging project.
"We designed our own system and installed it, and got up there on the roof and just did it," says Scott. "We investigated some of the controllers that were available and thought they were pretty crude, but we had some old controllers [from robotics projects], so we took one and modified it and wrote our own programs for it."
Solar PV systems, once boutique projects for early adopters, are getting more popular. Yet, as Scott put it, they are still "BMW" projects. "Even with all the government rebates, you're still looking at about $20,000, and that can take a while to get it back." Scott and Weissert assumed they could do it themselves for cheaper. "This just can't cost this much to do," Scott recalled saying. "If you get it down to around 10 grand, then it starts to get attractive… So, we just kept gnawing at it and gnawing at it, and the final price is under $2.50 a watt," or about $11,000 in installation costs, thanks in part to a wholesale equipment purchasing arrangement they reached with San Diego-based WholeSolar.
Recent advances in solar energy technology also facilitated the do-it-yourself approach. Solar panels don't connect directly to your house's electrical system or to the grid; the current they generate needs to be mediated by an inverter. This box changes the direct current (DC) coming out of the panels to the alternating current (AC) that powers most of what we use.
Early home-PV systems relied on a single inverter to process the output of all the panels, however many there were. "The problem is that you have to run them in series," notes Scott. Running panels in a series meant that a decrease in output of one panel would cut the flow from the entire array (think of the old Christmas lights, where one bulb burning out would darken the entire string).
Enter the "micro" inverter. "With micro inverters, each panel has its own inverter," explains Scott. These smaller, smarter inverters allow installers (whether professional or amateur) to set up the panels in parallel. Now, if the shifting shadow of a utility pole shades one panel, the others can keep right on pumping their electricity into the system.
State tax credits and a change in how PECO accounted for home power generation also made the project easier. "PECO used to buy from you at wholesale and sell at retail, which made the wiring a nightmare." Now, Scott explains, "they pay at the same rate they charge you. You could do it with one meter; they like to use two, but both are at the same rate. One runs forward and one runs backwards. It's kind of fun."
There were concerns about getting permission from Licenses and Inspections, but "it turned out the guy just wanted some drawings," recalls Scott. The computer-aided drawings sufficed, and he and Weissert also found smooth sailing in the suburbs. "From the township perspective, they were supportive, not a problem at all, and they were equally supportive with the hot water permit." In both locations, an electrician and solar inspector were needed for the final permit and PECO application for the grid-tie.
Scott's own home PV project is on hold, pending some other work on his roof. "Our circuits to the attic are already installed. As soon as we can get the roof on, we only need about a day to finish up."
Scott and Weissert don't want to stop with their houses; their vision is for a more project-sustainable community model of home PV installation. They're still hammering out how this would work and are always looking to others for inspiration and help. "I'm not an electrician, I'm not a carpenter," says Scott. "I want to demystify the process. I'd like to see solar panels on every house in Philadelphia."